McPhee won't alter plan to build Golden Knights through NHL Entry Draft
Updated June 22, 2017 - 7:48 pm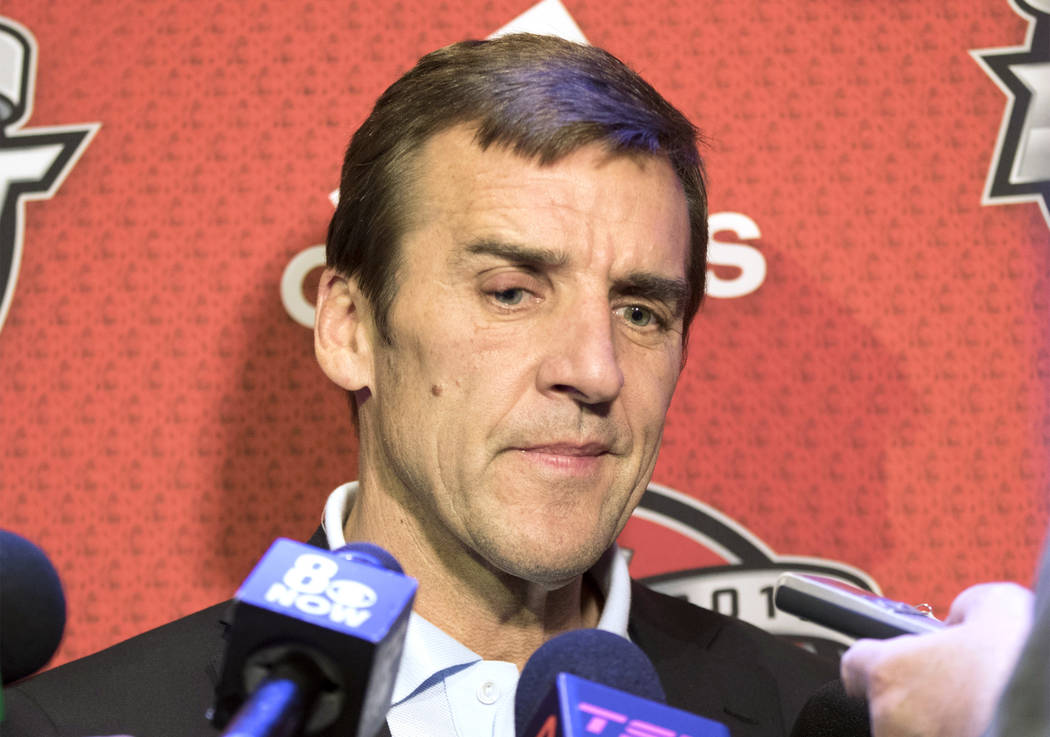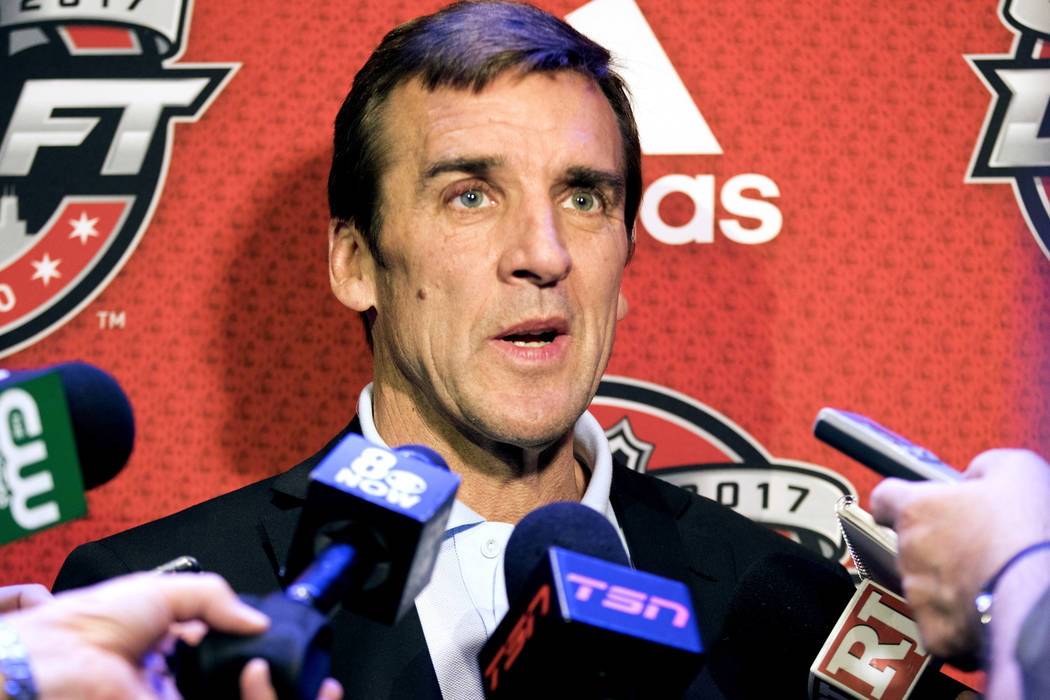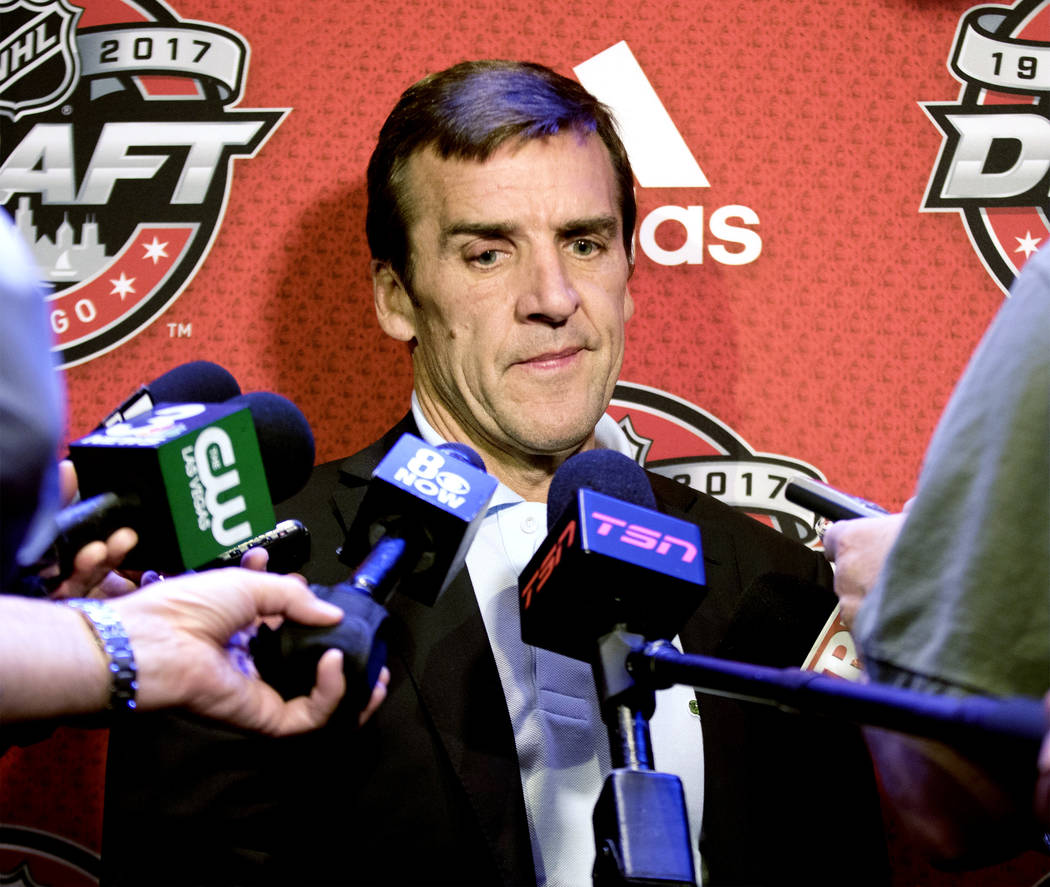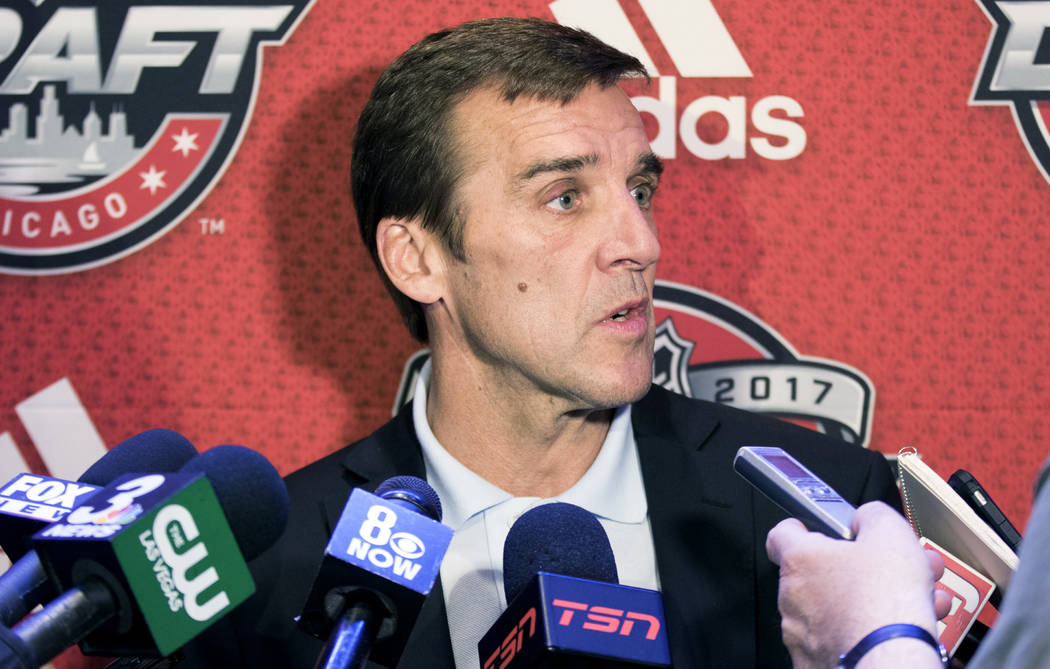 CHICAGO — The new faces all had a message Wednesday night, confident and direct in their assessment: That in their inaugural NHL season, the Golden Knights have every chance to be as competitive as any expansion side in history.
That's how those players selected spoke when addressing the media at T-Mobile Arena, with hope and assertiveness and passion to prove their stance correct.
"It's a good team," Knights defenseman and Las Vegas resident Deryk Engelland said.
Not everyone agrees.
Here's the funny part: When told Thursday about a Deadspin article entitled "Wow The Golden Knights Are Going To Be Bad," an evaluation of the team's expansion draft, general manager George McPhee didn't oppose all points.
Not about being horrible. McPhee understands the struggles any expansion side can and will endure, but I'm guessing he thinks the Knights will win more than the dozen or so regular-season games the article predicts in their first season.
Or at least really hopes so.
But when it comes to how he drafted Wednesday and how he will approach the NHL Entry Level Draft, which begins Friday at the United Center and where the Knights have three first-round picks (Nos. 6, 13 and 15), McPhee has never concealed his primary strategy.
Which is to say judge him after three or four entry drafts, specifically where the franchise sits then in terms of wins and, yes, contending for the playoffs.
Which is to say it's not totally about building with youth, but that sure is a major ingredient.
"We want to put a competitive team on the ice right now, but have to look forward, too," McPhee said. "It takes certain players that are going to be able to help us three years from now, four years from now, because we want to start at a certain level and keep going. I think it's a pretty good team."
It's true the Knights on Wednesday drafted several players with one year remaining on contracts, 10 of whom will be unrestricted free agents in 2018, and that they didn't select the absolute top talent available throughout 30 picks.
But a leading result of that is this: 13.
That's how many picks McPhee has Friday and Saturday at the entry draft — the team's haul includes three in the second round — and there's always a chance he adds more.
He also began collecting picks for future seasons via the expansion process — the team already has 10 in the next four years along with its own selections — meaning the method to his madness was exactly what he had forecast all along.
"I'm actually trying to think of those (from the expansion draft) on short-term contracts," said McPhee, who shouldn't have had such a difficult time given there were so many. "James Neal (the wing from Nashville and a 20-goal scorer in each of his nine NHL seasons) is one, but he's a hell of player. That's why we claimed him.
"I don't want to get bogged down with too many long-term deals out of the gate. We did one with Reilly Smith (the wing from Florida signed through 2021-22), but that's because we believe he's a really good player now and will be a really good player four years from now. "
Neal is one of those unrestricted free agents in 2018. So, too, is center Jonathan Marchessault, who scored 30 goals last season for Florida. So, too, is wing David Perron and his 96 goals in 12 NHL seasons, the last in St. Louis. So, too, are defensemen Jason Garrison and Alexei Emelin, both of whom make north of $4 million annually.
It's far from over. The Knights have 12 defensemen right now. More contracts will be moved.
So, yes, the idea McPhee drafted short-term players so that he might construct the franchise with those like the ones he will welcome in the next few days in Chicago is more than factual.
It's also the smartest and best way of doing business, and the Knights will have a hefty amount of salary cap space as part of the process.
Everyone loves a winner, but if it's not built to last, the reality of being average over the long term can quickly take up residence with your franchise, so the Knights will succeed mostly on what McPhee does on nights such as Friday and how much tolerance ownership and a fan base will exhibit.
"The (entry draft) has always been about the best player," McPhee said. "The way to approach it is to get the best player, and whoever the next best player is, take that player. I think we are in the right place in this draft, to have three picks in the top 15. We have a chance to get through it with good players. Right now, we're focused on drafting three players."
Which means he is focused on the future.
Which means he hasn't swayed at all on how he intends to build things.
And if that means 12 or so wins in a first season, so be it.
I have no idea how good or bad they will be.
But it sure seems to make sense getting there this way.
Contact columnist Ed Graney at egraney@reviewjournal.com or 702-383-4618. He can be heard on ESPN Radio 100.9 FM and 1100 AM from 11 a.m. to 2 p.m. Monday through Friday. Follow @edgraney on Twitter.
Short-term answers?
Following are those Golden Knights selected in Wednesday's expansion draft who become unrestricted free agents in 2018.
— LW James Neal
— LW David Perron
— C Mikhail Grabovski
— C Jonathan Marchessault
— D Jason Garrison
— D Alexei Emelin
— D Luca Sbisa
— D Clayton Stoner
— D Brayden McNabb
— D Deryk Engelland