Raiders QB Derek Carr answers stormy week with strong performance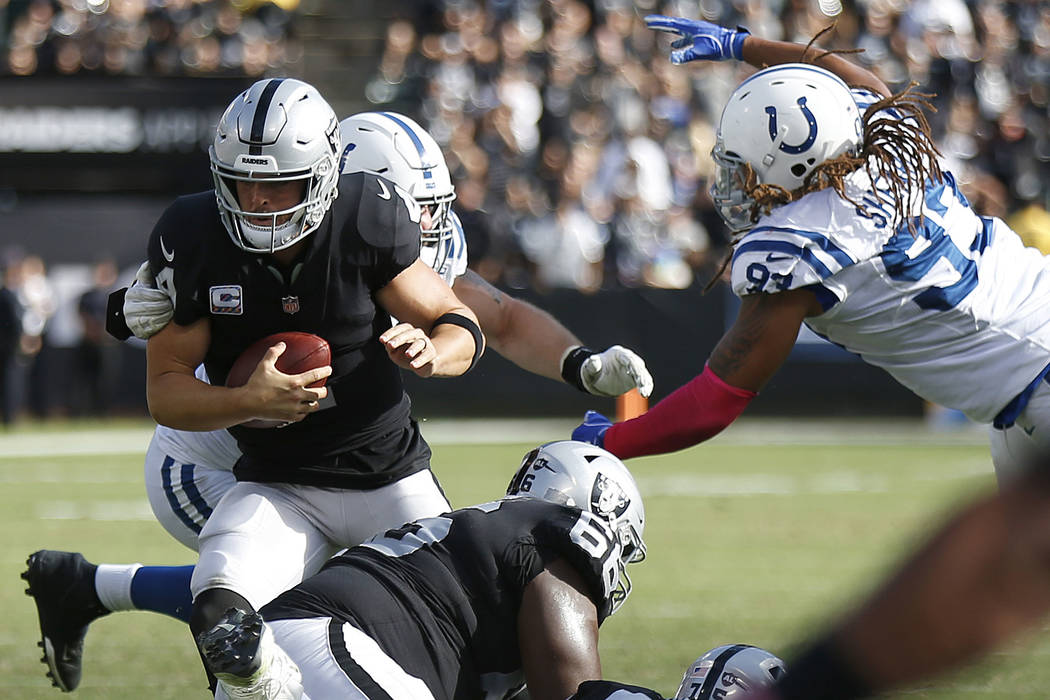 OAKLAND, Calif.
It was one of those tropical tempests, the kind with a wind speed powerful enough to lift houses from their foundation and cars off the highway, a typhoon of sorts that questioned Derek Carr's leadership and manhood and whether he really owns much of a future at all as quarterback for the Raiders.
But to see the sunlight, you have to weather the storm.
Carr, for at least one afternoon, emerged from the rumors and gossip and downpour of pessimism with a performance that quieted all the noise that had immersed his every step this past week.
The Raiders fell for a sixth time in seven games Sunday, a string of defensive breakdowns that wouldn't allow Carr's solid effort to taste victory, the Colts leaving Oakland-Alameda County Coliseum a 42-28 winner before an announced paid gathering of 54,372.
There wasn't close to that in attendance and secondary market tickets could be had for as low as $16 an hour before kickoff, meaning each loss and trade and shakeup of the roster has born a sense of either anger or apathy among what is an impassioned fan base.
What the no-shows missed was Carr completing 21 of 28 passes for 244 yards and three touchdowns, also accounting for the team's fourth score with a 1-yard run.
It occurred following an off week defined by more internal disruption, the Raiders trading wide receiver Amari Cooper to Dallas and reports suggesting that Carr had lost the locker room, that his was a fractured relationship with teammates.
Such presumption came after reports that some Raiders saw Carr crying on the field after injuring his arm late in a loss to Seattle on Oct. 14 in London.
"I had to answer some funny questions (this week), but I know you guys have a job to do," Carr said. "If I'm being honest, it was hard, because a lot of the stuff going around, I was like, 'That's just not true.' That hurts as a man, not even as a football player.
"As a man, it was hard to hear those things, but it wasn't like, 'I'm going to go out there and prove something (Sunday).' I'm not trying to prove myself to anyone — you guys, fans, anybody. I just try to be the best I can be all the time, for everyone. At the same time, I didn't feel good because we lost. I'm tired of losing."
He denied crying when hurt against the Seahawks and, even so, it would take far more column inches to properly dissect the extraordinarily bizarre sense of machismo within professional sports when it comes to such things.
God forbid a person be moved to a little emotion.
I'm fairly certain Carr has played hurt enough — you try and execute as an NFL quarterback with a broken back — that his level of toughness is sufficient for his profession.
O-line steps up
Even so, you can't succeed if you're not protected, and his numbers Sunday were in large part because what has been a young and injured and ineffective offensive line played well and kept Carr upright, not allowing a sack.
This version of Carr can win games. It has in the past. It becomes a struggle when a porous defense can't get off the field and you're limited to 47 plays (18 in the first half) and 23:30 minutes of possession, when you get just three chances with the ball over the first 30 minutes of a game.
But this version of Carr is not one you consider trading any time soon, yet another form of speculation that coach Jon Gruden was asked about this week.
Thinking is, if you can unload your best overall player in Khalil Mack and then make other subsequent moves as a total roster overhaul shifts into high gear, what about a quarterback who, if dealt, the Raiders would face $7.5 million in dead money next year and yet $2.5 million on average less the following two seasons.
"I don't think criticism is anything we're going to address," Gruden said. "Critics are going to be critics. I've said that (Carr) is a great player. It's not all Derek Carr, but I think he's the strength of this team and I'm excited about him … I'm not going to keep talking about the critics or controversy because we need to get better in a lot of areas.
"I don't believe all the headlines, just so you know. I don't think a lot of people do either."
I believe this: For one afternoon, Derek Carr proved he could weather a storm and see some sunlight.
It didn't mean victory, but given his week, was impressive just the same.
More Raiders: Follow online at reviewjournal.com/Raiders and @NFLinVegas on Twitter.
Contact columnist Ed Graney at egraney@reviewjournal.com or 702-383-4618. He can be heard on "The Press Box," ESPN Radio 100.9 FM and 1100 AM, from 7 a.m. to 10 a.m. Monday through Friday. Follow @edgraney on Twitter.