Tears turn to smiles as Golden Knights win West for Las Vegas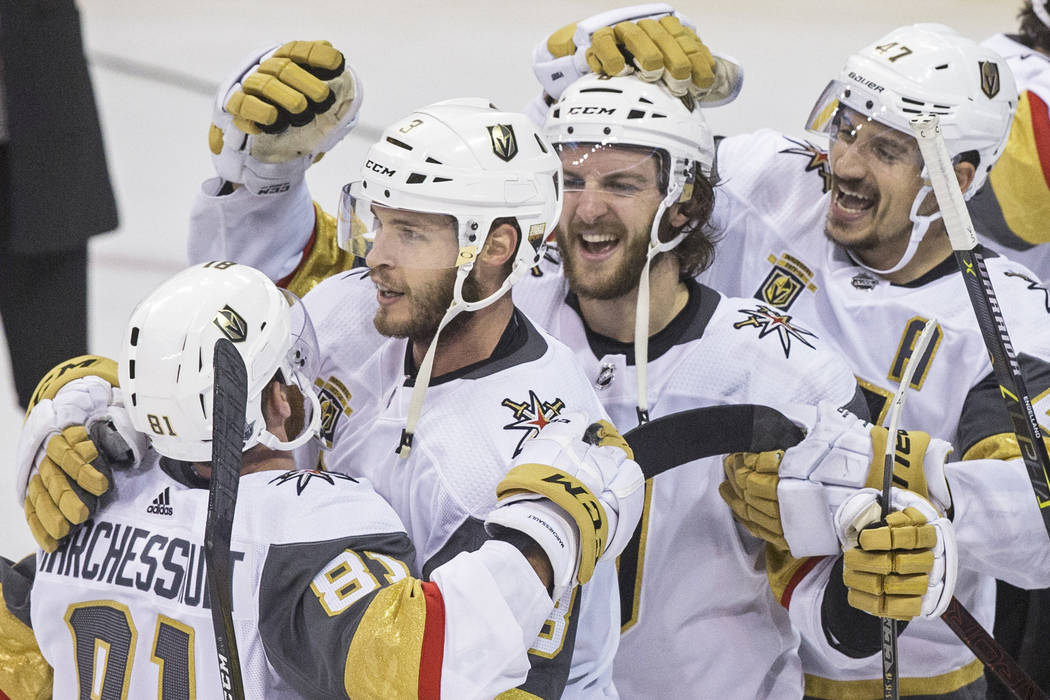 WINNIPEG, Manitoba — He told them that he was proud to call Las Vegas home, that he met his wife there, that his kids were born there, that it was a special place.
That he and his teammates would do everything in their power to help the city heal.
Deryk Engelland stood with a microphone in one hand and a hockey stick in the other on Oct. 10 at T-Mobile Arena, the voice by which the expansion Golden Knights chose to address both a crowd of more than 18,000 and a town broken and grieving from a mass shooting on 1 October.
On Sunday, in this capital city of a Canadian province, some seven months after he spoke of all the brave first responders that worked tirelessly and courageously through tragedy, he again represented the team.
This time, tears were replaced with smiles.
Engelland was holding the Clarence S. Campbell Bowl, bestowed to the Western Conference champion of the NHL, meaning Vegas in its inaugural season has advanced to the Stanley Cup Final following a 2-1 victory against Winnipeg in Game 5 of the best-of-seven series at Bell MTS Place.
The Knights will next face the winner of Tampa Bay and Washington from the Eastern Conference, where the Lightning lead that series 3-2 and can close it out on the road Monday.
If it does, Tampa Bay would host Vegas in Games 1 and 2 of the Final.
Should the Capitals rally and win the series, the Knights would welcome Washington to T-Mobile Arena.
The league has yet to officially release a date for Game 1.
"This is what you play for all season," Engelland said. "After Oct. 1, those first games … you want to play for the city, the people that were affected by it. To make this run, win this series, it's awesome for us, but it all comes back to the city and the people affected by that."
In winning the series 4-1, Vegas became just the second expansion team in the NHL, NFL, NBA and MLB since 1960 to reach a championship series in its first season. Back in 1967-68, the St. Louis Blues also achieved that feat.
The final horn sounded Sunday at Bell MTS Place and it was as if many Knights had no idea how to respond, who to hug, where to skate, because in a way, they sort of followed the idea this entire season that if you simply start by doing what's necessary, then do what's possible, you're suddenly doing the impossible.
Two players — goaltender Marc-Andre Fleury and forward James Neal — are the only Knights who have advanced to a Stanley Cup Final.
Fleury won it three times in Pittsburgh.
"The first thing I thought when it was over was, 'What the heck is going on?'" said forward Pierre-Edouard Bellemare. "I saw some guys jumping, but I wasn't sure what to do. It's weird. It's not over yet, and you know there is another series coming, so you kind of feel like exploding, but not yet.
"But it's still pretty cool."
They promoted all season an identity of the Golden Misfits, a group of players left unprotected and unwanted by their previous teams, and rode that underdog status to a Pacific Division title and into the playoffs.
From there, Vegas has gone 12-3 and never trailed in the conference final following a Game 1 loss, leaning on the continued remarkable play of Fleury and the timely offerings of players like Ryan Reaves, a trade deadline acquisition from Pittsburgh who scored the game-winning goal Sunday off a deflection.
"We knew we couldn't heal everyone (following 1 October)," said Fleury, who stopped all but one of 26 shots Sunday. "But we wanted to give (the city) something to cheer for, to be proud of their team."
More than seven months later, the Vegas Golden Knights gathered in a visitor's locker room in this capital city of a Canadian province and took a team picture while surrounding a silver bowl that proclaimed them Western Conference champions.
Tears had turned to smiles and, amazingly, incredibly, implausibly, the Stanley Cup Final awaits.
More Golden Knights: Follow all of our Golden Knights coverage online at reviewjournal.com/GoldenKnights and @HockeyinVegas on Twitter.
Contact columnist Ed Graney at egraney@reviewjournal.com or 702-383-4618. He can be heard on "The Press Box," ESPN Radio 100.9 FM and 1100 AM, from 11 a.m. to 2 p.m. Monday through Friday. Follow @edgraney on Twitter.