Anti-Alabama action surprises oddsmakers
December 30, 2016 - 8:34 am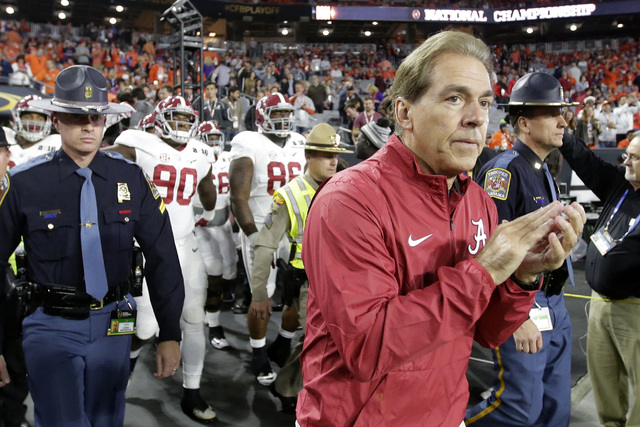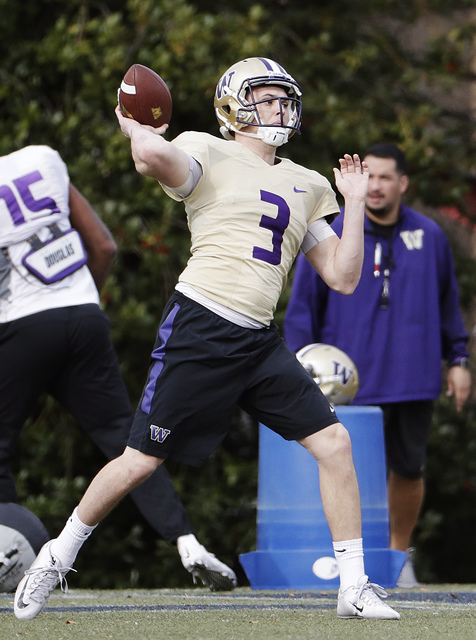 A strange thing is happening. Many of the same football bettors who often fear Nick Saban and pledge an allegiance to Alabama are turning into traitors.
It's not as strange as Bigfoot or UFO sightings, or some things that will happen on the Las Vegas Strip on New Year's Eve, but it's rare to see money show on the opposite side of the Crimson Tide. Still, it has happened for more than a week, and the anti-Alabama action intensified the past few days.
The line on the Peach Bowl, the first College Football Playoff semifinal Saturday, has dipped to Alabama minus-13½ against Washington. The number opened at 14, hit 16½ and seemed headed to 17 before taking a U-turn.
That prompted Golden Nugget sports book director Tony Miller to say something bookmakers seldom say, "Right now, I need Alabama."
Obviously, it's not uncommon for sharp bettors to take underdogs at numbers that are perceived to be inflated. In this case, though, a significant amount of public money is also showing against the No. 1 seed and on the fourth-seeded Huskies.
"We took money on Washington, and the market moved, too," Miller said. "I didn't really want to move it down to 14 or 13½, but the money forced me to go. I think Alabama is going to roll 'em."
It's not smart to drink and drive on New Year's Eve — or any other night for that matter — and betting against Saban is not a sharp money-making strategy. Alabama (13-0) is 9-0 against the spread this season and 25-0 straight up and 16-9 ATS in its past 25 games.
The Huskies' hopes ride largely on Jake Browning, who is a good college quarterback but not a flashback to the Texas A&M version of Johnny Manziel. Against a fast Southern California defense, Browning threw two interceptions in a 26-13 loss. Now, he's staring down a Tide defense loaded with NFL prospects.
"Washington is a little bit of a paper tiger," The Gold Sheet handicapper Bruce Marshall said. "The Huskies jumped on a lot of bad teams this year. I don't think this game is close."
But, Marshall added, "I respect Chris Petersen a lot."
And there's the wild card. Petersen, who left Boise State and turned around the Washington program in three years, is the West Coast coaching version of Saban. An exception is Petersen was once caught on camera smiling. Petersen has a sturdy defense, and he's getting two touchdowns in the bowl also featuring the Chick-fil-A cow.
The 'dog might not be a bad bet, but it's not a bet I want to make. When tourists pour into a town and start betting, we'll see if the anti-Alabama trend holds up.
"There will be a lot of square money coming in the next two days," Miller said, "and I think they will bet the Alabama number back up."
A simplistic way to analyze this: Alabama quarterback Jalen Hurts is more of a playmaker than Browning, and Browning is facing a tougher defense.
"I think Browning is in for a big, big shock," Miller said. "He has not faced any defenses like this one in the Pac-12, not even close."
The playoff underdog that interests me more is Clemson, a 3-point 'dog to Ohio State in the Fiesta Bowl. Urban Meyer is the Big Ten's coaching version of Saban, and there are all sorts of point-spread trends that point to the Buckeyes.
But I believe the Big Ten's top teams are a little overrated this season. This is not the Ohio State team of two years ago that bullied Alabama. That team was led by Ezekiel Elliott and Joey Bosa. This team blew a big lead at Penn State, barely beat Michigan State and was lucky to win a home game against Michigan.
Tigers quarterback Deshaun Watson needs to be the best player on the field.
"Watson is a real playmaker," Marshall said. "I think Clemson will have a shot against Alabama, so if that comes up, I think we're going to get a game like we did last year."
Alabama won, but Watson led Clemson to a backdoor cover in last season's title game. It was a wild one worthy of a rematch.
CLOSING NUMBERS
Bowl underdogs went on a 9-1 ATS run in a 10-game stretch this week. I won with Oklahoma State plus-3 in the Alamo Bowl on Thursday night, putting my season record at 44-44-1. Here are my remaining bowl plays:
Stanford (-2½) over North Carolina (Sun Bowl); Florida State (+7) over Michigan (Orange Bowl); Louisville (+3½) over Louisiana State (Citrus Bowl); Clemson (+3) over Ohio State (Fiesta Bowl); Florida (-3) over Iowa (Outback Bowl); USC (-7) over Penn State (Rose Bowl).
Las Vegas Review-Journal sports betting columnist Matt Youmans can be reached at myoumans@reviewjournal.com or 702-387-2907. He co-hosts "The Las Vegas Sportsline" weekdays at 2 p.m. on ESPN Radio (1100 AM). Follow @mattyoumans247 on Twitter.