Books go wild with improbable endings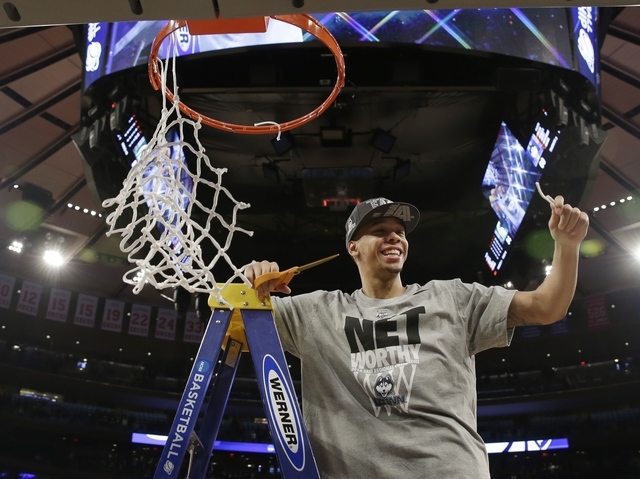 In retrospect, some events are truly unbelievable, such as an airplane disappearing without a trace. It went against the odds, but Shabazz Napier knocking out Michigan State is not that hard to believe.
The Spartans seemed doomed from the start. On Selection Sunday night, when blank NCAA Tournament brackets were waiting to be filled in and everyone had opinions to dish out, two teams were runaway winners in the popularity contest.
"Let's face it, Michigan State and Louisville were the flavors of the month going into the tournament," said Nick Bogdanovich, director of William Hill sports books.
The Cardinals and Spartans are out, and teams seeded Nos. 7 and 8 are in the Final Four along with Frank Kaminsky.
If anyone predicted Connecticut, Florida, Kentucky and Wisconsin's Kaminsky to be here, raise your hand. Seeing no hands, here's a simple explanation for how the Huskies kept surviving and advancing: Napier has been the best player in the tournament.
Napier was tough as nails Sunday. The senior guard scored 25 points, 17 in the second half, as Connecticut pulled off a bracket-busting 60-54 comeback victory over Michigan State, a 5½-point favorite.
Later in the afternoon, Kentucky and Michigan got tangled in a thriller, and Aaron Harrison's 3-pointer with 2.3 seconds to go broke a tie and lifted the Wildcats, who closed as 2½-point favorites, to a 75-72 win and cover.
"The 3-ball made us a loser," South Point oddsmaker Jimmy Vaccaro said. "The place erupted when the kid hit the 3."
The sports books will soon go quiet for the summer, but the past two weeks have been wild and crazy.
"It's freakin' entertaining, and it's good for business," Vaccaro said. "It keeps people coming back."
As gamblers, even after excruciating losses, we keep coming back. And maybe that's crazy, but sports betting can be as addictive as cigarettes, beer and sex. It's always tempting to get caught up in the entertainment of betting the NCAA Tournament, yet the unpredictability makes it tough to beat.
Mercer beat Duke. North Dakota State and Stephen F. Austin advanced. Dayton beat Ohio State, Syracuse and Stanford. Kaminsky beat Arizona. Connecticut and Kentucky are still standing.
"Anyone can beat anyone. I said it before the tournament," Bogdanovich said. "Florida is not invincible. All these teams can be beat.
"It's wild. The excitement level is off the charts. I'm not going to say it's always good basketball because Michigan State proved that today."
The Spartans led by nine points three minutes into the second half, but then went more than six minutes without scoring a point and lost their poise down the stretch. Napier scored seven points during a 12-0 run as the Huskies handed Tom Izzo a ticket home.
What I like most about Napier is he hits free throws. He's almost automatic from the line, and great free-throw shooters are as rare as great officiating. Napier is averaging 23.3 points and is 25-for-27 on free throws in the tournament.
In its opener, Connecticut was lucky to beat Saint Joseph's in overtime. But sometimes, in basketball and in life, one lucky break is all it takes to get on a roll.
"Connecticut has had huge support in this tournament," said Bogdanovich, adding that a bettor at William Hill placed $228,000 on the Huskies on the money line (+110) in their Friday upset of Iowa State. "I think the books are a decent winner for the tournament, but it's nothing great."
The only thing I hated about Michigan State was this sign of impending doom on Selection Sunday night: ESPN's panel of analysts — Jay Bilas, Seth Greenberg, Digger Phelps, Dick Vitale and Jay Williams — picked the Final Four and all five picked the Spartans as national champions.
Kentucky is not exactly a Cinderella story out of nowhere. It was the preseason No. 1 team in the nation that flashed its potential at the perfect time. Bad guy or not, John Calipari is not a bad coach.
"I was ready to write them off in the middle of the season," Vaccaro said of the Wildcats. "I didn't think they would get to this point."
Kentucky, which took down Louisville on Friday, is a 2-point favorite over Kaminsky and second-seeded Wisconsin. Florida, the No. 1 overall seed, is a 6½-point favorite over Connecticut.
A team seeded seventh does not get this far without a great player like Napier, or a bunch of future NBA players, as is the case with eighth-seeded Kentucky.
So while this Final Four was unpredictable, in retrospect it's not truly unbelievable.
Las Vegas Review-Journal sports betting columnist Matt Youmans can be reached at myoumans@reviewjournal.com or 702-387-2907. He co-hosts "The Las Vegas Sportsline" weekdays at 2 p.m. on ESPN Radio (1100 AM). Follow him on Twitter: @mattyoumans247.