Calipari's 'Cats might be (almost) unbeatable
November 13, 2014 - 11:41 pm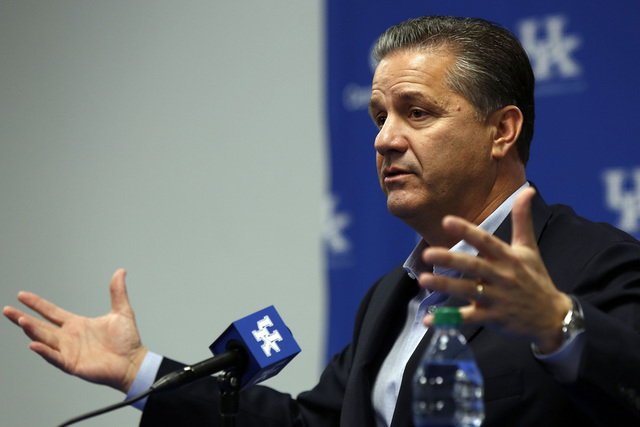 A crazy theory recently was floated. The theory, turned into a question, is this: Did coach John Calipari collect so much talent this season that Kentucky might be good enough to beat a bad NBA team?
Calipari scoffed at the question, essentially saying it was ridiculous to even consider. But never bet on Calipari telling the truth.
Normally, I would agree with his side of that debate. Still, it's not crazy to anyone who watched the winless Philadelphia 76ers lose 123-70 on Thursday night. It's certainly conceivable the Wildcats would have put up more of a fight.
The season's first college basketball game has not been played, but Kentucky has been anointed a unanimous No. 1 by the media, oddsmakers and everyone else who has an opinion that matters.
"Kentucky is really good and is only going to get better with freshmen and sophomores," said Kenny White, an analyst for DonBest.com and the former top oddsmaker at Las Vegas Sports Consultants.
White power rates the Wildcats three points higher than the next-best team, with Arizona, Duke, Kansas and Wisconsin the candidates to be ranked No. 2.
William Hill sports book director Nick Bogdanovich took it another step, saying, "I would say more than three points better than the next team. I would go four or five. I think Kentucky is that strong."
Bogdanovich posted a proposition bet on Kentucky going undefeated, and the "Yes" side pays off plus-650 with the "No" a 10-1 favorite. The price on the prop opened at 50-1 before "Yes" wagers flooded in and forced the line down.
"It's almost impossible to go undefeated," said Richie Baccellieri, a Las Vegas handicapper and former book director. "They are going to lose somewhere."
Calipari did not load up his team's nonconference plate with cupcakes. The Wildcats will play Kansas, Texas, North Carolina, UCLA and Louisville before New Year's Eve, so there's a decent shot of them losing somewhere along the way before the NCAA Tournament.
Kentucky lost to Connecticut in last season's national championship game and then lost two freshmen — Julius Randle and James Young — in the first round of the NBA Draft. Despite that, these Wildcats are probably better.
Another crazy theory also was floated that Kentucky's second team is talented enough to be ranked No. 2 in the nation. That's a tough sell, and I'm not buying it at all.
For starters, Calipari returns guards Aaron and Andrew Harrison, junior forward Alex Poythress and 7-foot junior Willie Cauley-Stein. He added five-star freshmen 6-11 Karl-Anthony Towns, 6-10 Trey Lyles, 6-6 sharpshooter Devin Booker and point guard Tyler Ulis. Those are big names we will get to know and remember soon enough.
"That's how strong and dominant this team appears to be that people are taking 8, 9 and 10-1 that this team is going to go 40-0," Bogdanovich said.
The season tips off today with more than 60 games on the betting board, including Kentucky as a 30-point favorite over Grand Canyon.
There are around 350 Division I teams, and most are on the board, which makes it nearly impossible for oddsmakers to post sharp lines on all of the games. This is far easier to beat than the NFL, though nothing is truly easy.
"I can't wait for the college hoops to get here. I know it's my favorite sport," Bogdanovich said. "There are so many board teams, your head spins around. It's an incredible amount of work for oddsmakers and consultants. That's why in November and December you take such smaller limits and you move everything so fast.
"You're trying to get a grasp on 260 teams, and it's almost impossible. There's no question that in November and December, college basketball lines can be off 3, 6, 8 or 10 points. If you're a sharp bettor, you can definitely take advantage of the lines in those time frames."
One of the best aspects of college basketball is the obscure teams that rise up in March. Gonzaga, Wichita State and Virginia Commonwealth no longer exist in obscurity, and all three again will be a threat.
Florida Gulf Coast, Georgia State, Harvard and UC Santa Barbara are obscure teams to watch this season.
In my opinion, Duke features the best freshman, 6-11 Jahlil Okafor. Wisconsin brings back an old-school fan favorite, 7-foot senior Frank Kaminsky, who carried the Badgers to the Final Four, where they lost a 74-73 heartbreaker to Kentucky.
Calipari has created the Evil Empire of college hoops. It's popular to root against him, but be careful betting against him.
■ CLOSING NUMBERS — Ohio State was my only college football winner last week, which resulted in a 1-4 fiasco. At 42-31 for the season, here are five plays for Saturday (home team in CAPS):
Nebraska (+6½) over WISCONSIN; GEORGIA TECH (+3) over Clemson; ARKANSAS (-1) over Louisiana State; Northwestern (+18) over NOTRE DAME; Mississippi State (+9) over ALABAMA.
Las Vegas Review-Journal sports betting columnist Matt Youmans can be reached at myoumans@reviewjournal.com or 702-387-2907. He co-hosts "The Las Vegas Sportsline" weekdays at 2 p.m. on ESPN Radio (1100 AM). Follow him on Twitter: @mattyoumans247.