Clear trend: underdogs in control
October 3, 2010 - 11:00 pm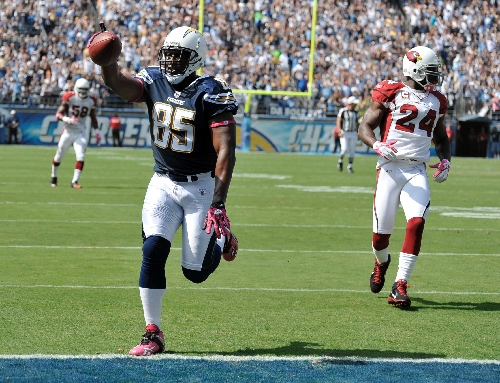 Almost as if Donovan McNabb wrote the script, the veteran quarterback returned to Philadelphia and directed the Washington Redskins in a triumphant performance. It was not that surprising, knowing the way the NFL works.
It works in mysterious ways.
Attracting far less attention was rookie quarterback Sam Bradford, who won a second consecutive game for the St. Louis Rams.
McNabb is an old timer and Bradford is a new face, and both were underdog winners Sunday. If the first month of the season has taught us anything, it's this: Don't underestimate the underdogs.
In a league in which no great teams are emerging, laying points is as risky as playing with fire and as wise as staring into the sun.
"If you were to ask five people what the No. 1 team is in the NFL, you might get five different answers," Las Vegas Hilton sports book director Jay Kornegay said. "Every team has question marks. It's wide open."
I really hate to say there is parity in the league — because it's a tired cliché — but there really is parity in the league.
Look at what last season's Super Bowl teams just did. Peyton Manning and the Indianapolis Colts lost to a weak Jacksonville team. Drew Brees and the New Orleans Saints barely defeated winless Carolina.
Through four weeks, underdogs are 37-21-3 against the spread, so follow the trends:
■ In Week 3, underdogs went 11-5 ATS, with eight straight-up winners.
■ In Week 4, underdogs are 9-4 ATS, with six straight-up winners.
It's plain to see why the bookmakers are riding a four-week winning streak against the bettors. There will be weeks when the favorites dominate, and the parlays and teasers roll in for the public, but who knows when it will happen?
It did pay to play a few favorites Sunday, and the bettors rode the San Diego Chargers to success. The Chargers, who closed as 10-point home favorites after the line opened at 8, crushed the Arizona Cardinals, 41-10.
"We did lose our biggest decision of the day, and that was the Chargers," Kornegay said. "I'm not complaining. It was definitely a good day. If not for the Chargers, it would have been a great day. No one was touching the Cardinals. The Cardinals have a lot of problems."
Parity also excludes the Buffalo Bills, who have more problems than anyone can count, one being the ill-advised hiring of coach Chan Gailey.
LaDainian Tomlinson rushed for 133 yards and two touchdowns and Mark Sanchez passed for two scores as the New York Jets, 5½-point road favorites, humiliated the Bills, 38-14.
New Mexico and New Mexico State are not on their schedule, so it's doubtful the Bills will be favored in many games this season.
"The Jets were a big decision for us," Kornegay said. "Even though underdogs covered nine games, we lost two of the four biggest decisions.
"I know a lot of people will look at the scores and say, 'Wow, the books just killed them.' But you've got to look a little closer. It could have been a better day."
Houston, a 3-point favorite, covered in a 31-24 victory over Oakland. The New York Giants, 3½-point favorites, beat Chicago 17-3 in a hideous offensive display. (If you bet over 8½ for the Giants' first-half sacks of Bears quarterback Jay Cutler, you had a winner.)
Underdogs covered seven of eight morning games, and McNabb carried it over to the afternoon by helping the Redskins, 5½-point underdogs, beat the Eagles, 17-12.
The other 'dogs to win straight up were Baltimore, Cleveland, Denver, Jacksonville and St. Louis. Big 'dogs Carolina, Detroit and San Francisco each lost by two points.
The Ravens, 2½-point underdogs, edged the Pittsburgh Steelers in a 17-14 thriller as Joe Flacco hit T.J. Houshmandzadeh for an 18-yard touchdown pass with 32 seconds to go.
The Jaguars, 7-point underdogs, stunned the Colts 31-28 on Josh Scobee's 59-yard field goal as time expired. Jacksonville was prepared to run out the clock and go to overtime, but Indianapolis coach Jim Caldwell called timeout before a second-and-2 play early in the drive.
It's a mysterious league, with more than a few clueless coaches.
There is no favorite-underdog decision to make today. New England is at Miami, and the line is a pick.
Contact sports betting columnist Matt Youmans at myoumans@reviewjournal.com or 702-387-2907. He also co-hosts the "Las Vegas Sportsline" weeknights at midnight on KDWN-AM (720) and kdwn.com.