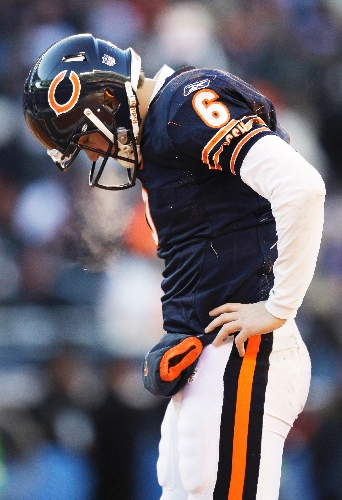 A mysterious knee injury and an allegedly weak heart have left Chicago Bears quarterback Jay Cutler tagged as a quitter. His reputation was not the best to begin with, but there's nothing worse than this.
The clearest danger in betting the Bears in the NFC Championship Game on Sunday was banking on Cutler, who has been much more of a whiner than a winner during his turbulent times in the NFL.
Cutler played poorly and left prematurely, exiting early in the third quarter of the Bears' 21-14 loss to the Green Bay Packers. He walked with only a little limp and stood on the sideline imitating a wimp in the most important game of his career.
"I don't think he was that hurt," said Jimmy Vaccaro, director of operations for Lucky's sports books. "I think he was more embarrassed than hurt."
Similar statements were posted via Twitter by several players around the league, and NFL Network analyst Deion Sanders questioned Cutler's heart. In a game of that magnitude, any tough player should have to be carted off the field to not continue.
We might find out Cutler has a torn knee ligament. But Philip Rivers played on a torn-up knee when the San Diego Chargers needed him in the postseason, and that's one of many reasons Rivers is so admired.
There will be plenty of people who step up to Cutler's defense. But I'm skeptical of auto repair estimates, telemarketers and a quarterback who walks around on a hurt knee and leaves a big game without putting up a fight.
I did not bet the Bears, so I don't care that they failed to cover as 3½-point underdogs. Even if Cutler had played to the end, the Packers probably would have won anyway.
"It really surprised me that Cutler didn't give it a shot," Las Vegas Hilton sports book director Jay Kornegay said. "It's not Week 4 against Carolina. This is the NFC championship."
Green Bay's win and close cover benefited the betting public and injured the Las Vegas sports books, and that's not a terrible development.
As the Pittsburgh Steelers were struggling to close out a 24-19 victory over the New York Jets in the AFC Championship Game, opening lines for the Super Bowl started to pop up here and offshore.
"It's basically looking like a Pick to me," Kornegay said. "I thought Pittsburgh would be a 1-point favorite, but I was outvoted in the back room. Our consensus was Green Bay minus-2."
The first bet the Hilton took was for $3,300 on the Packers. MGM Resorts sports book director Jay Rood said the first five bets he took were for five figures on the Packers.
So the consensus line shows Green Bay as a 2½-point favorite over Pittsburgh, and it's a marquee matchup of great defenses and tough quarterbacks. The total is either 45½ or 46, which M Resort sports book director Mike Colbert said he thinks is "too high."
With two weeks to wager on the Feb. 6 game, expect the handle in Nevada to surpass the $82.7 million for last year's Super Bowl and approach the state-record $94.5 million from 2006.
Vaccaro said the handle at Lucky's books was greater on Sunday, for just two games, than for any of the previous 19 weeks of the NFL.
As parlays piled up on the Packers and Steelers, who covered as 4-point favorites, most books took a beating.
"It's kind of weird. The regular season was great and we had no issues," Rood said. "The playoffs have been nothing but a disaster."
Colbert, who runs Cantor Gaming's four books, said he was able to avoid damage by holding the Green Bay line at minus-3 (minus-135) and the Pittsburgh line at minus-3½ (minus-120).
"There were definitely takers on both 'dogs," Colbert said.
There was wiseguy action — some of it reportedly from Billy Walters — on the Bears and under the total. As it turned out, getting behind a team led by Cutler was not so wise.
"We had a lot of late money on the Bears," Kornegay said.
Vaccaro said heavy money-line play on the Jets "saved" his books
"We had a losing day. It could have been a lot worse," Vaccaro said. "We escaped the thunderstorm, and we only got sprinkled on."
Cutler served as the lightning rod for criticism, right or wrong. But the Bears are done and he's old news.
A Super Bowl showdown featuring two gunslingers — the Packers' Aaron Rodgers and the Steelers' Ben Roethlisberger — should be a wild one to witness.
You can bet neither will tap out of the game without a fight.
Contact sports betting columnist Matt Youmans at myoumans@reviewjournal.com or 702-387-2907. He co-hosts the "Las Vegas Sportsline" weeknights at midnight on KDWN-AM (720) and thelasvegassportsline.com.