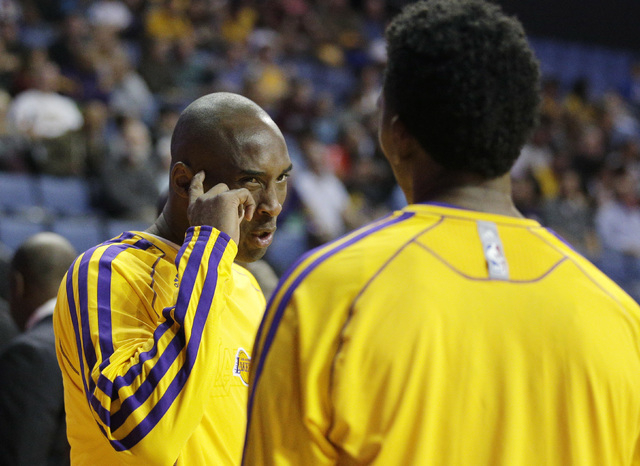 About an hour before tipoff, Kobe Bryant strolled into a quiet locker room to talk with a few teammates. A reporter approached and asked Bryant if he planned to speak to the media.
"Not a chance," Bryant said with a grin.
Those three words pretty much answered the questions I had prepared.
Do the Los Angeles Lakers have any shot to contend for the NBA title this season? Are they even a playoff team? Can they possibly win the Pacific Division?
Not a chance.
Here's one more: Can the Lakers top their regular-season win total of 34 that is posted at the LVH sports book? Maybe. The number opened at 33½, and someone bet it over, probably with blind faith in Bryant's ability to heal and save the day.
The Lakers hosted a preseason game Thursday night at the MGM Grand Garden, but there was no Bryant and a definite lack of buzz. Imagine the E Street Band showing up to play without Bruce Springsteen.
Bryant blew out his left Achilles tendon on April 12, crushing the Lakers' playoff hopes and casting a dark cloud over their long-term future. He says he's out of shape and not yet comfortable jumping. He recently returned from Germany, where he underwent a mysterious treatment on his right knee.
I would not bet against Bryant eventually looking like himself again, in spurts of greatness if not consistently. But we probably won't see it until sometime in December, and at age 35 and off an injury, he'll be mostly a jump shooter and not as explosive.
He's doubtful to be ready by Oct. 29, when the Lakers open against the Clippers, by far the best team in L.A. The next night, the Lakers visit Golden State to get shot down by Stephen Curry. That will be followed by a lopsided home loss to San Antonio.
Look at the schedule, and it's easy for foresee the Lakers starting 0-3 and perhaps 1-6.
Gregg Popovich might not be able to coach this motley crew of Lakers to 35 wins, and Mike D'Antoni has less of a chance. The Lakers went 20-12 down the stretch last season to finish 45-37, and that was due to some Superman-like heroics from Bryant.
Point guard Steve Nash was limited to 50 games because of left leg and right hamstring injuries. Pau Gasol, bothered too many injuries to list, played in only 49 games.
"We won 45. So with those two guys healthy, would we win 50? I don't know," D'Antoni said. "Kobe will be back as soon as he can. But that's not something we sit around and worry about."
D'Antoni should be worried. The Lakers' defense was mediocre, and their best players on that end of the floor, Dwight Howard and Metta World Peace, bolted for better teams.
Charles Barkley, the TNT analyst never shy to drop a bomb, said, "The Lakers are going to stink with or without Kobe."
LVH oddsmakers Jeff Sherman and Ed Salmons differed on how foul the Lakers will smell. Sherman made their win total 34½, and Salmons set it at 31½, so they met close to the middle.
"I'm not expecting much out of Kobe," Sherman said. "I think the injury is so severe, no matter how much will he has, it's just not something you can easily overcome. There's no reason to rush back out there.
"I think the Lakers are going to have a tough time on the road. With that name on their jerseys, no matter if they are good or bad, they have a target on them. I would be stunned if they played above their heads and won 40-something games."
According to the LVH's win totals list, the Lakers are the 22nd-ranked team in the NBA. The Sacramento Kings, 23rd with a win total of 32½, whipped the Lakers, who were 1½-point favorites, 104-86 before a mildly entertained crowd in Las Vegas.
The Lakers started Nash, Gasol, Chris Kaman, Nic Young and Jodie Meeks, and Nash left in the first half with a sore left ankle. Save the "Showtime" theme for the Clippers, who brought in Doc Rivers to steal the spotlight.
LeBron James and the Miami Heat, in search of a three-peat, top the win totals board at 61½. Derrick Rose's return has lifted the Chicago Bulls to second-best status at 56, followed by the Clippers and Spurs each at 55½.
Curiously, MGM Resorts books are offering the Lakers at 18-1 odds to win the championship — and that's not the city championship.
The Lakers' odds at the LVH are 100-1 to win the NBA title and 40-1 to win their division. In other words, not a chance. It's enough to leave Bryant speechless.
The New Orleans Pelicans, Sherman said, are "definitely better" than the Lakers, who always are a big story, especially when they appear to be really bad and easy to bet against.
Las Vegas Review-Journal sports betting columnist Matt Youmans can be reached at myoumans@reviewjournal.com or 702-387-2907. He co-hosts "The Las Vegas Sportsline" weekdays at 2 p.m. on ESPN Radio (1100 AM). Follow him on Twitter: @mattyoumans247.
NBA WIN TOTALS
Miami Heat 61
Chicago Bulls 56
Los Angeles Clippers 55.5
San Antonio Spurs 55.5
Houston Rockets 54.5
Indiana Pacers 54.5
Oklahoma City Thunder 53
Brooklyn Nets 51.5
New York Knicks 50.5
Golden State Warriors 50
Memphis Grizzlies 49.5
Denver Nuggets 47
Dallas Mavericks 44
Minnesota Timberwolves 40.5
New Orleans Pelicans 40.5
Atlanta Hawks 40
Detroit Pistons 40
Cleveland Cavaliers 39.5
Washington Wizards 39.5
Portland Trail Blazers 38.5
Toronto Raptors 35
Los Angeles Lakers 34
Sacramento Kings 32.5
Boston Celtics 28.5
Charlotte Bobcats 27.5
Milwaukee Bucks 27.5
Orlando Magic 24
Utah Jazz 23.5
Phoenix Suns 21
Philadelphia 76ers 17
SOURCE: LVH sports book