Expect Chargers to end road woes against Raiders
October 8, 2010 - 2:20 pm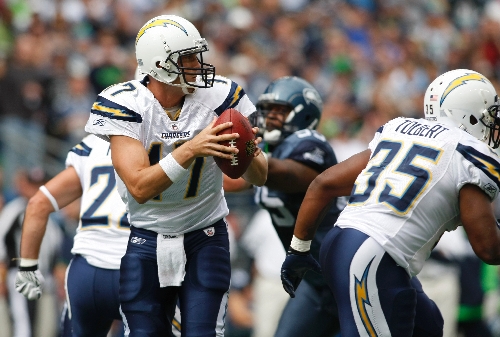 On the road, San Diego Chargers quarterback Philip Rivers has been tripped twice this season. Rivers does not lose often, however, and he never loses to Oakland.
The Chargers own a 13-game winning streak against the rival Raiders, whose commitment to clumsiness continues. It has gotten so rotten for the Raiders, they can't even beat Norv Turner.
Don't expect the streak to end Sunday. San Diego is a 6-point favorite at Oakland, and the Chargers will be seriously challenged to find another way to fail.
After getting upset at Kansas City and Seattle, Rivers and the Chargers, who were 7-1 on the road last season, are packing to take care of business.
Oakland has been surprisingly competitive since a 25-point setback at Tennessee in its opener, and the quick switch to Bruce Gradkowski at quarterback seemed to work. But Gradkowski is a journeyman, not a miracle worker, and he has little help.
Raiders running back Darren McFadden, tied for third in the NFL with 392 yards on the ground, has a sore hamstring and will not play. That reduces Oakland's number of offensive playmakers to maybe one.
San Diego has several playmakers. It ranks No. 1 in the league in offense (450.8 yards per game) and No. 2 in defense (238 yards per game).
Rivers has passed for 1,328 yards and nine touchdowns, despite the absence of wideout Vincent Jackson. Running backs Mike Tolbert, Ryan Mathews and Darren Sproles are more than making up for the absence of LaDainian Tomlinson.
The defense is weakened some by injuries but is led by linebacker Shaun Phillips, who's second in the league in sacks with six.
The Chargers are 7-1 against the spread in their past eight at Oakland. The non-cover came in a 24-20 victory last year.
Still, it all adds up to Rivers getting a win on the road.
Four more plays for Week 5 (Home team in CAPS):
■ Saints (-6½) over CARDINALS: It's time for New Orleans, 0-3-1 ATS, to show something. Arizona, outscored 82-17 in losses to Atlanta and San Diego, is the perfect patsy. Fifteen quarterbacks were drafted this year, and Max Hall from Brigham Young wasn't one, but Hall will get his first start. The Chargers sacked him six times in Week 4, and the Saints will blitz him often.
■ Titans (+7) over COWBOYS: A win at Houston and a bye week didn't solve all of Dallas' issues. Tennessee is more motivated off a loss and needs to get running back Chris Johnson going. The Jeff Fisher-Wade Phillips brain game is a coaching mismatch.
■ 49ERS (-3) over Eagles: Michael Vick is out and Kevin Kolb is in at quarterback, so San Francisco is catching Philadelphia at the right time. The 49ers are one of the most talented 0-4 teams in league history, if that means anything.
■ Vikings (+4) over JETS: The Minnesota defense is capable of keeping the score down. Off a bye, the Vikings will play better, and after adding wideout Randy Moss, their offense can stretch the field and create more space for running back Adrian Peterson.
Last week: 5-0 against the spread
Season: 14-5-1
Las Vegas Review-Journal sports writer Matt Youmans can be reached at myoumans@reviewjournal.com or 702-387-2907.