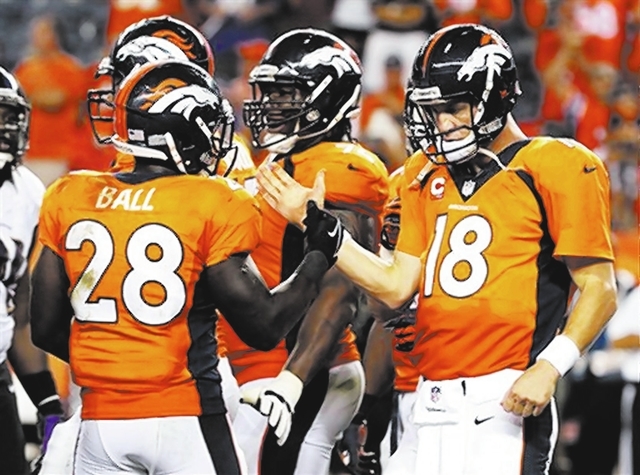 One game into the season, Peyton Manning appears unstoppable and the Denver Broncos are back with a vengeance and about to bring some serious pain to every opponent in their way. Maybe that's an overreaction.
But for the Baltimore Ravens, it's definitely a trip back to reality. Life with the NFL, for the teams and those of us who bet the games, has returned and it can be a humbling existence.
Manning passed for 462 yards and seven touchdowns as the Broncos rocked the Ravens 49-27 for a measure of revenge. Denver closed as a 7½-point favorite, and the decision was close to a split.
"We needed the Ravens," LVH sports book director Jay Kornegay said. "But it was fairly balanced betting."
Remember some of what you watched Thursday night, but forget a fair share of it, too. One trait of a good handicapper is a short memory.
Aside from gaining a full understanding of what women want in a relationship, beating the NFL at the betting windows might be the stiffest challenge men face in life.
It's not easy, even when you win. My results last year were remarkable — 56-28-1 against the spread in this column — but I still was sweating out games throughout the 17-week grind. And getting lucky more often than not.
I happened to get on a roll and find a rare rhythm. I was seeing plays before they developed, like Manning and the great quarterbacks. But, for some odd reason, that seldom happens two years in a row. I bet Baltimore in the Super Bowl but just started this season with a blowout loser.
A regression usually sets in for the league's best teams, too. Each of the past seven defending Super Bowl champions have failed to win a playoff game the next season, and the Ravens could make it eight.
For a handicapper, however, the results of last season should have no affect on this one. Stick to your basic principles, and if you're instincts are good, you eventually will succeed.
"I like to have a contrarian attitude, for the most part," said handicapper Erin Rynning of Sportsmemo.com. "I like to go against what everybody sees."
Rynning, who finished 10th in the LVH SuperContest last year, plays mostly underdogs and often goes opposite of public opinion in the NFL. Those are two popular practices of winning bettors.
Rynning uses statistics – team rushing offense and defense, and yards per play, for example – to help make his own side and total numbers for each game. He also puts a rating on each quarterback.
"It's really a mixology of a lot of things," he said of his handicapping approach. "Even though it's a quarterback's league, I still think rushing numbers are good."
There is no magic formula or one big secret to success. Keep in mind that hitting 55 percent ATS is a successful season. The NFL is a different animal, and when hunting for winners, I follow these points of emphasis:
■ Situational handicapping is the best strategy. Study matchups, scheduling dynamics and team trends.
■ Power ratings can be useful in comparing college football teams, but with the parity in the pros, those ratings mean little.
■ Avoid paralysis by overanalysis. Statistics can be revealing, and I also use rushing numbers and pay close attention to quarterback performances, but crunching too many numbers complicates matters.
■ Tune out the noise. Listening to too many opinions — whether from friends, strangers, media, tout sheets or professional handicappers — can be confusing.
■ Monitor line moves and where the money is going at sharp books.
■ Try to stay away from obvious plays (San Francisco in the Super Bowl) and public 'dogs (the Ravens on Thursday).
■ Talk to some of the unluckiest squares you know, and if they agree on a play, go the other way.
"I think you need to discredit or downplay what you saw the previous weekend. I think that's the biggest mistake. But it's very hard to do that as human beings," Kornegay said. "Take the whole picture of the teams.
"Emotionally, we get involved. Let's say you lose two straight bets on the Jets, and you say, 'I'm never going to bet that team again.' Take the emotion out of it. It's hard to look strictly at the numbers and nothing else, but that's what the successful handicappers do."
Finally, remember that a woman won the LVH SuperContest last year. So, if you're losing, maybe ask your girlfriend or wife for advice.
■ CLOSING NUMBERS — The college season kicked off last week, and this handicapper got kicked in the butt. I gave out five winners in this spot, if you bet the opposite sides. Here are four guesses for Saturday, and hopefully a few good ones (home teams in CAPS):
Florida (-3) over MIAMI; BRIGHAM YOUNG (+7) over Texas; Western Kentucky (+13½) over TENNESSEE; Notre Dame (+4) over MICHIGAN.
Las Vegas Review-Journal sports betting columnist Matt Youmans can be reached at myoumans@reviewjournal.com or 702-387-2907. He co-hosts "The Las Vegas Sportsline" weekdays at 2 p.m. on ESPN Radio (1100 AM). Follow him on Twitter: @mattyoumans247.