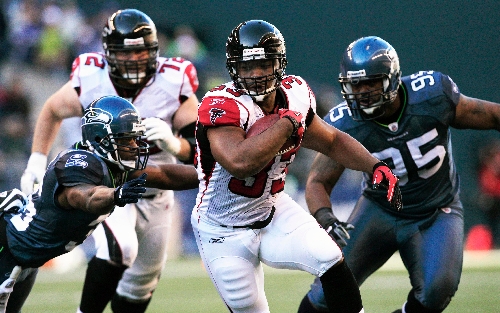 If the Seattle Seahawks reach the playoffs, coach Pete Carroll and some other biased fools will put a positive spin on the accomplishment. But the truth would be obvious.
It would be an embarrassment to the NFL, and that's the only way to call it.
The league has been embarrassed plenty, from Brett Favre's sexting to Rex Ryan's foot fetish to more serious issues involving Ben Roethlisberger and Michael Vick, just off the top. A team with a losing record qualifying for the playoffs, and hosting a first-round game, is a much different issue. But it's one that would force commissioner Roger Goodell to put a change in the rule book.
The Seahawks are not only 6-9, they are a terrible 6-9 team. All of Seattle's losses were blowouts, and these were the margins of defeat: 17, 17, 30, 34, 15, 18, 19, 16 and 23 points.
In the past nine weeks, the Seahawks are 2-7 with victories over patsies Arizona and Carolina.
Carroll is a good motivator and quality coach, and he'll probably turn Seattle into a legitimate playoff team eventually, but let's hope he's not celebrating Sunday night. It would be a shame.
If the Seahawks beat the St. Louis Rams and steal the NFC West title, they will be the first losing team — outside of the 1982 strike-shortened season — to back into the playoffs.
In addition, Seattle would be the No. 4 seed in the NFC and probably host defending Super Bowl champion New Orleans in the first round. Oddsmakers are saying the Saints might be as high as 10-point favorites in that matchup.
The Seahawks are 3-point underdogs to the Rams, who make for a better story, but not by a lot. St. Louis, which whipped Seattle 20-3 on Oct. 3, could become the third team in league history to win a division at 8-8.
I'm going with the Rams, mostly because I'll be rooting against Seattle and partly because I think rookie quarterback Sam Bradford will prove St. Louis is the better team.
Bradford has faded a little lately, but he has posted strong numbers (3,357 yards passing and 18 touchdowns) while turning around the Rams, who finished 1-15 last season.
The Seahawks, who rank 28th in the league in total offense, could be going with backup quarterback Charlie Whitehurst.
I need the Rams to get to 8-8 to keep my record above .500 for the season.
Four more plays for Week 17 (home team in CAPS):
■ COLTS (-9½) over Titans: There's no debate about resting Peyton Manning and several Indianapolis starters this year. The Colts led 21-0 but blew the cover in a 30-28 victory over Tennessee on Dec. 9. Manning will protect the lead in the rematch.
■ TEXANS (-3) over Jaguars: Both teams are a mess. Jacksonville will be without running back Maurice Jones-Drew and quarterback David Garrard. The Texans just have a losing mentality. But Houston has won four consecutive games, all by seven points or more, in the season's final week. Texans coach Gary Kubiak wants this one.
■ Giants (-4) over REDSKINS: If quarterback Eli Manning gets his act together, the Giants should continue their dominance in this series. New York has won five straight and eight of nine against Washington.
■ BRONCOS (+3½) over Chargers: On paper, San Diego should roll, and Philip Rivers should rip Denver's 31st-ranked defense. It's all on Rivers, because the Chargers will draw no inspiration from coach Norv Turner. The insertion of rookie quarterback Tim Tebow has energized the Broncos, so maybe that will be enough.
Last week: 3-2 against the spread
Season: 39-38-3
Las Vegas Review-Journal sports writer Matt Youmans can be reached at myoumans@reviewjournal.com or 702-387-2907.