No conspiracy or mafia fix works in Indianapolis Colts' favor
December 24, 2016 - 10:44 pm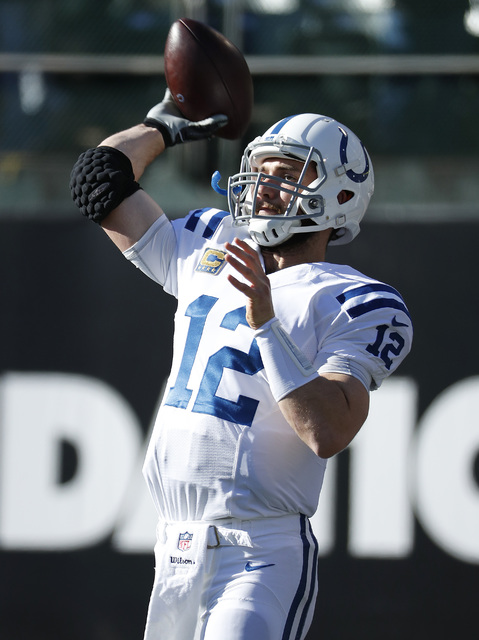 In the curious case of the Indianapolis Colts, there was no conspiracy. Nothing was fixed. Andrew Luck is not going to the playoffs, and countless Super Bowl futures tickets are not going to be cashed.
Considering the Colts' postseason chances were slim Saturday morning, it should not come as a shock their chances were none by late afternoon. But, believe it or not, a lot of dreams and theories were crushed when Indianapolis was eliminated from playoff contention in a 33-25 loss to the Oakland Raiders.
For months, several Las Vegas bookmakers wondered why so many significant futures wagers were showing up on the Colts. Rumors swirled, and mysterious reasons surfaced.
"The Italian mafia claimed the NFL is fixed and the Colts are going to win the Super Bowl," one bookmaker said last week.
There also was a blog post in August from some sort of amateur astrologer who claimed the numbers and stars lined up to show Indianapolis would defeat Minnesota in Super Bowl 51. Apparently, a lot of naive bettors were buying one story or the other.
"We've been getting hit on the Colts since we posted our futures board in February," South Point sports book director Chris Andrews said. "It has been happening all year. Our first big bet paid $50,000 for the Colts to win the AFC. I remember thinking, that's curious.
"It was a steady attack. I know they keep showing up with money. It's unbelievable."
Luck had a bad Saturday, throwing two early interceptions, and the Colts were in a 33-7 hole midway through the third quarter. Indianapolis rallied to within one score before Matt McGloin's pass to Amari Cooper picked up a first down with two minutes to go and sealed the win and cover for the Raiders, who were 3½-point home favorites.
At least one Las Vegas book faced a liability of more than $1 million if the Colts won the Super Bowl.
"They did bet the Colts for whatever reason," Sunset Station book director Chuck Esposito said. "I'm not sure why."
Again, the Colts (7-8) are not even going to the playoffs, even if Biff's almanac from "Back to the Future Part II" might have predicted otherwise.
Just last week, Andrews took a bet for $2,000 on the Colts to win it all at 75-1 odds. The Westgate was getting hit on the Colts at 40-1 and 50-1.
"It's unbelievable how something like that on the web can trigger that kind of attention," Westgate book director Jay Kornegay said. "And you're talking about bigger bets. It's not $20 and $50. It was consistent for a couple of months. We were a little nervous, so that was certainly a big relief to knock out the Colts."
And the Colts might have knocked out the Raiders, who are headed for the playoffs and still could win the AFC West. But McGloin finished the game because Oakland lost star quarterback Derek Carr to a broken right leg with 11 minutes remaining.
"The Raiders had such an incredible year, and that's really just a horrible break," said Kornegay, who bumped Oakland's odds to win the Super Bowl from 12-1 to 25-1. "We figure the difference between Carr and McGloin is about five points."
After four or five consecutive weeks of poor results, bookmakers are on the winning end in Week 16. The stars aligned for three ugly underdogs — Cleveland, Jacksonville and San Francisco — to win and cover on the same day.
The Browns, 4½-point home 'dogs, ended their 0-14 slide by stunning San Diego 20-17 on a cold day in Cleveland. The Jaguars, also getting 4½, stopped a nine-game losing skid by rocking Tennessee 38-17 and knocking out Titans quarterback Marcus Mariota with a broken right leg. The 49ers, down 14 in the fourth quarter, came back to clip Los Angeles 22-21 on Colin Kaepernick's touchdown pass and 2-point conversion run with 31 seconds left.
"The public backed the Chargers and Titans," Esposito said.
Arizona, a 9-point 'dog and plus-350 on the money line, blew a late 13-point lead but upset the Seahawks 34-31 as time expired in a wild game in Seattle.
"The Cardinals' win made it a great day for us," Kornegay said. "We need more of those head-scratcher results. It's one of our best days of the year."
Backing the Packers again paid off for the public. Green Bay, a 6½-point favorite, rode Aaron Rodgers' four touchdown passes to a 38-25 victory over the Vikings.
The Packers, who were my Super Bowl pick, need to win their regular-season finale at Detroit to take the NFC North and clinch a playoff spot. Maybe the stars are lining up for Rodgers.
Some of us never believed there was a mafia fix working in the Colts' favor.
Las Vegas Review-Journal sports betting columnist Matt Youmans can be reached at myoumans@reviewjournal.com or 702-387-2907. He co-hosts "The Las Vegas Sportsline" weekdays at 2 p.m. on ESPN Radio (1100 AM). Follow @mattyoumans247 on Twitter.