Odds stacked against Charlie Strong surviving at Texas
November 24, 2016 - 12:55 pm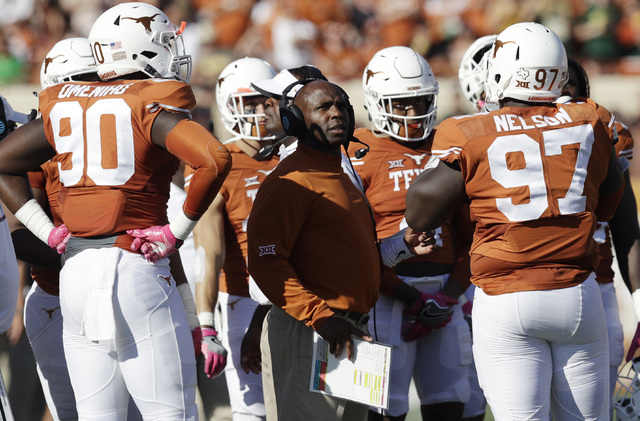 It's time to bid farewell to some overpaid, underachieving coaches. It starts with Charlie Strong, who was fired in media reports at the beginning of the week yet still will take the field for Texas on Friday, almost surely for the final time.
This is "Survivor: College Football Island," where there are boa constrictors, tigers, brown recluse spiders and bloodthirsty boosters with fat bank accounts.
It's difficult to imagine Strong survives. Even if his Longhorns defeat Texas Christian in a rivalry game to become bowl eligible, too much damage has been done — and Tom Herman is in Houston waiting for a call.
Will the emotional support Strong has received from his players turn into a big win against the Horned Frogs? Most bettors believe so, because Texas opened the week minus-1 and is now a 3-point home favorite.
"I think the kids are playing hard for Strong, and there is talent," South Point sports book director Chris Andrews said. "I like Texas. I thought Texas should be a 6-point favorite in this game."
Of course, the players shedding tears for Strong are the same players who just stabbed him in the back with an embarrassing loss to Kansas. TCU has plenty of problems, too, at 2-8 against the spread this season.
"I absolutely believe the Texas players are going to make an over-the-top effort for their coach," said handicapper Dave Cokin (SmokinCokin.com). "I fully expect Strong to get carried off the field by his players if they can win this. The Horned Frogs might actually be playing even worse than the Longhorns."
Strong's job status seemed relatively safe on Sept. 4, when the Longhorns upset Notre Dame 50-47 in a double-overtime thriller. But the demise of the Fighting Irish cheapened the value of that accomplishment.
Now, it's Brian Kelly fighting for his job. Notre Dame, just hit by NCAA sanctions for academic violations, is 4-7 and a 17-point underdog at Southern California on Saturday.
Kelly's abrasive personality and inclination to throw his players under the bus has hurt his cause. He's losing despite having a quarterback, DeShone Kizer, with the talent to be a first-round NFL Draft pick.
"I think USC crushes the Irish. I thought the number should be closer to 23 or 24," Andrews said. "As hard as the players are playing for Charlie Strong, I'm not sure they are doing that for Kelly."
After a season-opening 52-6 loss to No. 1 Alabama, Trojans coach Clay Helton appeared headed for the firing line, but USC launched a seven-game win streak that started Oct. 1.
"If USC played Alabama again, you would not see anything near a repeat of that first game," Andrews said. "If they were picking the four best teams now, USC would have a good case."
With three September losses, the Trojans will not reach the four-team College Football Playoff. Still, they are playing at a higher level currently than Ohio State and Michigan.
Urban Meyer and Jim Harbaugh are never worried about job security, but one is about to get eliminated from the playoff picture. The Buckeyes are 6½-point home favorites, a year after Meyer crushed Harbaugh in Ann Arbor.
"So far, it's mostly Ohio State (money) at 6½," Andrews said. "A couple of big players came in to lay 6½. But a couple of big players came in to take 7. There are sharp guys on both sides depending on the number. I like Ohio State. I think Michigan probably peaked about a month ago. Ohio State was far from great last week. But I think the Buckeyes are showing more signs of life."
Penn State coach James Franklin, thanks to an October upset of Ohio State, is a survivor.
Mark Helfrich is not going to survive at Oregon.
A game in Las Vegas could decide the fate of UNR coach Brian Polian, who has stumbled through a four-win season. UNLV is favored by 8½-9 points over the Wolf Pack.
"I don't think much of the Nevada coach," Andrews said. "UNLV seems to be going in the right direction."
I'll pick the Rebels to win by seven. If Polian is on the wrong side of a blowout, he'll be lucky to survive.
CLOSING NUMBERS
A 2-4 week dropped my record to 33-34-1 for the season. I need to get over .500 and off the hot seat. Here are 12 plays for Friday and Saturday (home team in CAPS):
Toledo (+9) over WESTERN MICHIGAN; TEXAS (-3) over Texas Christian; IOWA STATE (+7) over West Virginia; Purdue-INDIANA (Over 63); WAKE FOREST (-3) over Boston College; WISCONSIN (-14) over Minnesota; Georgia Tech (+4) over GEORGIA; CALIFORNIA (+3½) over Ucla; UNR (+9) over UNLV; Oregon (-3) over OREGON STATE; Michigan (+6½) over OHIO STATE; USC (-17) over Notre Dame.
Las Vegas Review-Journal sports betting columnist Matt Youmans can be reached at myoumans@reviewjournal.com or 702-387-2907. He co-hosts "The Las Vegas Sportsline" weekdays at 2 p.m. on ESPN Radio (1100 AM). Follow on Twitter: @mattyoumans247.