Packers can run table behind red-hot Aaron Rodgers
December 31, 2016 - 12:12 am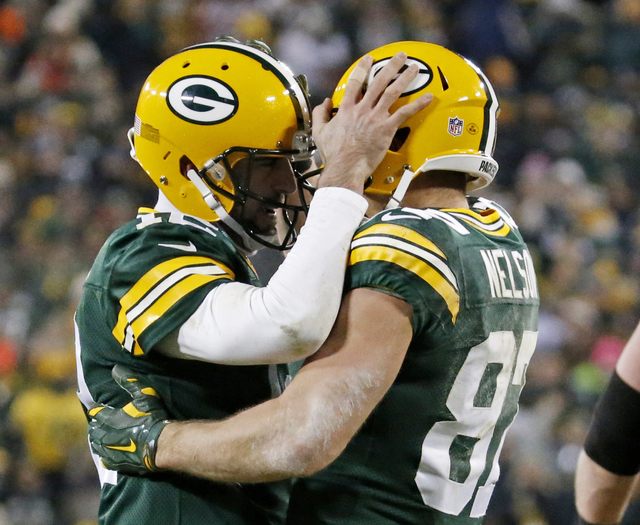 At the time, it was tough to take Aaron Rodgers seriously. When he predicted the Green Bay Packers could run the table, he was treated as a stand-up comic.
The Packers, who had just been pummeled at Washington, were not sitting pretty at 4-6. Their defense was a complete mess, and rumors of problems between Rodgers and coach Mike McCarthy were swirling.
But, of course, the NFL is a funny world and things can change in an instant. Five wins later, the turmoil is history and the Packers (9-6) are headed for Detroit to knock on the door in search of the NFC North title.
Rodgers' prediction is being blown out of proportion, but we in the media tend to do that. He actually said, "I think we can run the table." He did not guarantee it. It was not a Joe Namath-type statement. But let's run with it anyway.
Green Bay's current situation is remarkable for this reason: According to Elias Sports Bureau, only three teams in the past 38 years flipped a losing record after 10 games into six consecutive wins and a playoff spot.
The stakes are high in the 256th and final regular-season game Sunday night. Rodgers pushed his chips all-in a long time ago.
This is the fourth straight year the Packers' Week 17 game has been for the division title, and they won two of the past three. The Lions, who have lost two in a row, are seeking their first division title since 1993.
Detroit quarterback Matthew Stafford has cooled off just as Rodgers has heated up. Stafford, obviously bothered by a finger injury on his throwing hand, was knocked around Monday in a lopsided loss at Dallas.
Rodgers, meanwhile, is making a Most Valuable Player run, passing for 11 touchdowns with no interceptions during Green Bay's winning streak and a league-high 36 for the season. His rhythm with big-play wide receiver Jordy Nelson has returned.
It's a square public play, but I'm riding a red-hot Rodgers and the Packers. I recommend the bet at minus-3 (minus-120) instead of laying 3½.
Green Bay was my preseason pick to win the Super Bowl. Because of their poor start and phenomenal turnaround, the Packers are one of the league's most surprising stories — up there with the Oakland Raiders winning 12 games, the Miami Dolphins winning 10, Matt Ryan's resurgence in Atlanta and Dallas rookie Ezekiel Elliott winning the rushing title.
Four more picks for Week 17 (home team in CAPS):
Ravens (+1) over BENGALS: Baltimore coach John Harbaugh wants to end with a win, especially for wide receiver Steve Smith, who seems set to retire. Cincinnati appears to have packed it in, with coach Marvin Lewis sitting several veterans.
Giants (+7½) over REDSKINS: The motivational edge is with Washington, which sneaks into the playoffs with a win. Giants coach Ben McAdoo said his starters are playing to win, too. That might be a lie. Either way, the line is high enough to take a shot on the underdog.
Saints (+7) over FALCONS: Drew Brees has put up his typical big numbers. He leads the league in passing yards (4,858), and his 35 touchdowns rank No. 2 to Rodgers. Ryan has been just as good, if not better, passing for 34 touchdowns with seven interceptions. The total is 56½, so expect a shootout. Brees and coach Sean Payton will push for the Saints (7-8) to finish .500.
Raiders (+1½) over BRONCOS: Oakland desperately needs this win and the AFC's No. 2 seed. Expect the Raiders to rally behind backup quarterback Matt McGloin and lean on their offensive line and running attack. Denver's run defense is suspect, and its quarterback play in this game might not be better than McGloin's.
Last week: 1-4 against the spread
Season: 41-33-6
This is my final column for the Review-Journal after 16½ years. I have been lucky to work here for so long, and thanks for reading. I will be moving on to a new opportunity to be announced soon.
Finally, I want to mention some of the people who inspired me along the way: Evel Knievel, Paul Crewe, Johnny Utah, Butch Cassidy, Philo Beddoe, Ken Stabler, Hunter S. Thompson, Jim Fossum, Allen Leiker, Joe Hawk, Mark Whittington, Bill Bradley, Brent Musburger, Morris Buttermaker, Harry Callahan and Luke Jackson.