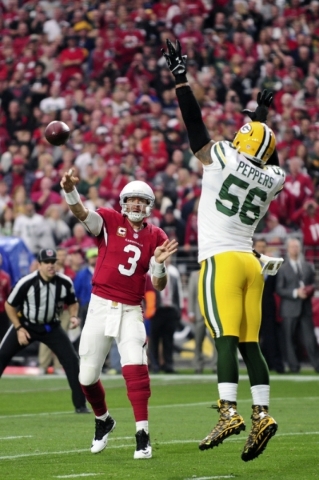 It's a psychological ploy that sometimes works and sometimes is worthless, but Aaron Rodgers is giving it a shot this week. He's embracing the underdog role on behalf of the Green Bay Packers.
A 'dog can run loose and let it fly, to paraphrase the Green Bay quarterback, while all of the pressure is on the favorite. Dr. Phil probably would agree, but he's no expert on the NFL. The last time Rodgers faced the Arizona Cardinals, he was sacked eight times, so most of the pressure was on him, and he did not handle it well.
The Cardinals are 7-point favorites over the Packers in an NFC divisional playoff game Saturday night, and the rematch surely will be more riveting than the teams' meeting in the desert in late December, when Arizona rolled 38-8 and Rodgers was tossed around like a rag doll.
But after a wild-card win against the Washington Redskins, Rodgers is walking with a swagger and talking tough. Is it phony bravado?
"The Packers regained their confidence on offense last week, but I'm not sure they solved their offensive issues," said handicapper Scott Kellen (Sixthsensesports.com). "I make the line 7½, so I think there is value, and Arizona qualifies in a few good spots this week."
For those who want to know where the so-called sharp money is going, it's on the Cardinals. Never mind that Rodgers has won a Super Bowl, and Arizona quarterback Carson Palmer is 0-2 as a starter in the playoffs. The early betting pattern in this matchup is more about a belief the Packers are phony contenders.
Rodgers passed for two touchdowns and was sacked only once in a 35-18 victory over the Redskins, the best team from a bad NFC East.
"The Packers beat a team last week that allows nearly 5 yards per rush and almost 7 yards per pass," Kellen said. "Although they scored 35 points, they still only averaged 5.5 yards per pass and 5 yards per play. If last week jump-starts their offense, that's great, but I think they will find the going much tougher against an Arizona defense allowing just under 4 yards per rush and just over 6 yards per pass."
Green Bay might be without wide receiver Davante Adams because of a knee injury, but it could see the returns of left tackle David Bakhtiari and cornerback Sam Shields. Not enough has changed in the eyes of Kellen, who's laying the points with the Cardinals.
"The Packers will be better along the offensive line than they were a few weeks ago, but possibly without Adams and with a still potentially substandard offensive line, they will likely struggle to keep up with Arizona in the points column," Kellen said. "The Green Bay defense has been pretty good at home, but not as good on the road, allowing 29, 37 and 38 points at Denver, Carolina and Arizona."
I'll play Arizona on a six-point teaser with Denver, although that looks to be a wager that is too popular this weekend.
"There are a zillion teasers and money-line parlays on Arizona," William Hill sports book director Nick Bogdanovich said.
* Kansas City at New England (-5): Patriots coach Bill Belichick showed up to a news conference this week with a black eye. It's doubtful he was punched after cutting in line to buy a Powerball ticket. Belichick refused to explain how it happened, and while it's strange, it probably does not matter. His injury-depleted team was roughed up in the final two weeks of the regular season and dropped to the No. 2 seed in the AFC. With the Chiefs on an 11-game win streak, the line has dropped to 4½ at some books.
"It looks short to me, but when you win 11 in a row, you get plenty of money on your side, and that's what we're seeing. People have bought into the Chiefs," Bogdanovich said. "I could have sworn we would be pounded with New England money, but it's not true at all. I've got to believe the two weeks off helped the Patriots as much as any team."
The Chiefs pounded Houston in the wild-card round by taking advantage of a clumsy quarterback. Tom Brady is not Brian Hoyer, and Brady is getting wideout Julian Edelman back for Saturday's game. This matters. In the eight games before Edelman suffered a broken foot, the Patriots scored 34.5 points per game. The offensive production declined about 11 points per game without Edelman.
Assuming tight end Rob Gronkowski is at full speed, and the New England offensive line is in better shape after two weeks off, I'll look to lay a short number with the Patriots.
* Seattle at Carolina (-1½): The sharp money is on the Seahawks, who are lucky to be alive after surviving a 10-9 thriller at Minnesota last week. This line, which opened at 2½ and briefly hit 3, is a reflection of more disrespect for the Panthers.
"That blows my mind. It just looks cheap," Bogdanovich said. "You're asking a 15-1 team that's been good every week just to win a playoff game at home."
The Seahawks are on the road for the third straight week, which is normally a bet-against situation. Russell Wilson is probably hotter than any other quarterback left standing, but the Carolina defense is legit, and Cam Newton has cashed tickets all season.
Bogdanovich leans to the Panthers. I lean under the total of 44.
* Pittsburgh at Denver (-7): All four road teams were winners last week, yet the Steelers were lucky, too, and they will need more good fortune to survive another round with quarterback Ben Roethlisberger, wideout Antonio Brown and running back DeAngelo Williams hurting.
Roethlisberger's banged-up right shoulder is unlikely to allow him to throw deep and stretch the Denver defense. The Broncos should be able to win with error-free play from Peyton Manning and their defense. The line has bounced between 6½ and 7.
"There are parties interested in both sides," Bogdanovich said. "I think Manning plays a good game. He doesn't have to do a lot. I think that month off he had helped immensely. He's got restored confidence, maybe fresh legs and maybe a fresh arm. The scariest thing is he might be the healthiest of the two quarterbacks."
Manning has a poor postseason history. But expect him to get over that psychological hurdle as the Broncos win, cover and move on to another showdown with the Patriots.
Las Vegas Review-Journal sports betting columnist Matt Youmans can be reached at myoumans@reviewjournal.com or 702-387-2907. He co-hosts "The Las Vegas Sportsline" weekdays at 2 p.m. on ESPN Radio (1100 AM). Follow him on Twitter: @mattyoumans247