Raiders bettors cash in on Carr's latest comeback
December 4, 2016 - 11:01 pm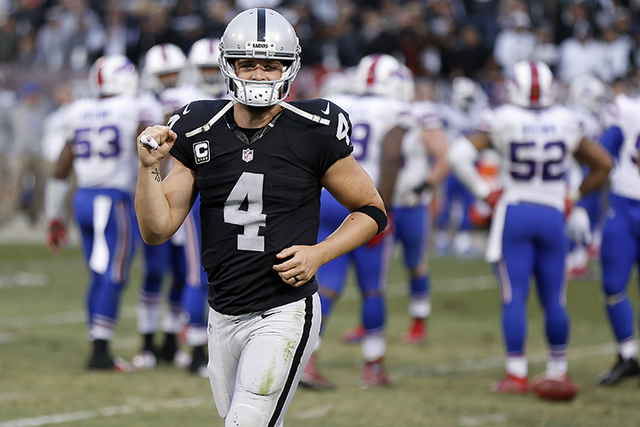 OAKLAND, Calif.
A dislocated pinkie finger on his throwing hand was not even a little problem for Derek Carr, and neither was a 15-point deficit midway through the third quarter. The Raiders had answers for everything Sunday.
Call it a comeback season in Oakland, even when the team seems set to leave for Las Vegas.
Carr's two touchdown passes in the second half rallied the Raiders to their biggest comeback in 16 years in a 38-24 victory over the Buffalo Bills, who failed to pay off for the wiseguys in a classic sharps-versus-squares betting game.
The Raiders are increasingly popular in Las Vegas — where they are becoming the adopted home team — mostly because they continue to cash tickets.
"It was a good game for the bettors. We needed the Bills," Sunset Station sports book director Chuck Esposito said. "The Raiders are really good on both sides of the ball. The progression of Carr from three wins to seven wins to 10 wins is impressive."
In Carr's third season, the Raiders (10-2) are pointed toward the playoffs for the first time in 14 years. Oakland has overcome a tough road schedule to already top its regular-season win total of 8½ set by skeptical oddsmakers.
"Hopefully, we just keep stacking up wins. I've never won more than seven, so it definitely feels a lot better," Carr said. "It's an exciting time in Oakland."
A rowdy crowd dressed in black rocked the worn-down Oakland-Alameda County Coliseum so hard it might have registered on the Richter scale. But there was no earthquake. It was just the Raiders shaking up the NFL's power ratings.
The Bills collapsed immediately after taking a 24-9 lead, causing Buffalo coach Rex Ryan to say, "Sometimes you feel that momentum shift, and it just snowballed on us."
Ryan was speaking figuratively, but there was snow in Chicago and Green Bay on a Sunday when favorites finished 9-4 straight up and against the spread.
Aside from Oakland, five of the most popular favorites on the board — Denver, Green Bay, New England, Pittsburgh and Seattle — covered relatively easily.
"The public side isn't always the wrong side," said Las Vegas handicapper Eric Parkila (ParkilaSports.com).
The so-called sharps who continue to bet on Cleveland and Jacksonville — and bet against teams such as the Broncos, Packers, Patriots and Raiders — are feeling their frustration level rise by the week.
"At some point, you either have to bet the other side of just lay off," Parkila said of the Browns and Jaguars, who attracted sharp action as 3½-point home underdogs in a 20-10 loss to the Broncos.
The Raiders lead the AFC West, with Kansas City (9-3) and Denver (8-4) on their heels. The Chiefs pulled a rabbit out the hat, winning 29-28 at Atlanta as Eric Berry returned an interception for a go-ahead 2-point conversion with 4:32 to go.
San Diego, the last-place team in the division, flopped as a 3½-point home favorite in a loss to Tampa Bay. The Chargers choked again, with Philip Rivers getting intercepted in the end zone late in the game.
The Buccaneers and Chiefs were underdog winners along with the Bears and Lions. It was Detroit which stunned the betting public the most, holding Drew Brees without a touchdown pass in a 28-13 win at New Orleans, which was a 6½-point favorite.
"That was a bad loss for the Saints," Esposito said. "How does Brees not throw one touchdown pass against that defense? How is that possible?"
How could anyone bet hard-earned money on rookie quarterback Jared Goff and clumsy coach Jeff Fisher? Double-digit favorites are not always bankroll busters, as the Patriots proved by covering 13½ points in a 26-10 win over Los Angeles.
The Packers proved the obvious side is not always the wrong side by covering in a 21-13 victory over Houston at snowy Lambeau Field.
In a two-way action game that turned into a point-spread thriller, Arizona beat Washington 31-23. The Cardinals, 2½-point favorites, covered on Carson Palmer's 42-yard touchdown pass to J.J. Nelson with 1:56 to go.
"Palmer seemed to come to life a little bit in the fourth quarter," Esposito said.
Esposito and the Westgate's Jay Kornegay each called the day a "small winner" for the books.
"We lost the biggest decision of the day when the Bills choked," Kornegay said.
As Carr came to life to lead another fourth-quarter comeback, it was obvious the Raiders can no longer be called losers or chokers.
Las Vegas Review-Journal sports betting columnist Matt Youmans can be reached at myoumans@reviewjournal.com or 702-387-2907. He co-hosts "The Las Vegas Sportsline" weekdays at 2 p.m. on ESPN Radio (1100 AM). Follow on Twitter: @mattyoumans247.