Relentless Carroll, Seahawks best option on ugly card
October 26, 2013 - 11:32 am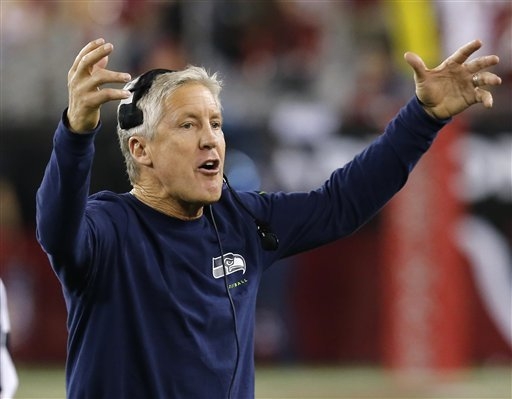 In an era when so many NFL coaches seem drained of personality, it's cool to see how Pete Carroll handles the Seattle Seahawks. He has a college-type enthusiasm and an ability to think outside the box.
When others scoffed at the idea of drafting a 5-foot-11-inch quarterback, Carroll snapped up Russell Wilson and made him the face of the franchise.
Carroll made sure he had a tough running back and built a defense with big, physical cornerbacks. He coaches preseason games as if winning matters. He stays aggressive with leads, when most coaches are afraid to lose.
But if the Seahawks fail to cover as 11-point favorites at St. Louis, I'll take back a couple of those compliments.
The schedule is so ugly this week, finding five sides to play was tougher than the $2 steak that has been sitting in my refrigerator for a week. So I'm going with my first — and maybe only — double-digit favorite this season.
Look at the prime-time games — Carolina-Tampa Bay on Thursday, Green Bay-Minnesota on Sunday and Seattle-St. Louis on Monday. Wake us up when it's time for Week 9.
But there still are chances to cash tickets, so to bettors, even the pitiful matchups can turn out profitable. As for this one, hopefully it's hip to be on the square side.
Almost all signs point to the Seahawks body-slamming the Rams. The sign pointing the other direction is this trend — home 'dogs of more than 8 points are 23-3 against the spread in the past 26 games, courtesy of RJ Bell at Pregame.com.
A month ago, the San Francisco 49ers were 3½-point favorites at St. Louis and ran roughshod over the Rams 35-11. Seattle should be able to do something similar, and when he gets a comfortable lead, Carroll is not a coach who sits on it.
Ten days ago, the Seahawks went to Arizona and coasted past the Cardinals 34-22, with Wilson passing for three touchdowns and Marshawn Lynch rushing for 91 yards and a touchdown. Carroll walked away 16-5 ATS in his past 21 games.
St. Louis is in sad shape, with quarterback Sam Bradford injured and out for the year. Kellen Clemens is stepping in for his first start in two years, and the Rams are so confident in Clemens that they tried to coax 44-year-old graybeard Brett Favre out of retirement. That says a lot.
Four more plays for Week 8 (home team in CAPS):
■ LIONS (-3) over Cowboys: Detroit ranks 28th in pass defense and Dallas ranks 30th. Look over the total of 51, and then look at the Lions, off a home loss to Cincinnati and in dire need of this win.
The Cowboys are on the road again after winning the one they wanted most at Philadelphia. Tony Romo and Matthew Stafford will put on a show. If running back Reggie Bush returns as expected from a right leg injury, Stafford should prevail.
■ Giants (+5½) over EAGLES: Both teams were terrible last week, and the Giants have been bad all season. Eli Manning is in a funk, and New York has not turned things around despite its victory over Minnesota on Monday. This is about trends, divisional revenge and simply taking the points. The Eagles have lost 11 straight at home ATS. The Giants covered in five of their past seven trips to Philadelphia.
■ PATRIOTS (-6½) over Dolphins: If in doubt, take a shot with the reliable coach-quarterback combination of Bill Belichick and Tom Brady.
New England, which gave away the game last week, is 24-9 ATS off a loss. With tight end Rob Gronkowski back on the field, the passing lanes open up for Brady. Consider putting the Patriots on a 6-point teaser with Kansas City.
■ VIKINGS (+9) over Packers: Minnesota was embarrassed Monday, and going back to quarterback Christian Ponder might not be a bad idea. Aaron Rodgers is without wideout Randall Cobb and tight end Jermichael Finley, so that could slow Green Bay's offense just enough.
For me, it was a long, slow road back to .500.
Last week: 3-2 against the spread
Season: 17-17-1
Las Vegas Review-Journal sports betting columnist Matt Youmans can be reached at myoumans@reviewjournal.com or 702-387-2907. He co-hosts "The Las Vegas Sportsline" weekdays at 2 p.m. on ESPN Radio (1100 AM). Follow him on Twitter: @mattyoumans247.