Road-warrior Raiders tailed in two cities
October 30, 2016 - 11:07 pm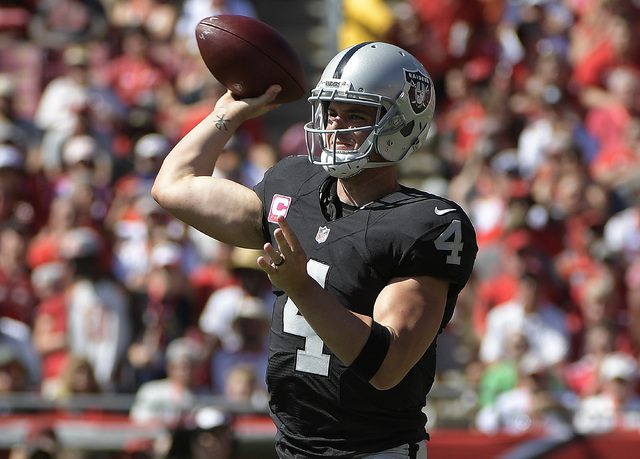 On his 59th pass attempt, and the fourth that resulted in a touchdown, Derek Carr set off celebrations Sunday in Oakland and in Las Vegas sports books. The Raiders are now being tailed in two cities.
The betting public loves a winner, and it keeps paying to follow the Raiders on the road.
"The Raiders are taking over this town," said South Point oddsmaker Jimmy Vaccaro, who heard the chants and cheers throughout a long game that ended dramatically on Carr's touchdown pass with 1:45 remaining in overtime.
"It is now Raider Nation, make no mistake about it. To some degree, the people are juiced up with the talk of the team coming here."
A phenomenal performance by Carr, and another gutsy gamble by coach Jack Del Rio, propelled the Raiders to 5-0 on the road with a 30-24 win at Tampa Bay. The game was a loser for bookmakers and, judging by the emotional eruptions in the books, a big win for a majority of bettors.
Carr painted a masterpiece, completing 40 of 59 passes for 513 yards and four touchdowns without an interception. Del Rio rolled the dice, opting to go for it on fourth-and-4 at the Buccaneers' 41-yard line, to allow Carr to finish it.
He threw a strike to Seth Roberts, who broke a tackle and trotted into the end zone to finally settle a pick'em game.
Looking at the box score, it was the right result. Oakland outgained Tampa Bay 626-270. But the Raiders set themselves back by committing an NFL-record 23 penalties for 200 yards, and Sebastian Janikowski missed late field-goal attempts from 50 and 52 yards.
A touchdown also decided an overtime game Sunday night in Dallas, and it was a kick below the belt to Philadelphia bettors. In a sick beat and a wrong result, the Cowboys covered as 5-point favorites in a 29-23 victory over the Eagles.
The goat turned out to be Donnie Jones, the Eagles' punter. It was Jones who called heads on the overtime coin flip. The coin came up tails, and the Cowboys drove 75 yards to win on Dak Prescott's 5-yard pass to a wide-open Jason Witten.
Dallas, which trailed by 10 early in the fourth quarter, luckily improved to 6-0-1 against the spread and handed me an agonizing loss.
On the bright side, betting on New England as a 6-point favorite at Buffalo was an easy decision for most. The Patriots improved to 4-0 with four double-digit wins since the return of Tom Brady, who passed for four touchdowns in a 41-25 blowout.
Vaccaro called Patriots-Bills the "worst game of the day" at the South Point, and that was true all over town.
The day started around sunrise — 6:30 a.m. on the West Coast — with the Cincinnati-Washington clash in London. The Redskins covered in a 27-27 tie.
"When I walked in, there were about 75 people already sitting down watching the game," Vaccaro said. "We did very well with the early game because there was a lot tied to the Bengals minus-3."
With six teams on byes, favorites went 7-3 against the spread. Washington, Green Bay and New Orleans covered as 'dogs, with only the Saints winning outright by holding off Seattle, a 1-point favorite, 25-20.
Despite four touchdown passes by Aaron Rodgers, the Packers blew a late lead in a 33-32 loss at Atlanta, a 3-point favorite. Falcons coach Dan Quinn played the role of dunce by calling for a 2-point conversion attempt (unsuccessful, of course) with his team trailing 21-19 late in the second quarter. Quinn was fortunate not to pay for the mistake.
San Diego, which trailed Denver 27-19 with just under three minutes remaining, had four shots to cover from the 2-yard line. But Philip Rivers fired four consecutive incompletions to bury bettors on Chargers, who opened as 6-point road 'dogs and closed plus-3½.
The New York Jets opened as 4½-point favorites and closed minus-2½ in a 31-28 win at Cleveland. The Browns, who wasted a 20-7 halftime lead, cashed or pushed for some bettors when Josh McCown passed for a touchdown and 2-point conversion with 12 seconds to go.
Carolina, Houston and Kansas City each posted relatively easy covers as favorites.
After further review, it pays to play the road-warrior Raiders and put your money on the Patriots.
On the flip side, it was painful to be on the Philadelphia side and lose the coin flip in overtime.
Las Vegas Review-Journal sports betting columnist Matt Youmans can be reached at myoumans@reviewjournal.com or 702-387-2907. He co-hosts "The Las Vegas Sportsline" weekdays at 2 p.m. on ESPN Radio (1100 AM). Follow on Twitter: @mattyoumans247