Roethlisberger will perform damage control for Steelers
December 15, 2012 - 12:35 am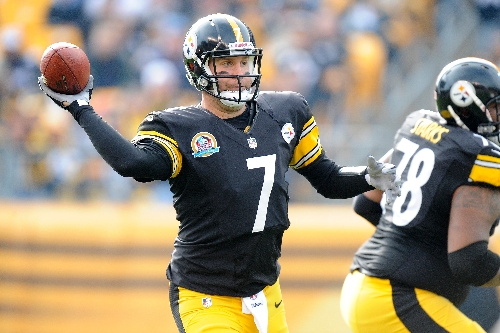 No stranger to getting into embarrassing and unfortunate situations, Pittsburgh Steelers quarterback Ben Roethlisberger has found himself in another one.
There was the motorcycle accident in 2006, when he reportedly flipped over the handlebars and shattered a car windshield with his head.
There was the sexual assault allegation, made by a Lake Tahoe casino host, that he faced in 2008, and a sexual assault investigation in Georgia in 2010 that resulted in Roethlisberger being suspended under the NFL's personal conduct policy. Charges were not filed against him after either allegation.
Six days ago, Roethlisberger was accused of losing a home game to the San Diego Chargers. Believe it or not, that actually did happen.
But just as he seems to have steered his personal life in the right direction, Roethlisberger has a chance Sunday to straighten out the Steelers and get them back on track for an AFC wild-card spot.
And Pittsburgh (7-6) appears to be in a good spot as a 1½-point favorite at Dallas, because Tony Romo and the Cowboys (7-6) are on a roll after winning four of their past five games.
One thing we know about Romo and the Cowboys is they have a hard time sustaining success. Another thing we know is Dallas turns in some dreadful performances on its home field, where it is 5-17 against the spread the past three seasons, including 0-6 ATS this season.
The Cowboys' recent winning surge came at the expense of Philadelphia (twice), Cleveland and Cincinnati, and Sunday's emotional victory over the Bengals was more a case of the Bengals giving it away.
If the Cowboys get hit by any type of letdown, they could be in trouble against the Steelers, who are angry after getting embarrassed in a 34-24 loss to the Chargers that wasn't that close.
Pittsburgh is dealing with injury problems on its offensive line, but its top-ranked defense might be in position to gain some steam with linebackers James Harrison and LaMarr Woodley and safety Troy Polamalu starting together for only the second time this season.
Mike Tomlin gives the Steelers a significant coaching edge, and Roethlisberger has shown an ability to bounce back from setbacks in the past, so I'll bet against Dallas and its home-field disadvantage.
I considered nine plays this week. The Chiefs did not make the cut despite an incredibly strong trend – the road team is 17-1-1 ATS in the Kansas City-Oakland series the past 10 years.
Four more plays for Week 15 (Home team in CAPS):
■ Packers (-3) over BEARS: Despite knee and neck injuries, Jay Cutler is expected to start at quarterback for Chicago. Cutler does not play well when in pain, and the Bears are hurting after losing four of their past five games. Aaron Rodgers is more reliable, and Green Bay has won five in a row in this NFC North rivalry.
■ Buccaneers (+4) over SAINTS: Drew Brees is in a bad slump, throwing nine interceptions during a three-game losing streak that ended New Orleans' postseason hopes. Off-field distractions could affect the Saints' focus, too. Tampa Bay, which has won five of the past eight meetings, rolled up more than 500 total yards and had no turnovers in a 35-28 loss to the Saints in October. The Bucs, 4-1-1 ATS on the road, are desperate for revenge.
■ Panthers (+3) over CHARGERS: Carolina has covered four of its past five on the road, and Cam Newton is putting on a show. After a poor start to the season, Newton has accounted for 15 touchdowns and two turnovers in the past six games. San Diego has failed to cover four of its past five at home, and the Chargers are due for a reality check after a stunning win at Pittsburgh.
■ 49ers (+5) over PATRIOTS: There might be only two defenses in the league that could cool the red-hot Tom Brady right now. San Francisco appears to be one, and the New York Giants are the other. The 49ers can pressure Brady and throw off his timing, and this is when the Patriots quarterback will miss injured tight end Rob Gronkowski.
Last week: 5-0 against the spread
Season: 47-22-1
Contact sports betting columnist Matt Youmans at myoumans@reviewjournal.com or 702-387-2907. He co-hosts "The Las Vegas Sportsline" weekdays at 2 p.m. on ESPN Radio (1100 AM, 98.9 FM). Follow him on Twitter: @mattyoumans247.