San Antonio Spurs get payback; backers get payout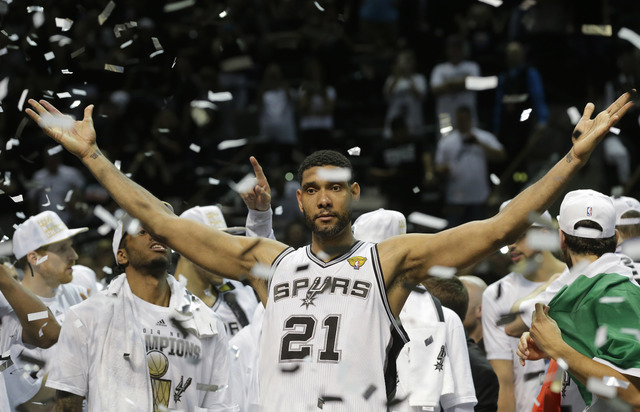 It was not supposed to be so easy. It was supposed to be a great series. But in the end, the San Antonio Spurs were supposed to win, so it was great to see Tim Duncan finally exorcise the demons.
Instead of shooting for back-to-back championships, the Spurs spent the entire season bouncing back, and their comeback Sunday in Game 5 of the NBA Finals was symbolic of it all.
LeBron James and the Miami Heat punched the Spurs in the mouth, but this time, the world's best team forced the world's best player to throw in the towel.
"It's good to see a team like that win," said handicapper Erin Rynning of Sportsmemo.com. "I felt the Spurs should have won last year."
For those of us who bet on San Antonio a year ago, and felt the agony of that seven-game defeat, it was payback time. The Spurs opened this Finals sequel as the favorites, and rightfully so.
If any retirement announcement is coming, it should not come from Duncan, who scored 14 points in San Antonio's 104-87 victory over the Heat and their shrinking Big Three.
Duncan won his fifth title with a lot of help from Kawhi Leonard, who pulled an upset by being named Most Valuable Player of the Finals. For anyone who spews a dislike of the Spurs because of their foreign influence and cranky coach, take solace in the fact that their best player in the series was a humble 22-year-old star from San Diego State.
Duncan is 38, Manu Ginobili is 36 and Tony Parker seems like he has been running the offense forever. San Antonio put together the perfect combination of old-timers and young role players such as Leonard, Boris Diaw, Danny Green and Patty Mills.
The Spurs play basketball the way it's supposed to be played, a reflection of Gregg Popovich coaching as a Marine drill sergeant.
When a series or a season ends, and this ended midway through the third quarter Sunday, the autopsy of the losing team begins. James can opt out of his contract and take his talents from South Beach. That question, and many others, will be answered soon enough.
With his back to the wall, it was supposed to be James' night. That's what the betting public expected anyway, and it was logical. Down 3-1 in the series, Miami was a 5½-point underdog and around plus-180 on the money line in Game 5.
"People are betting the Heat like it's going out of style," said Nick Bogdanovich, William Hill sports book director. "It's big money. I guess people figure LeBron isn't going down without a fight."
James came out swinging. The Heat led 22-6 with 5:05 remaining in the first quarter. But the Spurs retaliated, wore down James and overwhelmed his sagging supporting cast. By halftime, San Antonio held a 47-40 lead and a demoralized underdog was on the ropes.
"I can see why people bet the Heat. The first two games in San Antonio were tightly contested, and now you're getting more points," LVH sports book oddsmaker Jeff Sherman said.
As promising as it appeared in the first quarter, Miami was the wrong side. At least bettors got the part about James right. His proposition of 28½ points was bet over the total, and he scored 31 before grabbing a towel and watching the final minutes from the bench.
If James had not been sidelined by leg cramps late in Game 1, it might have been a different series. A longer series, possibly, but not a different result. The Spurs were the better team, which became obvious when they won with back-to-back blowouts last week in Miami.
James carried the Heat about as far as possible. He has matured into a class act, and his four-year run in Miami has been a success due to four consecutive Eastern Conference championships and two NBA titles. James probably will hear some critics, but it's just senseless babble.
Dwyane Wade played poorly in the last four games of the series, producing little offensively and nothing defensively. Ray Allen ran out of 3-point magic. Chris Bosh guaranteed a win in Game 5 and forgot to back up his big talk.
"It will be interesting to see what LeBron is going to do in the offseason," Rynning said. "Probably the scenario that happens is LeBron comes back for one more year. I think they all probably come back for another year."
After four double-digit losses in the Finals, James and the Heat are headed for a summer of discontent.
For the Spurs — and the bettors who backed them two years in row — the demons are exorcised and it's finally payback time.
■ BOTTOM LINES — The NBA Finals was not as one-sided as an anticlimactic U.S. Open. One of the highlights of the golf betting calendar turned into a major letdown. Martin Kaymer, who closed at 40-1 odds, won by eight strokes.
"It was a dud. The betting was nothing," Bogdanovich said. "We're praying Tiger Woods gets healthy in a hurry."
Las Vegas Review-Journal sports betting columnist Matt Youmans can be reached at myoumans@reviewjournal.com or 702-387-2907. He co-hosts "The Las Vegas Sportsline" weekdays at 2 p.m. on ESPN Radio (1100 AM). Follow him on Twitter: @mattyoumans247.