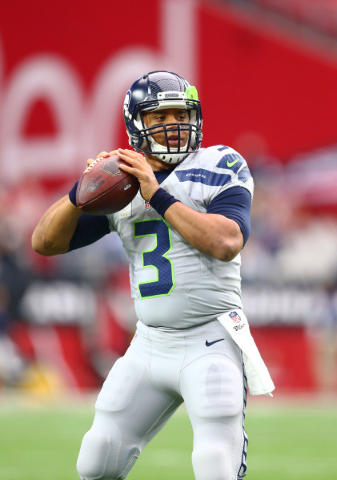 It took months for coach Pete Carroll to admit the obvious and finally say this week a Super Bowl hangover was a big reason the Seattle Seahawks were so sluggish to start this season. But the good news is hangovers eventually go away.
Drink too much on New Year's Eve? Expect to feel better in about 24 hours.
Blow the Super Bowl by calling an ill-advised play that ended with Russell Wilson throwing an interception from the 1-yard line? It can take a long time to get over that.
The Seahawks seem to be over it, going from 2-4 to 10-6 and back in the playoffs, and most bettors are buying into their image rehabilitation. Seattle is a 5-point favorite at Minnesota in an NFC wild-card game Sunday.
"I think the public is going to be squarely on the Seahawks," MGM Resorts sports book director Jay Rood said.
Quentin Tarantino could write the screenplay for this NFL postseason. It's wide open and unpredictable, which will make for great theater, but it also creates some hateful situations for handicappers. These games are tougher than usual to call.
One theory is to side with the hottest teams. Seattle fits that description, winning six of its past seven games, including a 38-7 road victory over the Vikings on Dec. 6.
"You've got to throw out the game they played earlier because the Vikings had so many injuries on defense," Rood said. "But will the inexperience factor show up? In the big games, that's when the Vikings have struggled."
It's easier to side with Wilson, the hotter quarterback, and a Seahawks defense that held Adrian Peterson to 18 yards rushing in the blowout last month.
"Minnesota was missing four defensive starters that day, but it is difficult to overlook the 308-yard advantage the Seahawks had over the Vikings," handicapper Jim Kruger of VegasSportsAuthority.com said. "Seattle had the best yards-per-game differential in the league, gaining 86.8 more a game than its opponents. By contrast, the Vikings were outgained by an average of 23.2 yards per game.
"Wilson has been nothing but astonishing since Week 11, with a 24-to-1 touchdown-to-interception mark. But two of the Seahawks' late-season wins were over Baltimore and Cleveland, two weak teams. With the weather projected to be frigidly cold, laying five points seems to be risky for Seattle backers."
This is a game I hate to call, but a bet on the Seahawks at 9-4 odds to win the NFC is worth some consideration.
• Green Bay at Washington (Pick): The public is expected ride both road teams Sunday, and the Packers are 1-point favorites at some books.
"We have taken a lot of money on the Packers," said Rood, who also took a big sharp play Thursday on the Redskins. "I still think we'll get plenty of Green Bay money."
Aaron Rodgers is not the same, mostly because he's on the run behind a bad offensive line and his receiving corps severely misses Jordy Nelson. Washington is actually the hotter team, and Kirk Cousins has become a confident quarterback.
"After posting a 4-12 record last season, the Redskins won the weak NFC East," Kruger said. "This puts Washington in a historically challenging spot. Dating to the 2004 season, playoff teams that won four or fewer games the previous season are only 1-14-1 against the spread and 2-14 outright. The Redskins played only three teams this season with winning records and lost all three games by a combined 59 points.
"Cousins had an exceptional season, albeit going against some weak pass defenses, and he will face one of the best pass defenses he has seen all season. I like the Packers to make it to the next round."
• Kansas City (-3) at Houston: Both teams made big late-season runs against weak competition. The Chiefs, with a 10-game win streak, are the hottest team in the field.
"Kansas City has not won a playoff game since 1993 during the short-lived Joe Montana era," Kruger said. "Eight straight playoff losses have left the loyal K.C. fans foaming at the mouth. It has to be noted the Chiefs have not lost since the Royals won the World Series.
"A traditional, simple handicapping tool is calculating the yardage per game, as well as yards per play, as compared to the opponent. One would assume if a team is on a 10-game winning streak, it would have a McDonald's super-sized advantage over the opponents in yardage gained per game. But the Chiefs are working off the dollar menu, only outgaining their opponents by 11 yards per game during the streak. The Houston defense is strong, and the Chiefs' pass blocking has been abysmal."
The Texans are in good shape with Brian Hoyer back at quarterback and, as Kruger noted, wideout DeAndre Hopkins will be "the best playmaker on the field." I will side with the home underdog. For those who like Houston, be sure to get 3½, a number that is available.
• Pittsburgh (-3) at Cincinnati: Some books are still at 2½, but the betting majority will play the favorite. The Bengals always lose in the playoffs with Andy Dalton at quarterback, so maybe AJ McCarron will change their luck.
"The public doesn't see it that way. It's all Steelers right now," said Rood, who counted straight-bet money on Pittsburgh at an 8-to-1 ratio. "McCarron is a winner. The moment is not too big for him."
Rood said he likes Cincinnati, which is a contrarian side, and I also think the 'dog is live Saturday night.
"The Steelers' final two regular-season games were anything but impressive," Kruger said. "It's difficult to support a team that backed into the playoffs, especially when it is a road favorite.
"To trust Cincinnati or Kansas City to win a playoff game is like counting on a fast food drive-thru to have hot french fries on two straight visits. A hideous playoff past also haunts Cincinnati, with coach Marvin Lewis sporting an 0-6 playoff record and the Bengals not winning a playoff game in 26 years."
Hate to say it, because Ben Roethlisberger is more reliable, but the Bengals overcoming their long postseason hangover appears to be the most likely upset of wild-card weekend.
Las Vegas Review-Journal sports betting columnist Matt Youmans can be reached at myoumans@reviewjournal.com or 702-387-2907. He co-hosts "The Las Vegas Sportsline" weekdays at 2 p.m. on ESPN Radio (1100 AM). Follow him on Twitter: @mattyoumans247