Sports books counting minutes until NFL lockout's end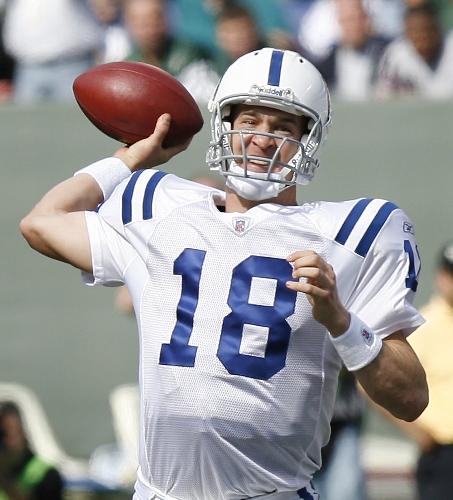 How many times can we watch clips of Roger Goodell, dressed in a sharp suit and carrying a briefcase, walking into a building for the next important meeting?
We'll see that fascinating footage for the last time, hopefully, sometime this week.
The NFL commissioner was booed at the draft and called the devil by an idiot linebacker during the lockout, which has bored us for 125 days. But if all the nonsense goes away this week, Goodell will escape the bad-guy role and all will be forgiven.
We can start talking about Tom Brady and Rex Ryan instead of DeMaurice Smith and U.S. Magistrate Judge Arthur Boylan, and Las Vegas bookmakers can finally flip the switch on the football season.
Jimmy Vaccaro, director of operations for Lucky's sports books, offered his lockout-lifting prediction: "On Thursday afternoon, between 12:30 and 1:45, the bells and whistles go off and everybody's happy."
All will be forgiven because nothing has been lost yet. The Week 1 lines are up and Super Bowl futures action has been rolling in for months.
The preseason opener, the Hall of Fame game between the Chicago Bears and St. Louis Rams on Aug. 7, might be a minor casualty. But who cares? If I want to see Bears quarterback Jay Cutler sitting on the bench, I'll watch a replay of the NFC Championship Game.
Vaccaro said despite the "impending doom way back when," Lucky's has a bigger Super Bowl futures handle than at this point last year.
"It shows you the appetite of people wanting to bet the NFL," he said. "It's incredible."
To start feeding the appetite, Vaccaro recently posted player props for most rushing, receiving and passing yards during the regular season. Peyton Manning of the Indianapolis Colts is the 9-2 favorite to lead the league in passing yards, and for those who have forgotten, Manning finished second last season, 10 yards behind San Diego's Philip Rivers with 4,710.
On June 10, Cantor Gaming opened lines for all 256 games on the NFL's 17-week schedule. The betting was barely slowed and certainly not stopped by the accompanying disclaimer — games must be played within 45 days of the originally scheduled date for action.
One wagering option that's missing is regular-season win totals, which are always posted by now. Vaccaro and other book directors don't want to post those numbers with the disclaimer that teams must play 16 regular-season games, just to avoid the confusion if fewer than 16 games are played.
"With the win totals, disclaimers are a pain in the ass," Vaccaro said. "What you get are a million questions instead of 10. All you're doing is asking for trouble."
Wynn Las Vegas sports book director John Avello said he's ready to hang win totals — and you can bet the professional gamblers are waiting to pounce — as soon as the lockout ends.
"I've been working on them the whole time just believing that this was going to be settled," Avello said. "People want to know what's going on, and I've been saying the last couple weeks that they were going to settle this soon."
Because of the delay, however, Avello said he's probably going to pull the plug on his NFL contest this season. He needed more time to plan for it. So there's another minor casualty of the lockout. But almost all other casino contests will be up and running.
"It was in the back of our minds," Avello said, "what are we going to do in September if there is no football?"
Expect to see plenty of football in August. Training camps are scheduled to open Friday, and the first full week of preseason games is Aug. 11 to 15. Some people think the preseason is a huge waste of time and money, but I object.
The preseason can be valuable for scouting teams and there are a few good betting opportunities. A better example of a huge waste of time and money was the Royal Wedding.
Assuming the lockout ends this week, free agency and trades will follow next week. While some quality players will change teams, don't expect the moves to cause major shifts in odds.
"I don't think there are any huge free agents that will make any team drastically different," Vaccaro said. "I don't think Brady or Manning are going to switch teams."
The impending doom of the lockout has been lifted, at least, and that's good news for Goodell and the sports books.
■ BOTTOM LINES — For horse racing fans in Las Vegas, it doesn't get any better than this announcement: The Del Mar Thoroughbred Club opens Wednesday and runs through Sept. 7. See you in San Diego.
The attraction of golf betting is hitting a ticket at big odds, and this British Open did not disappoint. Darren Clarke was 150-1 at the Las Vegas Hilton.
Contact sports betting columnist Matt Youmans at myoumans@reviewjournal.com or 702-387-2907. He co-hosts the "Las Vegas Sportsline" weeknights at midnight on KDWN-AM (720) and thelasvegassportsline.com.