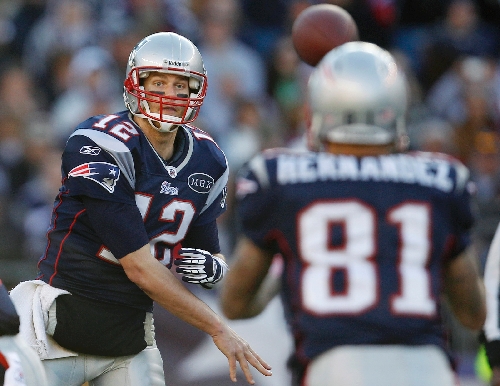 At the end of this tunnel, we finally can see light. Five months ago, Tom Brady walked off as a two-time Super Bowl loser, his New England Patriots again getting taken down by the underdog New York Giants. Some dark, boring days followed.
When your friends are debating what caused the Tom Cruise-Katie Holmes divorce, something needs to change.
In fact, this is the beginning of the three slowest sports betting days of the year. Life is better when we're handicapping football, and the time is near.
NFL training camps open in about two weeks. The preseason starts Aug. 5, when Arizona plays New Orleans in the Hall of Fame Game at Canton, Ohio. Four days later, it's Green Bay at San Diego.
Mark those dates on the calendar, and add another – the LVH "SuperContest Weekend" of Aug. 24-25, an event certain to energize football bettors.
In years past, the VegasInsider.com football handicapping seminar provided a valuable forum for sharp minds to share opinions on college and NFL wagering. That event does not appear to be returning this year, but the void has been filled.
LVH sports book director Jay Kornegay is quarterbacking what can be called a super-sized weekend, kicked off by a "Super Seminar" that is free and open to the public.
Kornegay, who is putting together an impressive roster of handicappers and panel hosts, said, "We will have some of the top names in this industry."
The seminar takes place Aug. 24 and is followed the next day by the "Super Golf" outing at the Las Vegas Country Club and a "Super Reception" in a LVH ballroom.
As for the hook, Kornegay is offering five free entries, worth $1,500 each, to the SuperContest, the most prestigious NFL handicapping contest in Las Vegas. The chance to win a free entry into a contest that pays out around $800,000 is no small deal.
The SuperContest, in which entrants pick five NFL sides against the spread each week, was created by Art Manteris in 1989. It drew 517 contestants last year, topping the previous high of 505 in 2005.
"Despite a tough economy, there were people forking over $1,500 for a football contest, and it set a record. This thing is more popular than ever," Kornegay said. "We thought this was a good time to take it to the next level."
Brady Kannon of Las Vegas was part of a three-man team that won last year's SuperContest. Kannon's group hit a remarkable 72.5 percent against the spread and cashed for $310,200. Kannon and local sports bettor Steve Fezzik, a two-time winner of the contest, are likely to contribute to a panel discussion at the seminar.
Two SuperContest entries and other prizes will be given away at the golf tournament, which costs $95 and includes lunch and a closest-to-the-pin contest on the par-3 17th hole.
Being a skilled golfer is not a requirement. Weekend hackers who enjoy playing in 110-degree heat are welcome to tee it up.
Each player gets two raffle tickets good for a drawing for three more free SuperContest entries. Raffle tickets can be obtained a variety of ways – one by placing a football futures wager for at least $25.
So if you're itching to bet the Buffalo Bills to win the Super Bowl, know that the betting slip will end up worthless, but a raffle ticket is a consolation prize.
More details will be available at the LVH book this week. During the boredom of baseball's All-Star break, remember that we're one week closer to betting on meaningful football games.
■ BOTTOM LINES – Speaking of weekend hackers, Tiger Woods resembled one at the Greenbrier Classic at White Sulphur Springs, W.Va., where he failed to make it to the weekend. Woods was the 7-2 favorite, which were absurd odds. Still, he deserves to go off as the British Open favorite.
By trading for point guard Steve Nash, the Los Angeles Lakers became serious contenders for next season's NBA title. The Lakers' odds were adjusted from 12-1 to 8-1 at most books. If they can swing a deal for Orlando center Dwight Howard, 5-1 odds are realistic.
Another fight weekend in Las Vegas resulted in another controversial decision. Tito Ortiz, a plus-250 underdog, lost a unanimous decision to Forrest Griffin at UFC 148 on Saturday. But it looked as if Griffin, who was knocked on his butt twice, thought he lost, and so did almost everyone else.
It was a bad beat for bettors on Ortiz, who won two of three rounds on my scorecard. It was not as bad as the Timothy Bradley-Manny Pacquiao decision on June 9, but it was another error in judgment.
Contact sports betting columnist Matt Youmans at myoumans@reviewjournal.com or 702-387-2907. He co-hosts "The Las Vegas Sportsline" weekdays at 2 p.m. on ESPN Radio (1100 AM, 98.9 FM). Follow him on Twitter: @mattyoumans247.