Weak leadership among biggest factors in Cowboys' demise
October 31, 2010 - 11:00 pm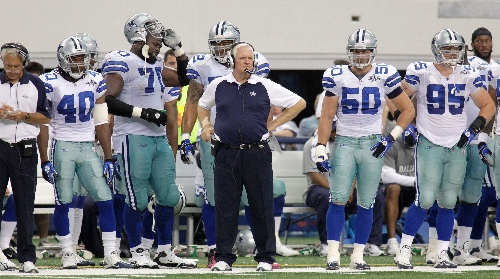 A strong leader inspires others to follow in his footsteps. A few NFL coaches fit that description, and then there are weak misfits such as Wade Phillips.
In only eight weeks, the Dallas Cowboys have disintegrated from one of the Super Bowl favorites to one of the league's worst teams. This type of sudden fall rarely is seen.
The Cowboys, once at 7-1 odds to win the championship, are 1-6 chumps. Their star quarterback has a broken collarbone, and their coach is a broken man.
"From the initial kickoff, the coach has that sad look on his face," Jimmy Vaccaro, director of operations for Lucky's sports books, said of Phillips. "He's obviously very depressed now. The guy can't contribute to make the Cowboys a better football team from here on out."
The disaster in Dallas is not all Phillips' fault, but he needs to be fired, and it needed to happen a long time ago. He looks more like a mall cop than a big-time football coach.
The Cowboys' collapse was complete early in a 35-17 loss to the Jacksonville Jaguars on Halloween. The injury to Tony Romo last week was one of many signs the end was near.
For Phillips, the end is here. Equally culpable is owner Jerry Jones, who is so desperate to run his team and own the spotlight that he won't hire Bill Cowher or Jon Gruden, strong leaders and proven winners.
I made my biggest handicapping blunder of the season by taking Dallas as a 6½-point home favorite Sunday.
The Jaguars were off two bad losses, by 22 points at Kansas City and by 27 points to Tennessee. Their quarterback, David Garrard, was returning from a concussion. But they still blew out the Cowboys, who quit on their coach.
"It was a mess. I've seen things deteriorate. … Dallas won't play with pride now. It's really too late," Vaccaro said.
It's also probably too late for the Minnesota Vikings, another team I backed and regretted it. Brett Favre started for the Vikings — as we all knew he would despite suffocating media speculation — but the battered veteran quarterback was knocked out and unable to finish.
New England busted open a game that was tied at halftime and defeated Minnesota, 28-18. Tom Brady won the duel with Favre, and the Patriots scored a touchdown with 1:56 left to cover as 5½-point home favorites.
Bill Belichick is a strong leader, which has a lot to do with the Patriots being 6-1, going 5-2 against the spread.
Favre, playing on a fractured left foot, made his NFL-record 292nd consecutive start. But he was helped off the field midway through the fourth quarter and needed 10 stitches to close a cut in his chin.
"I really think it's over for Favre. I wouldn't be surprised if he goes home," Vaccaro said. "I would make a bet now that Dallas and Minnesota will be negative ATS teams from here on out. I don't think people will be hellbent to bet those teams as they once did."
The Cowboys were the biggest losers on another winning day for Las Vegas sports books. A flat performance from the New York Jets, who were 6½-point home favorites in a 9-0 loss to the Green Bay Packers, helped the books. The Jets are the only team to be shut out this season.
Favorites are 7-4 ATS in Week 8, slightly closing the gap in a one-sided season. Underdogs still hold a commanding 64-45-5 lead.
There have been two pick-'em games, one being Miami at Cincinnati on Sunday. Money poured in on the Dolphins, who were slight underdogs most of the week, and they delivered with a 22-14 win.
"We lost our biggest game. We couldn't get a bet on the Bengals to save our life," Vaccaro said. "The Miami game was the worst morning game for us the entire season."
In the afternoon, the books lost on the San Diego Chargers' 33-25 victory over the Tennessee Titans, who got little respect as 5½-point underdogs.
Speaking of disrespect, the Oakland Raiders did it again, putting a 33-3 beatdown on Seattle. The Raiders have outscored their past two opponents 92-17, and raise your hand if you saw that coming.
I also backed the Pittsburgh Steelers, who dominated the first half but found ways to lose to the New Orleans Saints, 20-10.
"Betting the NFL," Vaccaro said, "is a pain in the ass."
Especially if you just bet the Cowboys.
Contact sports betting columnist Matt Youmans at myoumans@reviewjournal.com or 702-387-2907. He co-hosts the "Las Vegas Sportsline" weeknights at midnight on KDWN-AM (720) and thelasvegassportsline.com.