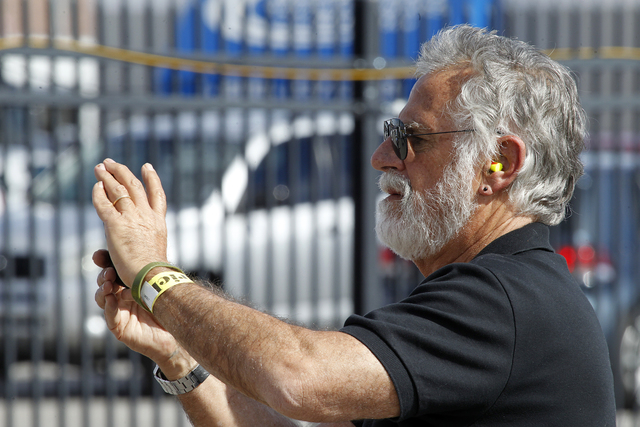 One time several moons ago, after we put the newspaper to bed, I remember bumping into Steve Rossi of the old Allen & Rossi comedy team. It was late at night; Rossi was having breakfast at The Tap House on West Charleston. One of us said "Hello Dere!" under his breath, mimicking his partner Marty Allen. Steve Rossi heard it. He smiled. I think he was happy somebody remembered.
A couple of years ago, I got punked by the ex-wife of Lumpy Rutherford from "Leave it to Beaver." It's sort of a long story.
On Sunday, I met "The Most Interesting Man in the World" from the beer commercials, before he gave the command to start engines at the Kobalt 400.
His real name is Jonathan Goldsmith. He's 75, a former actor. He has a deep suntan, like George Hamilton, or Malibu Barbie. He wears dark glasses. He is very cool.
He once was shot between the eyes by John Wayne in the movies. That also is very cool.
His TV credits look like the fall lineup of Nick at Nite: "Adam-12," "Knight Rider," "CHiPs," "Eight Is Enough," "The Rockford Files," "Hawaii Five-O," "Barnaby Jones," "MacGyver," "Murder, She Wrote," "Charlie's Angels," "Dynasty," "T.J. Hooker," "Hardcastle and McCormick," "Magnum, P.I.," "Knots Landing," "The A-Team." He has appeared on "Dallas" 17 times.
Jonathan Goldsmith was the guest of Richard Petty's team. He said he drives his father's 1994 AMC Jeep and a truck with a Ford Ecoboost.
He said he would would be driving the No. 6 car in the race.
He said it with that deep voice from the beer commercials. I almost believed him. But there is no No. 6 car in NASCAR this year.
Then he excused himself.
"The Most Interesting Man in the World" doesn't always have to use the restroom. But when he does, he prefers the one in the LVMS media center.
Stay thirsty, my friends.