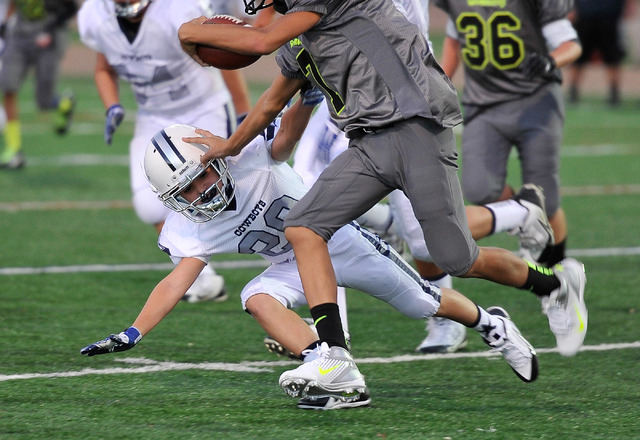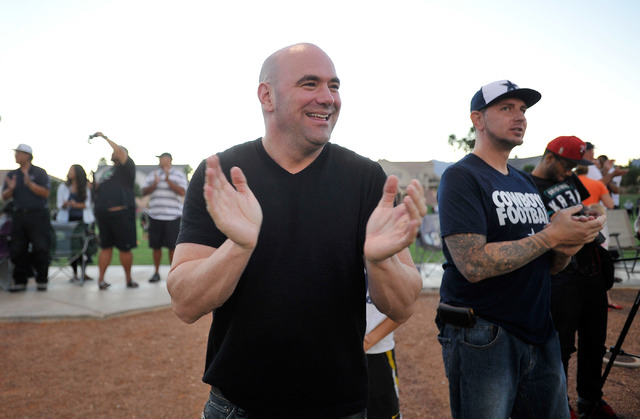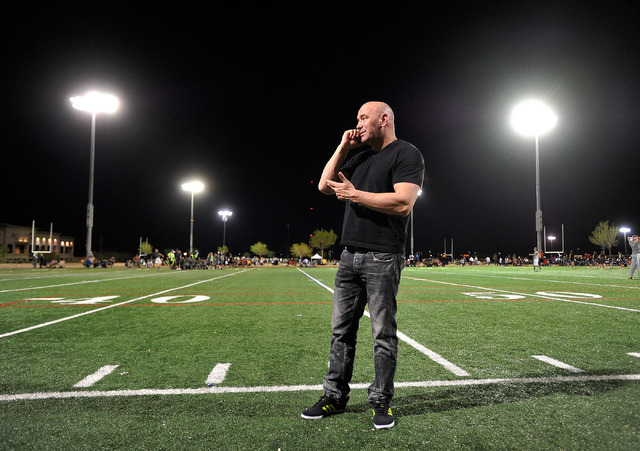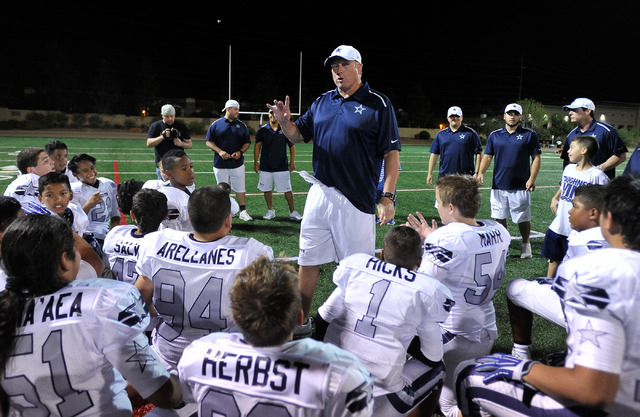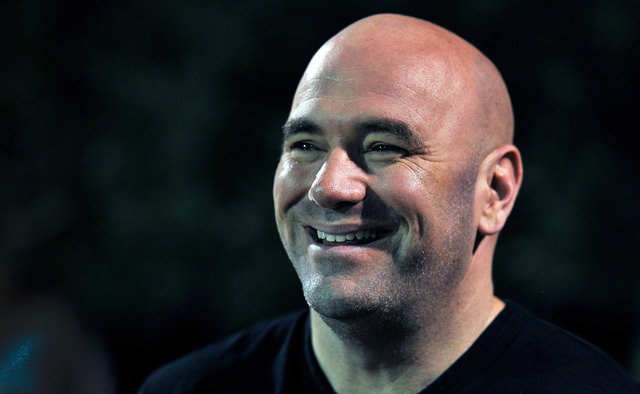 Often when you see Dana White, he's standing on a dais at a news conference between two mean-looking dudes with his arms outstretched, as if he's trying to keep them from doing mean things to each other.
There's usually a big smile on the UFC president's face when mean-looking dudes square off. The UFC generates a lot of money from pay-per-view telecasts and whatnot, and my sense of it is that some of it eventually winds up in his pocket.
I saw another side of Dana White the other night.
He still had a smile on his face, but it was one of those tight smiles, the kind a father has while watching his son play football against bigger kids. Which is exactly what White was doing at the All-American Park on South Buffalo Drive.
The Nevada Youth Football League Cowboys were playing the Wranglers on Field 3 in a game for 12- and 13-year-olds. White's son, Aidan, was playing defensive back and other positions for the Cowboys. Next to one of the Herbst boys, he looked to be the smallest kid on Field 3.
"What's more stressful, waiting for urine samples from UFC fighters to return from the lab or watching your kids play football?" White was asked.
"THAT'S funny," he said.
The Wranglers put this kid into the game, No. 24, who looked like the Incredible Hulk's offspring.
"Tell me that kid didn't drive here," White said.
The Wranglers ran a sweep to the left side behind No. 24, and little Aidan White put his head and shoulders into the path of the ball carrier. He didn't quite make the tackle but he disrupted the play to where the Herbst boy and some of the bigger kids stopped the sweep for a short gain.
RJ photographer David Becker snapped a photo showing the Wranglers ball carrier administering a straight arm to little Aidan White's face mask.
White called to his other son, also named Dana, who plays in a division for bigger kids. "Look at this. Aidan just got Heismaned!"
I had never heard of a successful straight arm referred to as "getting Heismaned." But if you've seen the Heisman Trophy, the description makes sense.
Most people only know Dana White for his "openly aggressive" style, which is how he usually is described, at least in politically correct terms, when it comes to UFC matters. But during the two hours he walked the sideline watching Aidan stick his head and shoulders in there, he appeared no more openly aggressive than the other dads.
He admits to "one episode" last season that may or may not have involved a referee. On this night, he mostly shouted encouragement to his son, and he kept his distance, and he did not question the referees about whether that last play should have been offensive pass interference.
The youth league Cowboys had a phalanx of grown-ups on the sidelines wearing dark blue polo shirts. These were assistant coaches, most of which are fathers of the players. When White was asked if he, too, would like to coach, he responded with two words: "Hell" and "No."
"I just pay for the uniforms," he says.
The Youth League Cowboys have nice helmets and uniforms with the players' names on back.
White leaves the coaching to David White. White is a commercial pay-per-view account manager for the UFC, and he once was a stand-up comic, among other things. The other things included playing tight end for UNLV and becoming head coach at Bishop Gorman when DeMarco Murray of the grown-up Cowboys was there.
"Whitey," which is what most people around the UFC offices call David White, probably knows more about coaching football than he knows about managing pay-per-view accounts.
"My kids started with a flag football team, then when it was time for them to start playing tackle, I was really freaked out about it," Dana White said.
"Every parent was afraid to make the transition from flag football to tackle. Football is dangerous, man. Mixed martial arts is way safer than football. When you make that decision to get your kids into tackle football, it's all about the coaching, and learning how to play the game the right way.
"I talked to Lorenzo; I said I need to look into getting Dana into a football team. He said let's talk to David White."
Lorenzo Fertitta is the majority owner of the UFC; his son, Nicco, played for David White before he recently signed to play defensive back for Notre Dame. I was told Lorenzo Fertitta was the youth league Cowboys' defensive coordinator for maybe one practice.
So the little Cowboys beat the little Wranglers and big No. 24, 40-7. The Wranglers scored on the last play of the game, and while David White admonished the Cowboys defenders for that, he did it without raising his voice too much.
Dana White did not have an episode with the referees. He did not use swear words. He was the ideal father, like Mr. Cunningham in "Happy Days." His cellphone — yes, it's small and outdated but it will keep a charge for three days unlike my smartphone, he says — rang constantly. He answered it only once.
Aidan White just so happened to catch a pass when his old man was conducting UFC business, after which Dana called out, "Nice catch, Aidan, sorry I missed it, I was on the phone."
After the game, he posed for selfies with UFC fans. Then Dana White told his son "nice game" and put his arm around his shoulder as they walked to the car.
Las Vegas Review-Journal sports columnist Ron Kantowski can be reached at rkantowski@reviewjournal.com or 702-383-0352. Follow him on Twitter: @ronkantowski.