Anthem singer gets it just right at NFR
December 10, 2013 - 8:57 am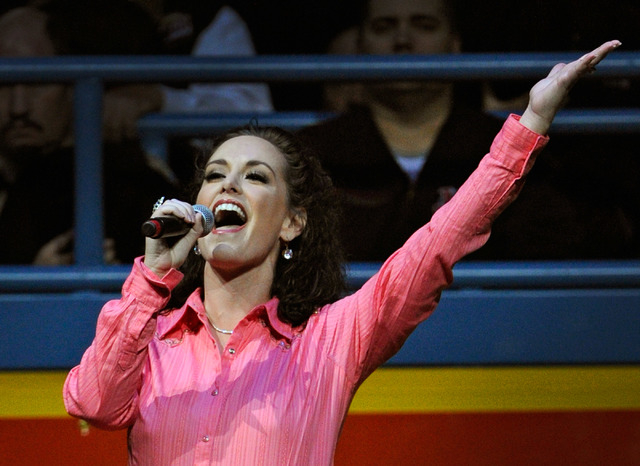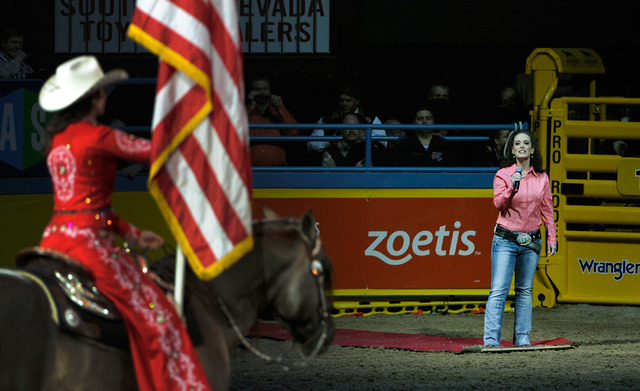 There are things one takes for granted at the National Finals Rodeo. For instance, your secret back roads parking place at the Thomas &Mack Center, the one that helps you avoid gobs of traffic after the UNLV vs. San Diego State game or when your niece graduates from high school, won't be available this week because it will have been turned into a bridle path.
Before the barrel racing segment, it will appear that a fire alarm only rodeo fans can hear has been pulled and everybody will head for the exits. This is not to disparage the barrel racers. Their event just happens to be the last one before bull riding, and so that's the last chance rodeo fans have to replenish their supply of cold Coors beer.
Also, if you don't watch your step at the NFR, you may get something on your shoe.
And just before the bareback riding, a young woman with baubles and spangles and a gigantic buckle on her belt will sing the national anthem in under two minutes, and she'll remember all the words.
You do not want to forget the words to the national anthem, or you will wind up on YouTube. You may never live it down. It happens to the best of 'em. It happened to the late, great Robert Goulet at the Ali-Liston fight in 1965, though he sort of was able to live it down every time he sang "The Quest" from "Man of La Mancha."
Goulet could give you goosebumps when he sang "The Impossible Dream."
So, yes, there was a certain amount of pressure on the young woman who sang the national anthem before the fourth performance of the NFR on Sunday night.
And this is why Jackie Schmillen spent most of Sunday in her room at the LVH, making animal noises with her throat.
She makes the animal noises to stretch and loosen her vocal chords. It's really no different than Big Papi Ortiz swinging a weighted bat in the on-deck circle at the World Series.
"It sounded like badgers fighting," said a man with a neat goatee who accompanied Jackie Schmillen to the rodeo.
His name is Jerry Vansickel, and he's the track announcer at Boone Speedway back home. He's also the service manager at a Ford dealership in Ames, Iowa. I'm assuming that would make Jackie and him something of a power couple back in Iowa, because Jackie is one of the hosts of "Great Day," a TV morning show on KCWI Channel 23 in Des Moines.
She says she has never read the pork bellies report, at least not when the cameras are rolling.
Jackie Schmillen's co-host is a guy named Lou Sipolt, whose name conjures an image of a guy with whom you could drink multiple Pabst Blue Ribbons, or whom you would want on your bowling team.
I spoke with the much prettier half of "Great Day" Des Moines for about a half-hour Sunday.
She's 32 and she's engaging, like Kelly Ripa, only she has dark hair. When she wants to make a point, she touches you on the knee, as I imagine Kelly Ripa does with Michael Strahan.
Jackie Schmillen studied performing arts at the Idyllwild Academy in California. She received a bachelor's in fine arts and musical theatre from the University of Miami and once was a Soul Girl in "Jesus Christ Superstar," and I'll bet there weren't many in Sunday's sold-out NFR crowd who could say that.
She also studied livestock — from a distance — at the Dayton Championship Rodeo in Dayton, Iowa.
Dayton is about 100 miles from her hometown of Cherokee. A rodeo legend from Cherokee named Bob Barnes was the one who suggested she might enter the contest to sing the national anthem at the NFR.
And so she did. She was voted one of four winners by rodeo fans. And then on Nov. 23, Bob Barnes died at a nursing home in Cherokee, and right before Jackie was to sing, they showed his picture on the scoreboard.
Then they put a spotlight on Jackie Schmillen. And though she had sung the national anthem at a variety of sporting events, this was different and much more grand. She got nervous. This was much bigger than singing the anthem before an Iowa Cubs game, even if it was Bobblehead Night with the Omaha Storm Chasers in town.
She was wearing a salmon-colored Western shirt with denim and cowboy boots, which she had brought from Iowa, and the belt she had purchased at the Cowboy Christmas. This belt was huge, like Batman's utility belt, and it had tons of baubles and spangles, and the buckle was just a little bit larger than Cedar Rapids.
Jackie Schmillen nailed the national anthem, and she even put a couple of little flourishes in there, making it her own — but not too many flourishes, not as many as Marvin Gaye at the 1983 NBA All-Star Game for instance, because as awesome as that was (even Jack Sikma and the white guys were tapping their feet), the uber-patriotic fans who attend the rodeo prefer you not take too many liberties with the anthem.
"Not only do you get to perform one of the best songs ever written, but it's a song that has so much meaning," Jackie Schmillen said as she touched me on the knee. "Getting up and singing it in front of people is just incredible."
She nailed it in 1:59, according to my watch, and not a second longer because the bareback riders appeared to be getting antsy back in the chutes.
Jackie Schmillen waved to the sold-out crowd. Somewhere among the Resistol hats and the vests with fringes, her mother Jane was watching. She must have been proud. And if Lou Sipolt was watching back in Des Moines, I'll bet he was proud, too.
Las Vegas Review-Journal sports columnist Ron Kantowski can be reached at rkantowski@reviewjournal.com or 702-383-0352. Follow him on Twitter: @ronkantowski