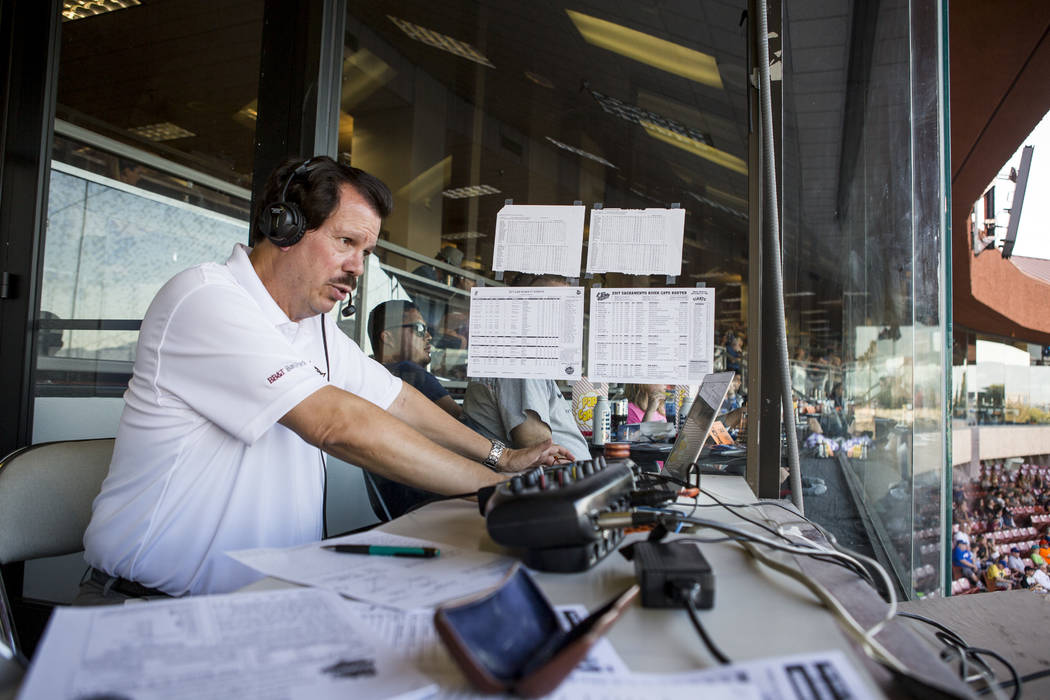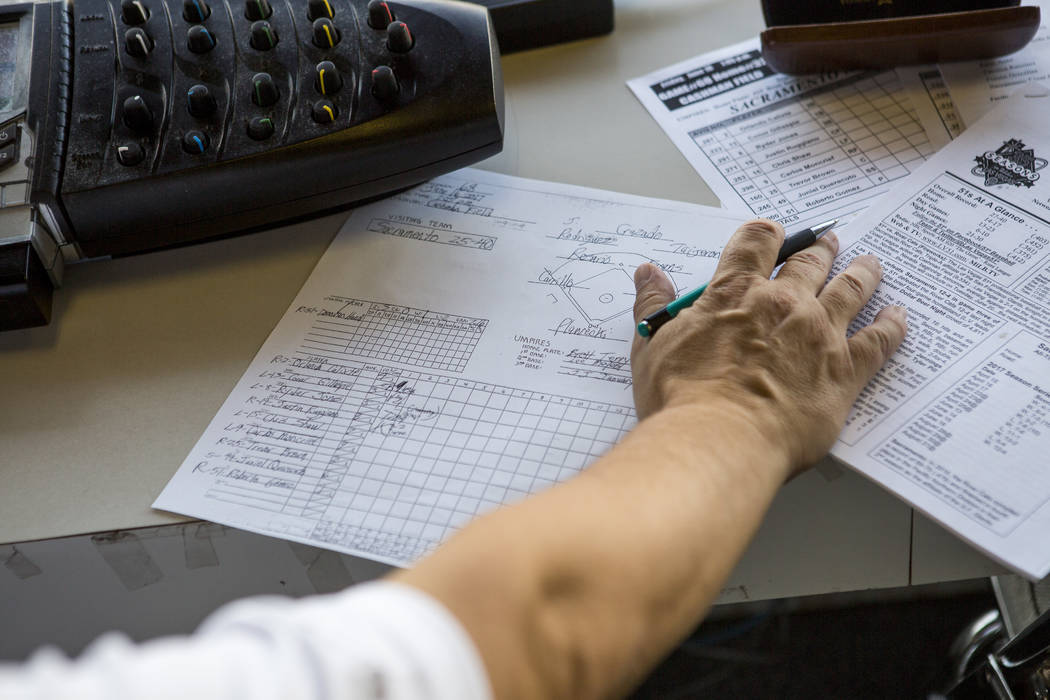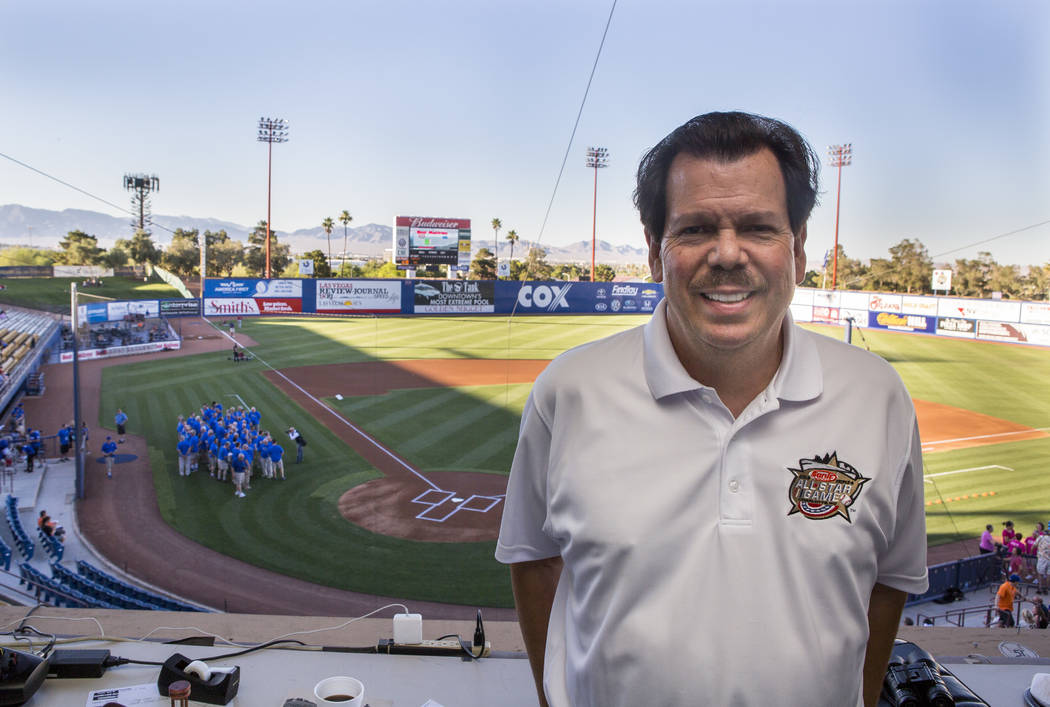 You know the joy
of scanning radio stations
while driving a vast,
uninhabited area at night,
picking up faraway voices
talking only to you
I just tuned into
a baseball game somewhere,
the crack of a bat,
the cheer of a crowd
the voice of an announcer
drunk on the game —
'the ball drops for a hit!' —
like Harry Caray
all those years in St. Louis,
bringing on radio wings
the news that really mattered,
the news only poets
can deliver to me today
———————
The author of the paean is a fellow named Max Reif. You really had to dig to find his name on his website. It's from his poem called "Listening to Baseball in the Nevada Desert."
I'm not sure if Russ Langer was his inspiration. But he could have been.
When you're driving on a languid summer night with only time and distance as companions, the familiar rhythms and cadences of a ballgame and its broadcaster will keep you company.
Langer is in his 18th season as voice of the Las Vegas 51s, the Triple-A farm club of the New York Mets, on NBC Sports AM 920. Before that, he spent four seasons in Albuquerque with the Pacific Coast League's Dukes, who are now called Isotopes. The back of his baseball card shows he also was with the Triple-A Phoenix Firebirds, the Double-A Midland Angels, the Single-A Springfield Cardinals.
This is Langer's 30th season in the broadcast booth. Most have been spent in the West.
If the stars aligned just right, one possessed a deft touch on the radio knob and the static wasn't too bad, there were a lot of ballgames one could have listened to Russ Langer describe while traversing the Nevada desert.
Runs, hits, anecdotes
During a recent game at Reno, during one of the intrinsic lulls that are more tailor-made than a double play ground ball to shortstop for baseball storytellers on the radio, Russ Langer was getting listeners up to speed on Aaron Laffey, the Aces' well-traveled starting pitcher.
He said Laffey had had a stint with the Somerset Patriots of one of the independent leagues, and that he had married his fiancee, Jackie — but only after a three-year engagement. With Langer, you always get more than runs, hits and errors, and who's hitting what with runners in scoring position during Tuesday night games in Tacoma.
"Baseball is a game in which statistics are important, but it's easy to overwhelm listeners with numbers. I try not to do that," Langer said.
"I like to talk to players, coaches, the manager — sometimes I might even talk to somebody who's not playing, to try to get a feel for what the theme should be for that game. It could be a hitting streak, a slump, how a team has done on the road. I determine what the theme should be, and I stay with it — until the game takes it in a different direction."
Langer said if he finds it interesting that well-traveled left-hander Aaron Laffey was rescued off an independent league scrap heap in Bridgewater Township, New Jersey, and had what seemed a long engagement to his bride before they were married, there's a good chance his listeners probably will, too.
The next inning during another break in the action, Langer said Las Vegas' Logan Taylor once wanted to pitch for Arkansas. But when the Razorbacks reneged on a scholarship offer, Taylor wound up pitching for Eastern Oklahoma State instead.
"Eastern Oklahoma State — that's the Mountaineers," Russ Langer told his listeners.
Getting the Vin number
There were little boy dreams of playing major league baseball for his favorite team — in Langer's case, the Baltimore Orioles — but those lasted only as far high school, about the time pitchers start developing curveballs that turn little boys and their dreams into accountants and salesmen.
Russ Langer loved baseball. He wanted to stay involved.
He witnessed his first major league game in 1968, at Dodger Stadium, after his family had moved from the New York suburbs to Encino, California. Young Russ saw people in the lower decks and people in the upper decks listening to transistor radios. He heard the melodious tone of Vin Scully wafting through the ballpark, warm as a summer breeze from the San Gabriel Mountains.
Eventually, he, too, would develop a melodious tone.
Audition tapes were made. Bus rides followed.
It usually was hot and humid in the Texas panhandle, or wherever the team bus stopped. Sometimes the wind also blew. Hard. Straight out over the center field fence, toward Oklahoma.
Langer recalls a game in which Wichita beat Midland, 33-17. Jeremy Hernandez, who would pitch for the Padres, Indians and Marlins, gave up 10 earned runs — and was the winning pitcher. Just another day in the Texas League.
Or what about the one in 2003, when the 51s' Lindsay Gulin threw a no-hitter against Tacoma?
Who could have seen that coming?
"He was about the last guy you might have ever imagined pitching a no-hitter," Langer said of Gulin, who by the next season would be pitching for Fukuoka of the Japanese Pacific League.
Fukuoka of the Japanese Pacific League — that's the Hawks.
Enjoying the coffee
While Lindsay Gulin would never pitch in the majors, Russ Langer has enjoyed several cups of big league coffee. He called roughly 30 Montreal Expos games before they moved to Washington, D.C., and also has pinch-hit for the Orioles during the regular season, and for the Dodgers, Blue Jays and White Sox during spring training.
"It's like I tell people, there are more U.S. senators than there are people who do what I do," said Langer, who twice has been named Minor League Broadcaster of the Year and is a 10-time recipient of the Nevada Sportscaster of the Year award.
He is 57. He is not a former ballplayer. He had a loving and supporting father, but not a famous one.
"That makes it harder," he said about landing a full-time major league assignment. "Maybe there are walls, but there also are doors. I'll keep at it, and maybe one of these days all the tumblers on the lock will click into place."
He said he doesn't remember the final score or much else about the first big league game he called, Dodgers vs. Expos. (He could probably find the score sheet, though.) His parents were there, and Vin Scully was there, and he felt a tremendous sense of accomplishment. He recalls talking in the Dodgers' dugout with one of the baseball executives, after which Jeromy Burnitz, who had been eavesdropping, sidled up.
"So this is your first big league game? That's really cool."
Unlike Lindsay Gulin, who never made it, Jeromy Burnitz played 14 seasons in the big leagues.
Welcome to the show, kid.
Maybe it was just a random comment long since forgotten by a guy who hit 315 major league home runs. But Russ Langer said he'll never forget it.
Just a bit outside
So here it was, a recent game in Reno — another game in a vast pantheon of games, one bleeding into the next, the way blue jean dye fades into the whites when a bachelor does his laundry.
Only this one had promise. Through five innings, it was scoreless, Laffey and Taylor locked into the rarest of rarities, a PCL pitchers' duel.
Alas, the home team would break through for three runs in the sixth.
And five in the seventh.
And what had been a taut game became a rout.
Russ Langer reached deep into his bag of asides and anecdotes, just in case any poets driving across the Nevada desert had not started rummaging in the console for a Van Morrison CD.
"Did you know that Cody Decker is a member of the Screen Actors Guild?" he said as the recently acquired 51s infielder was coming to bat. Decker is a movie buff and a music buff and a buff of elaborate practical jokes, Langer went on, and that Decker's reputation was built on keeping a clubhouse loose.
The next day was Father's Day. Cody Decker posted a picture of Frank Stallone, Sylvester's less-accomplished brother, on his Twitter account.
"Happy Father's Day to my dad, Jay," wrote the ballplayer. "I'd post a photo of him, but I don't have one on my phone. So instead, here's a photo of Frank Stallone."
Like Babe Ruth in the 1932 World Series, Russ Langer had called the shot.
Contact Ron Kantowski at rkantowski@reviewjournal.com or 702-383-0352. Follow @ronkantowski on Twitter.