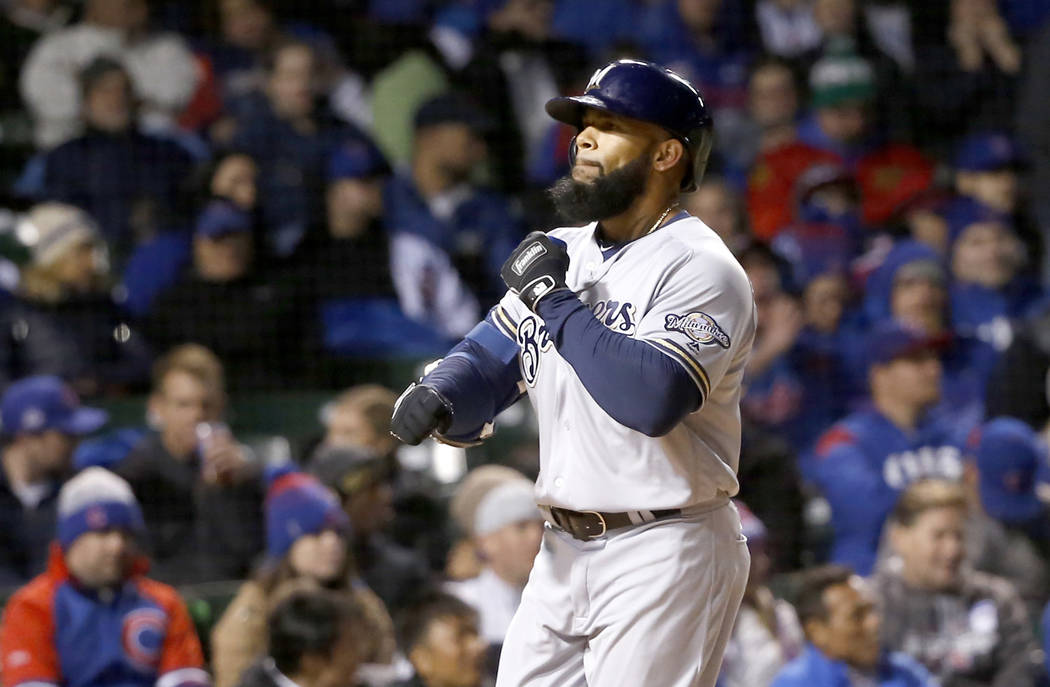 If you've been following the first two weeks of the baseball season, you've been reading about Mr. April, Eric Thames of the Milwaukee Brewers.
How he's a math whiz, taught himself to read Korean, is into philosophy and visualization, sometimes dresses as Star Wars characters, has massive muscles, aspires to be a pro wrestler, sports a bald pate and a flowing ZZ Top-style beard, which a Korean teammate tugged on as part of an elaborate home run celebration that probably would not fly with Jonathan Papelbon.
You may be aware that Thames already has hit seven home runs, including a streak of six in five games.
Here is what you may not know as it pertains to Eric Thames and Las Vegas:
— He played at Pepperdine under Steve Rodriguez, a former Valley High standout.
— He had two stints with the 51s when they were affiliated with the Blue Jays.
— The Brewers created a spot for him at first base by cutting Chris Carter, the 2016 National League co-leader in home runs who prepped at Sierra Vista High.
— He has made his winter home in Las Vegas since 2014, and has been photographed at the Thomas & Mack Center wearing a floppy UNLV hat.
Residents in the apartment buildings on Bruce Street beyond the right-field parking lot at Cashman Field probably still are unearthing batting practice fastballs from when Thames played for the 51s.
"He hit the ball very, very hard very frequently," longtime 51s media relations man Jim Gemma said, adding that if you were to put together an all-time team of 51s nice guys, Thames probably would bat third or cleanup.
New home in LV! And new home in a deep V-neck #chesthairdontcare #vivalasvegas #newhome pic.twitter.com/pTH3dz8sa8

— Eric Thames (@EricThames) December 18, 2014
Thames, 30, also hit the ball very, very hard very frequently during games when he was here. In 53 games in 2011, he batted .352 with seven homers and 45 RBIs. In 54 games in 2012, he hit .330 with six hard balls that cleared the fence and 32 RBIs.
When the Blue Jays wrote him off, Thames went to Korea, where he played three seasons and became more popular than a preowned Hyundai with low kilometers.
The fans over there referred to him as "God," if that tells you anything.
On Tuesday night, the man with the big biceps was reduced to a baseball deity. He did not hit another homer against the Cubs and was held to three hits — two ringing doubles and a ringing single through a shift — in five at-bats.
Back on The Farm
Lindy La Rocque, a former basketball star at Durango High who was in the starting lineup when Stanford halted Connecticut's first incredible winning steak at 90 games in 2010, is going back to The Farm in Palo Alto, California, where she will be reunited with her former coach Tara VanDerveer as an assistant.
"We are ecstatic that Lindy is back," VanDerveer said in a statement. "She worked extremely hard and was a very intelligent player and has continued to display those traits as a coach (at Belmont University). Those characteristics along with her enthusiasm will add a lot to our program."
"Having the opportunity to come back to Stanford is a dream come true," said La Rocque, who went to four Final Fours and played in 138 games, the eighth most in school history, and may or may not have had her picture taken with the Stanford Tree. "I can't wait to get to work."
Cardinal comes home.

Thrilled to have @lindylarocque back on The Farm!#GoStanfordhttps://t.co/HFqXqiv3Yg

— Stanford WBB (@StanfordWBB) April 17, 2017
I feel with @lindylarocque's return to Stanford, 'The Dive' needs to be out there again! https://t.co/9BmbLDrg64 via @youtube

— Liz Smith (@LizLemon17) April 19, 2017
0:01
I'm not sure what, if anything, this says about the first impression she made, or how women sometimes still are treated differently than men in similar positions. But I heard multiple media people refer to UNLV's new athletic director as "Desiree" after Desiree Reed-Francois' appointment was announced.
Maybe it's just easier to refer to her by her first name at this point. Still, I don't recall Messrs. Weaver, Cavagnaro, Hamrick and Livengood being called Jim, Charlie, Mike and Jim on first reference after their introductory news conferences. Tina Kunzer-Murphy, on the other hand, mostly was called Tina.
When the football team kept losing, each was called a lot worse when they departed or were reassigned.
Contact Ron Kantowski at rkantowski@reviewjournal.com or 702-383-0352. Follow @ronkantowski on Twitter.