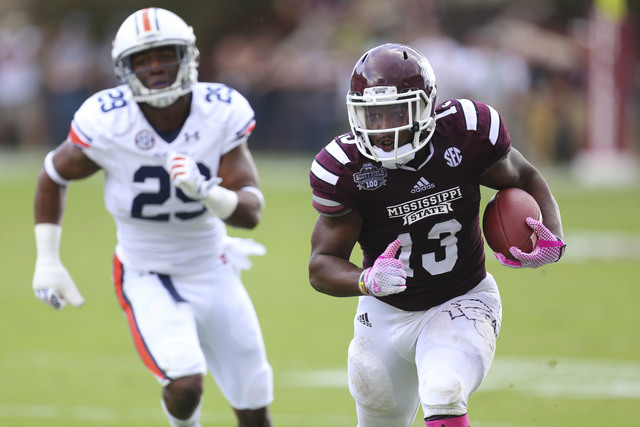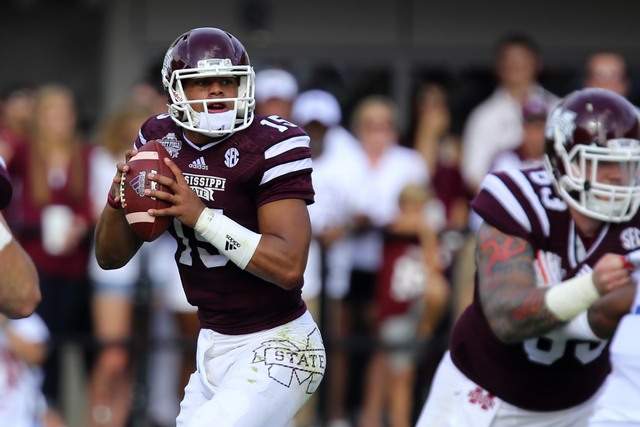 They are the new darlings of college football. Sorry Erin Andrews, but with consecutive victories over No. 8 Louisiana State, No. 6 Texas A&M and No. 2 Auburn, Mississippi State has made it likely we won't be hearing from you over the next little while unless it's from the first-base dugout during the baseball playoffs or backstage at "Dancing With the Stars."
It has taken coach Dan Mullen and the Bulldogs just five weeks to rise from unranked to No. 1. Nobody has risen faster in the 78-year history of the Associated Press poll.
Think about it: When the season began, Mississippi State was ranked identically to UNLV in football. That makes the Bulldogs' rise seem even more dramatic.
As one Internet troll put it ever so aptly: "Meanwhile, in a quiet corner of Starkville, Dan Mullen is preparing an 'I'll never leave State speech' and texting his agent.' "
Is there a local tie to all of this?
Of course there is.
It was just a few weeks back that I had written there is a Las Vegas tie to just about every big sports story, if you look far enough. In the case of Mississippi State, one has to look no farther than the Bulldogs' feet.
During Saturday's 38-23 victory over Auburn, Mississippi State wore shoes that said "Stark Vegas" on front. I also found a photo where the "Welcome to Fabulous Las Vegas" sign had been altered to say "Stark Vegas" (with the Mississippi State logo photoshopped onto the Mandalay Bay facade), and lots of maroon-hued T-shirts with "Stark Vegas" stamped on front that one could purchase for $19.99.
There's even a Stark Vegas entry in the online Urban Dictionary: "Slang for Starkville, MS. There, people keep it real by drinking, smoking and throwing away their future." And by standing the SEC on its collective ear.
The shoes were made especially for the Bulldogs by adidas and feature fancy airbrushing. Every kid from Abbeville to Winona (there are no towns in Mississippi than begin with "Z") probably will want those shoes or whatever Ole Miss is wearing these days, because Ole Miss is pretty good, too.
A lot of kids from Abbeville to Winona unfortunately won't be able to afford those shoes, because Mississippi almost always is ranked No. 1 in the poverty poll, too. Which only makes the success of the Mississippi State and Ole Miss football teams more special, if you ask me.
People started referring to Starkville as Stark Vegas because it has a population of 23,888, and because apparently there isn't much to do in Starkville besides watch the Bulldogs kick butt this football season. Starkville also is the home of the Magnolia Film Festival and Cool Papa Bell, the baseball Hall-of-Famer.
Nobody seems to know for sure when people started referring to Starkville as "Stark Vegas." Popular legend says Skip Bertman, the old LSU baseball coach, might have been responsible.
Mississippi State and LSU have excellent baseball programs, and Bertman used to stir up the rivalry by saying things such as every hotel room in Starkville comes without a view, and that a tornado once ripped through Starkville and did a million dollars in improvements. That sort of thing. Bertman also famously once said that Starkville was the Native American word for "trailer park."
Afer he said that, the LSU pitchers would try not to give Will Clark and Raffy Palmeiro anything too good to hit.
Now the joke is on Bertman, and on all those other people down there in their "Geaux Tigers!" shirts, because on Sept. 20, the Bulldogs beat LSU 34-29 in Baton Rouge, they damn sure did.
But I could not locate a specific reference where Skip Bertman referred to Starkville as "Stark Vegas."
I did, however, find a listing for the StarkVegas Taxi Cab Service. The business profile said it employed a staff of approximately 1-4. When I called, I got a message saying the staff of approximately 1-4 was not available at the moment.
I also learned from a young woman with a charming Elly May Clampett resonance to her voice that one can charter an entire shuttle from Golden Triangle Regional Airport, serving Columbus, Starkville and West Point, to David Wade Stadium on the MSU campus for $29 — which is about what it would have cost just one person/poor soul to go from McCarran to Sam Boyd Stadium for the Northern Colorado game, with tip.
So I'm thinking that before its next game at Utah State, the UNLV football team should wear shoes with "Starkville, Miss.," and Cool Papa Bell's picture and lifetime batting average airbrushed on front.
Las Vegas Review-Journal sports columnist Ron Kantowski can be reached at rkantowski@reviewjournal.com or 702-383-0352. Follow him on Twitter: @ronkantowski