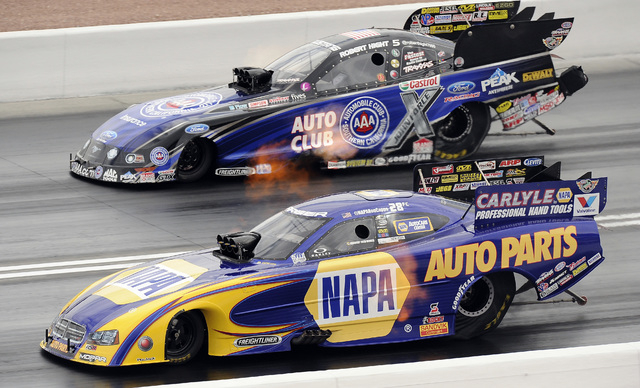 He has won 41 races in drag racing's Nitro classes, and no driver has won as many events in Las Vegas as Ron Capps. He has won five times here: once in spring, four times in fall.
He has yet to win a Funny Car series championship though. Hard to believe.
And that's why he is prepared to give the NHRA The Finger. Er, a finger.
Ron Capps said he would cut off a finger if it means winning the championship.
I think he was joking.
"When you talk about what I've done in my career, it doesn't bother me that I haven't (won) yet," Capps said before the hot rods made qualifying runs for today's SummitRacing.com NHRA Nationals at Las Vegas Motor Speedway. "Then we were talking this winter, and I said I would literally give a finger to win a championship.
"I go back and forth."
He has been compared to Phil Mickelson, who has finished second in the U.S. Open six times; to Jim Kelly, who finished second in four consecutive Super Bowls; to Ernie Banks, who played in 14 All-Star Games in 19 big league seasons but never in a World Series.
Capps said he did not know that about Ernie Banks.
This is probably because he grew up around fast cars in Southern California — his parents met at a drag strip — and because he still lives there, in Carlsbad, north of San Diego.
He should have asked his car owner, Don Schumacher, about Mr. Cub and not winning the big one. Schumacher is from Chicago.
So when it comes to the Funny Car championship playing hard to get, Ron Capps says he has had a pretty good career, regardless. Won those 41 races. The other drivers hate racing against him, he says. That's respect. He's cool with that.
That's on one day.
Then on another day, he talks about sawing body parts off.
It's on those days when he thinks of 2012, when he lost the title to teammate Jack Beckman on the last day. Capps lost by two points. It was the closest NHRA championship points race ever.
Capps has finished second four times. In 2005, he lost to Gary Scelzi by eight points. In 2000, he lost to John Force. In 1998, he lost to John Force.
A lot of people lose to John Force. Force has won the Funny Crown crown 16 times. Perhaps Capps should consider sawing off something of Force's.
Though Capps is 48, it's not like time is running out. Not in hot rod racing. Look at Force. Force is like 84 (actually he's 64; it just seems like 84), and he's still as fast as greased lightning, or any kind of lightning.
So perhaps this will be Capps' year, at least if he can keep his NAPA Auto Parts Charger from turning into a convertible again.
If you watched the season-opening Winternationals at Pomona, Calif., you probably saw the video of Capps' 7,000-horsepower engine exploding near the finish line as he was traveling at warp speed, and the carbon-fibre bodywork exploding — and Capps' head nearly exploding, too, after a shard of bodywork or engine conked him ion the helmet.
He looked pretty woozy when his car rolled to a stop. It looked as if somebody had taken a giant scythe and lopped off everything above Capps' head.
It was frightening enough in real time but you should see it in slow motion. That Capps walked away — albeit gingerly — is sort of remarkable.
"Yeah, I don't even know how to explain it to people," said Capps, who posted the sixth-fastest qualifying time heading into today's final eliminations.
"It was just a bomb, you know, and I was thankful more than anything to NHRA and for all our safety stuff, with the chutes coming out on their own.
"Had that happened prior to Scott Kalitta's accident, it could have very well been like Scott Kalitta's, where it went off the track. Because I was borderline (unconscious), and not very coherent."
Scott Kalitta was a 17-time race winner who was killed in 2008 when his dragster exploded in flames at Englishtown, N.J., in much the same manner as Capps' Funny Car exploded at Pomona in February. Only Kalitta's parachutes never opened.
"Had the chutes not come out and slowed the car down like they did, it would have been pretty bad," Capps said.
So after the bomb goes off and you regain your wits, you count lucky stars. And then you get right back in the car the next day. This is what Capps did in California.
Last August, when he suffered a similar engine explosion at Brainerd, Minn., Capps got right back in the car and won the whole darn thing.
"You can't hesitate to get back in these things or you're done," he said.
This is why I believe guys who drive race cars are wired differently. To wit: a few years ago, when I got the bright idea to fix the roof of our house without calling somebody, I slipped and nearly fell. We live in a two-story house.
Ron Capps would have gone back on that roof with hammer, nails and shingles the very next day.
I did not go back on the roof the next day. In fact, I have not been back on that roof since.
Las Vegas Review-Journal sports columnist Ron Kantowski can be reached at rkantowski@reviewjournal.com or 702-383-0352. Follow him on Twitter: @ronkantowski
Tip of the Capps
A numerical look at the career of NHRA Funny Car driver Ron Capps:
Age: 48
Events: 414
Titles: 41
Round wins: 509
Las Vegas titles: 5
Percentage of titles won in West Coast races: 37
Top Fuel dragster wins: 1
Championships won: 0
Runner-up championship finishes: 4
Best time, speed: 3.964 sec. (NHRA record); 320.98 mph, Englishtown, N.J., 2012.