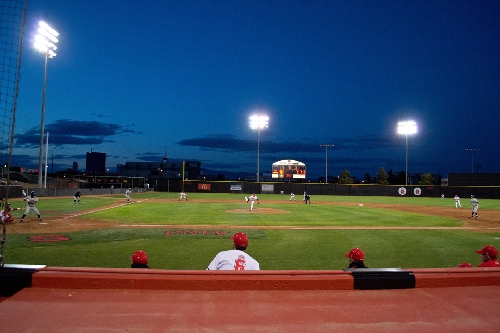 Sometime after the captain turned on the Fasten Your Seat Belt sign and they stowed their carry-on luggage in an overhead bin on the way to New Mexico, UNLV's baseball players forgot how to hit the cutoff man.
Sometime after they powered down their mobile phones, laptop computers, pagers and any other electronic device that might have interfered with the navigational and communication equipment on the aircraft, they forgot how to pitch to corners and hit behind the runner.
Sometime after they received the little bag of peanuts and the kid in the middle seat had to use the restroom and the captain said if they looked out the cabin to their right they could see Gallup or Grants or the Continental Divide or a giant meteor crater, they forgot what it was to win.
"Somewhere between McCarran (airport) and Albuquerque, we lost our team," first-year UNLV baseball coach Tim Chambers was saying on another spectacular day around the batting cage at emerald-green Wilson Stadium, site of the 2012 Mountain West Conference Tournament, now that Chambers has restored the stadium to its original luster and given it curb appeal.
The Rebels lost three in a row at New Mexico. They lost a game at Utah, before they got snowed on. They lost a game to Cal State Northridge. They went through a stretch during which they lost nine of 12.
They lost a game to Sacred Heart.
This is a young UNLV team, comprising mostly former junior college players and a few seniors who weren't good enough to be drafted by a big league club. That's still no excuse to lose to one of those schools from back east that sounds like a church.
Chambers was so discombobulated by the chain of events that saw the Rebels turn an upwardly mobile start (16-3) into a downward spiral that he kept referring to Sacred Heart as "Siena" as we leaned against the dugout rail.
He jumped to the dugout floor to make his next point.
"I was standing right here," he said after backing himself into a shady corner. "I took my glasses off and said, 'What the heck is going on?' "
He began making changes — in the batting order, in the pitching rotation, in the way the Rebels took infield practice, if that's what it took.
Maybe that's what it took. The Rebels didn't lose to Sacred Heart again. They won three in a row. They lost at UC Riverside, but that was on a Tuesday when you use freshman pitchers and whatnot. The Rebels are 1-6 on Tuesdays. Chambers said he can fix that. Next year, he's not scheduling games on Tuesdays.
After he began experimenting with the lineups and whatnot, the Rebels took two of three from Brigham Young. They won at Baylor — on a Tuesday. Chambers said he had received a call from a pal on the NCAA selection committee, saying that if the Rebels still wanted to be considered for an at-large spot in the tournament, it would probably be a good idea to beat Baylor. So they did.
Then they got swept at Texas Christian. A lot of teams get swept at Texas Christian.
The Rebels lost at Southern Utah. What? On Tuesday. Oh.
Then they got even with New Mexico, winning all three games here last weekend.
So heading into a nonconference series at Washington State this weekend, the Rebels are 28-18 and 7-10 in the Mountain West. Take away Tuesday, and they are 27-12. Take away Tuesday and TCU, and they are 26-7.
If you twist and turn this thing and massage it long enough, you can probably come up with a scenario where the Rebels beat the Yankees. But Chambers thinks if the Rebels can reach 38 wins, they can still get to the NCAA Tournament as an at-large team.
There are 10 games left before the Mountain West tournament. None is against TCU. Only one is on a Tuesday.
One day, the Rebels hope to host a regional, or even a Super Regional, in the NCAA Tournament. Until then, the goal is to play in one. It could even happen this year, with all those juco kids and the leftover seniors. "I believe we can do something down the stretch," Chambers said.
Whereas the Rebels once were lost, Chambers said, they now are found.
They have returned to their fully locked and upright position.
Las Vegas Review-Journal columnist Ron Kantowski can be reached at rkantowski@reviewjournal.com or 702-383-0352. Follow him on Twitter: @ronkantowski.