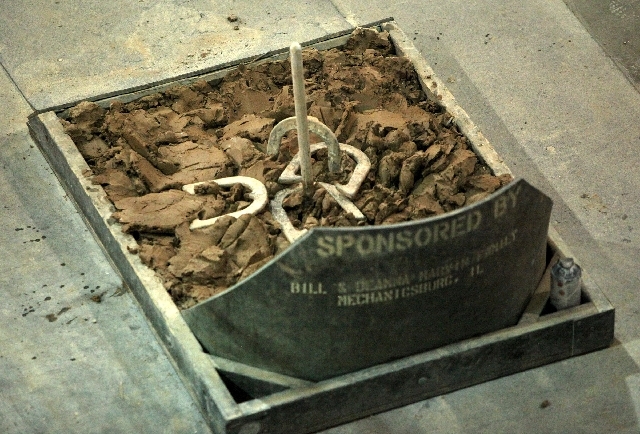 ST. GEORGE, Utah
I have a pal named Chip who lives near here and has a nice view. When I told him I was coming up for the World Horseshoe Tournament, he drove out there before I even arrived.
"Wait'll you hear the sound," Chip said via cellphone about the clang, clang, clang of tournament horseshoes ringing tournament horseshoe stakes. He said he even saw some Norwegians pitching.
When I arrived, I spotted the flag of Norway hanging from the wall of the Dixie Center, next to the flag of South Africa. I did not spot any Norwegians.
Stu Sipma, the National Horseshoe Pitchers Association president from North Dakota, said he hadn't seen any Norwegians, either, but that a bunch of Namibians had pitched in the morning. Unfortunately, and unlike the lone Elvis/Neil Diamond/Neil Young impersonator I saw, the Namibians had left the building.
The clang, clang, clang of horseshoes was everywhere, except in the restrooms, where a sign said you couldn't take them inside.
The clang, clang, clang was loud, but not as deafening as, say, the sound of metal being forged at a foundry. Tina Hawkins, the NHPA Second Vice President, told me the clang, clang, clang is to a horseshoes player what the sound of the mailman coming up the sidewalk is to a dog: A horseshoe player's ears perk when he hears it, and he's liable to come running after just one clang.
It had been roughly 45 years since I had last watched people pitch horseshoes. They were mostly uncles I didn't know, at our family reunion, because this is what kids do at family reunions after they have ice cream and watermelon and the swing set is broken.
I asked Tina Hawkins, who is from a town in Oklahoma so small that it is not off a turnpike — the address on her business card is a post office box on Route 4 — if she pitched horseshoes at her family reunion.
"No," she said, smiling, because people from Oklahoma always smile, even when you ask a dumb question.
"Why not?" I said.
"Wouldn't be fair," she said.
No, it wouldn't, because though Tina said she doesn't practice pitching horseshoes as much as she used to, she still tosses 48 percent ringers. The uncles I didn't know were lucky if they made one out of 10.
The horseshoe pitchers have been holding world tournaments for nearly a century — the first one was in 1915 in Kansas City, Mo. — and folks come from far and wide to have their fling.
Tina Hawkins said there were 1,031 people from 46 states pitching horseshoes on 42 courts, a court consisting of two stakes, two pits full of molded clay that resemble glops of brown Play-Doh, and 40 feet between the stakes and the Play-Doh pits.
She suggested I check out the courts on the right front side of the Dixie Center, because that was where Alan Francis, the 17-time champion, would be making it clang against the other top pitchers, including Walter Ray Williams Jr., who is almost as good at bowling (47 PBA titles) as he is at pitching horseshoes.
Tina Hawkins said Alan Francis pitches 90 percent ringers, which sounded high. According to the stats, Francis was hitting only 88 percent coming in; nevertheless, you still got the idea he was pretty good at this.
I watched the end of a match between Francis, who is fit and has a flattop and a mustache and resembles a state trooper, against Brian Simmons from Vermont, who wears a headband and a tie-dye T-shirt and looks like an old hippie.
Clang, clang, clang, clang, clang.
These two pitched ringer after ringer after ringer after ringer after ringer. Until the crowd on the risers gasped, which meant that somebody had missed. It was Simmons. Somebody from Tennessee excitedly told me the final score was 9 to 15, which I assumed was like a 2-1 baseball game going 10 or 11 innings.
Even an outsider from the city could tell this was a great match of horseshoes.
When it finally was over Saturday, Alan Francis had won another world title and a nice trophy for the wall of the precinct, and Brian Simmons had finished second again, and Walter Ray Williams Jr., the great bowler, had finished fifth.
My pal Chip, a Cal Tech guy, returned to the Dixie Center with this device to record the sound of the clang, clang, clang. He nudged me in the ribs.
A small bald man with a white beard was strolling by. He was wearing a blue T-shirt that showed a horseshoe and a big fish, which could have been a salmon, leaping through the "U" of the horseshoe. Could this have been the Norwegian?
It was.
It was Inge Byrkjeland of Naustdal, a picturesque fishing village north of Oslo, way north of Oslo, from up there on the fiords. This likable fellow said he had spent $7,800, which is a lot of kroners, to see America and to pitch ringers in Utah.
He told me he was happy, because whereas he usually tosses 29 percent ringers, he threw 32 percent in the tournament. This wasn't bad, he said, considering he was tossing an American horseshoe instead of the lighter Norwegian model.
Over the clang, clang, clang of the horseshoes I told Inge Byrkjeland that I would pay good money, like $15 American, at least, for one of his T-shirts that showed the salmon jumping through the horseshoe. But he said he had brought only two and had given the other one away.
Las Vegas Review-Journal sports columnist Ron Kantowski can be reached at rkantowski@reviewjournal.com or 702-383-0352. Follow him on Twitter: @ronkantowski.