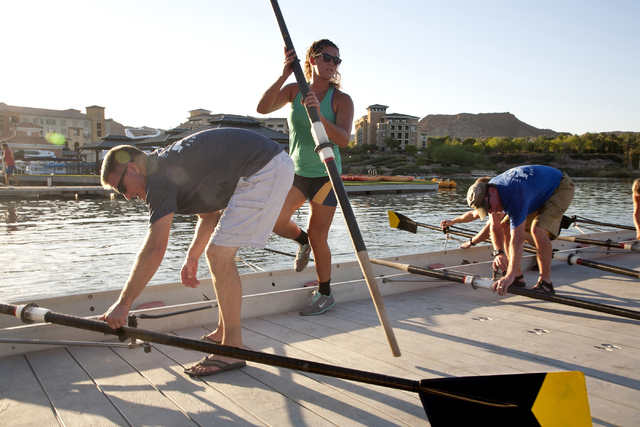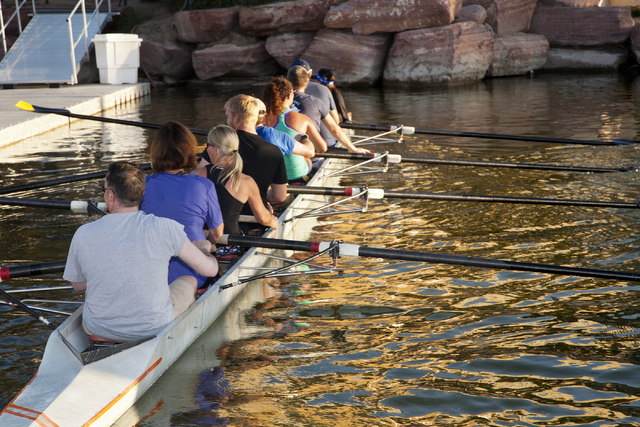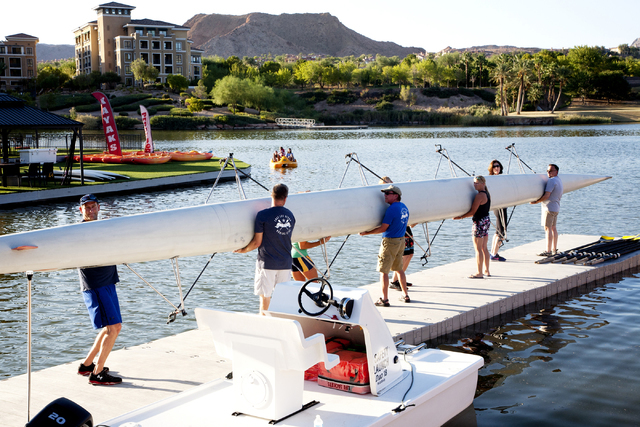 There was a forgettable old movie called "Oxford Blues" in which a young Rob Lowe portrays a libidinous parking attendant at the Dunes and a former member of the University of Las Vegas rowing team.
The Dunes no longer exists. The University of Las Vegas never did exist.
That a fictional school in the middle of the desert would have a rowing team, and that a former member of the rowing team — not the men's basketball team — could land a lucrative valet parking gig on the Strip must have been the scriptwriter's idea of a poke in the ribs.
But now there is a local competitive rowing team based at Lake Las Vegas at the new boathouse in MonteLago Village. So maybe that old movie starring a young Rob Lowe no longer is as far-fetched as it once appeared, though it still is mostly forgettable.
On Thursday I met Jim Andersen, a long-time rowing coach from Larkspur, California, in Marin County, which, unlike Las Vegas, seems like a place where they might have a rowing team. Andersen was wearing a rowing cap and a navy polo shirt and white rowing coach pants and brown Topsiders, which maintain a good grip on a damp dock.
Andersen introduced me to his board of directors in this fledgling pursuit, seven of nine who have previous rowing experience. Then they went out onto the placid water of Lake Las Vegas and stirred it up a bit. The coxswain shouted instructions to her crew; Jim Andersen, floating alongside in a pontoon, shouted instructions to the coxswain.
When the crew returned to the dock, it was perspiring as if being pursued by Vikings.
A male crew member wearing a Vassar shirt — Vassar being a school which sounds as if it would have a rowing team, as well as fencing, lacrosse, rugby and squash teams — was asked if he had fallen in.
Competitive rowing will get your blood flowing, and it will open your sweat glands before you can say Nick Di Angelo, which was Rob Lowe's character in "Oxford Blues."
Jim Andersen, the Lake Las Vegas Rowing Club coach, moved here in March from Oklahoma City, another nonrowing locale where he started a program from scratch. Before that he was boys rowing coach in Marin County for 17 years and sent athletes to Harvard, Yale, Princeton and Cornell, where ivy grows on halls of higher learning, and to the U.S. Naval Academy, which almost always beats Army in football.
The junior program will be the focus here, though Andersen says there also will be ample opportunity for masters rowers to dip oars in the water.
"We're going to have a high school program for kids from eighth grade up to seniors," he said outside the boathouse. "It's a great sport for high-school athletes — self-discipline, motivation, the ultimate team sport. There's no superstars. Everybody has to work together."
All muscle groups get used in competitive rowing — quads, biceps, triceps, lats, glutes, abdominals. Judging from the guy wearing the Vassar shirt, all muscle groups get used in casual sculling, too.
There's row, row, rowing one's boat gently down a stream. Then there is competitive rowing in a time-honored sport.
"In college, it's a big sport," Andersen said. "On the women's side, there's 145 universities that give out scholarships in (NCAA) Divisions I, II and III. On the men's side, the best schools in the country watch rowers — the Pac-12, the Ivy League — so the men get recruited, too."
If your first inclination upon learning Las Vegas is starting a competitive rowing team — go to llvrc.com for more information and practice times — is to raise an eyebrow, most people in Oklahoma City raised two eyebrows when Andersen started a team there.
The program grew from 30 athletes and two coaches to 150 athletes and eight coaches who won regional championships and dipped oars in the water at national championship events.
Nick Di Angelo and Lady Victoria Wingate, his love interest in the movie, would have been impressed.
Rob Lowe was.
"When I was in Oklahoma City, we heard he was coming to town to promote a movie," Andersen said. "We had a boat that wasn't named. So we named it the 'Oxford Blues' and invited him to come."
Rob Lowe came to the boathouse. He autographed the bow.
Jim Andersen said "Oxford Blues" the rowing shell did a lot better than "Oxford Blues" the movie.
"It's still in Oklahoma City and it's won many races," he said.
Las Vegas Review-Journal sports columnist Ron Kantowski can be reached at rkantowski@reviewjournal.com or 702-383-0352. Follow him on Twitter: @ronkantowski