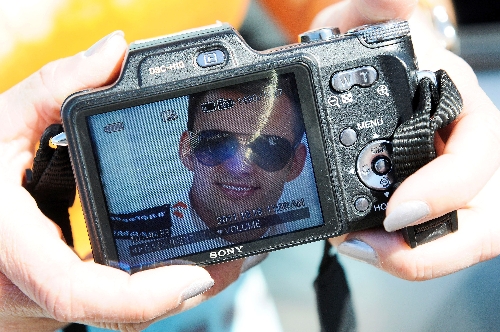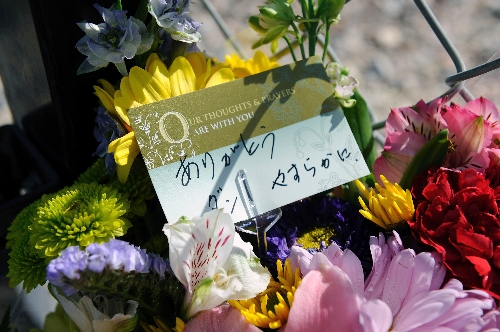 It was eerily quiet around the 1.5-mile oval on Monday afternoon, the day after Dan Wheldon died at Las Vegas Motor Speedway.
The roar of the racing engines had been replaced by the whir of a riding lawnmower, its driver trimming the grass in the tri-oval in front of the cavernous, empty grandstands.
Flags whipped in a stiff breeze; otherwise, there was only silence. The big water barrels on pit lane, used in case of fire during pit stops, were still full to the brim.
There were no pit stops during Sunday's IndyCar finale. The race, along with Wheldon's life, ended in Turn 2 on lap 11 after a horrifying 15-car crash.
The ominous tire marks on the SAFER barrier had yet to be scrubbed clean, or painted over. They were most severe under the O'Reilly's billboard, nearing the exit to the turn.
That's where Wheldon's car hit.
The driver's picture shone in tribute on the big marquee facing Interstate 15. In front of a landscaping boulder fronting the administration building, six bunches of flowers stood in silent requiem to the popular 33-year-old Englishman and reigning Indianapolis 500 champion.
It all seemed so surreal.
By this time, thousands of people from the auto racing world had posted condolences on Wheldon's Twitter account. And not just the auto racing world; celebrities such as Piers Morgan, the talk-show host, and Denise Richards, the actress, had added their heartfelt words, too.
The auto racing community isn't through mourning Dan Wheldon.
But, as also was expected, strident cries for reform in the wake of his death already have begun.
"HORROR IN LAS VEGAS" screamed the Indianapolis Star's front-page headline in the boldest, blackest font imaginable, proving once again that not everything that happens here, stays here.
LVMS president Chris Powell was wrapping up an interview with the Wall Street Journal in the media center Monday afternoon. It had been a long day. It had been a longer night.
Watching a man die is never easy.
Having people point fingers only makes it more difficult.
By Monday morning, a lot of people were looking to pin the death of Dan Wheldon on somebody, and Powell, choosing his words carefully, chose to defend LVMS, just in case.
"We provide the venue. The sanctioning body — whether it be NASCAR, NHRA, IndyCar, whatever sanctioning body it is — comes in and governs its own competition," Powell said. "That was the case this weekend.
"When drivers have concerns, I think 99 percent of the time those concerns are expressed to the sanctioning body. If those concerns were expressed in this instance, certainly it was not to me."
Though few blame the speedway, its relatively new high-banked configuration, designed for NASCAR stock cars and upon which the IndyCars were racing for the first time, certainly contributed to asphalt-blistering speeds of more than 220 mph and produced "pack racing" conducive to the type of chain-reaction crash that killed Wheldon.
It was, as many of the drivers foretold in their comments leading up to the race, a recipe for disaster.
But it was IndyCar's desire to hold its season finale here, not LVMS's, which mostly played the part of landlord in a so-called "track rental."
Jimmie Johnson, the five-time defending NASCAR Sprint Cup Series champion, was among the harshest critics of Wheldon's death, saying IndyCar should abolish oval races.
"Those cars are fantastic for street circuits, for road courses," Johnson told The Associated Press. "I wouldn't run them on ovals."
The current IndyCar formula, while producing the kind of wheel-to-wheel racing that fans and sponsors crave, is fraught with danger. There have been dozens of crashes in which cars bang wheels and get airborne and slam into retaining walls and climb catch fences. The circumstances Sunday — 20-degree banking; unusually large 34-car field; drivers, some inexperienced, driving aggressively in cars that would become museum pieces and collector's items after the race — probably dictated there would be a huge crash, or crashes.
"It's friggin' fast here … the race is going to be crazy and the crashes are going to be spectacular," Danica Patrick said after climbing out of her car after a practice session late last week, one of many statements made before the race that seem chillingly prophetic today.
But lightning speeds and grinding crashes are the nature of this beast. Although improvements in technology have made auto racing safer by leaps and bounds, with fatal crashes now few and far between, they still happen. It's a dangerous sport, and always will be. The men and women who drive these cars willingly accept the risk.
Next year there will be new cars, outfitted with bodywork around the rear-wheel assemblies that, in theory, will reduce the risk of cars being launched into the air, as Wheldon's was. In an eerie coincidence, it was Wheldon who served as the new car's test driver.
Still, there are those who question whether it will be enough if the aerodynamics, which allow the cars to be driven flat out on ovals, don't change.
In an interview with the BBC, former Formula One world driving champion Jody Scheckter of South Africa, who watched the tragedy unfold from the LVMS hospitality suites — his son, Tomas, was involved in the crash but was not injured — called IndyCar the "most dangerous form of motor racing."
"Everyone's flat (out), so even the worst drivers can drive at the same speed as everybody else," Scheckter said. "They all bunch up together. They were going around basically touching wheels at 220 mph. It was four abreast going into corners. It was inevitable that somebody was going to crash.
"It's just madness."
Scheckter said he has asked his son to quit driving IndyCars.
And Tomas' reaction?
"He doesn't want to, really," Jody Scheckter said.
Las Vegas Review-Journal columnist Ron Kantowski can be reached at rkantowski@reviewjournal.com or 702-383-0352. Follow him on Twitter: @ronkantowski.