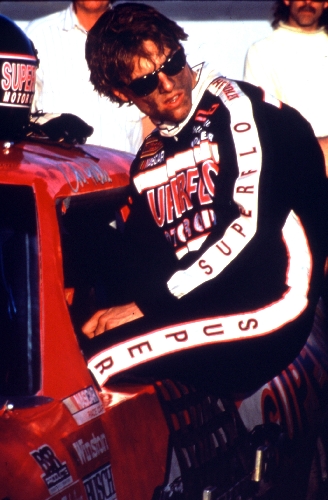 Hollywood director Tony Scott committed suicide a week ago today by jumping off the Vincent Thomas Bridge in Los Angeles. Sadly, that is probably how I will remember him, because plunging 185 feet off a suspension bridge into the murky waters of Los Angeles Harbor is a spectacular way to die.
But I also will remember him for Cole Trickle and Harry Hogge and Rowdy Burns and Russ Wheeler; the City Chevrolet and the pink and white Superflo car. And for all those spectacular crashes in "Days of Thunder," which he directed, which came along at roughly the same time NASCAR was breaking out and Las Vegas Motor Speedway was breaking ground and helped put stock car racing into the mainstream with a screech of tires and a thud against the Turn 1 wall.
Many, many thuds against the Turn 1 wall.
I also will remember British-born Tony Scott for "Top Gun," and how when people came over to check out our surround system, when not that many people had them, that was the movie I would plop into the VCR and crank up the volume to because it sounded stupendous, even on VHS.
C'mon, Mav, do some of that pilot (stuff), while my guests still have a little of their hearing left.
But most of all, I'd like to thank Tony Scott, who was 68 when he died, for "rubbin' is racin'." One cannot cover the Sprint Cup race at LVMS for 15 years without using that expression at least once or twice or three times, especially when the Busch brothers are part of it.
How many times have I written that Jimmie Johnson's pit crew gave him a "perfectly matched set of tires" on his last stop? Or that Juan Pablo Montoya should go back on the track and "hit the pace car, because he had hit every other damn thing out there, and why not be perfect?" And how many times has Robby Gordon or Michael Waltrip or Dale Earnhardt Jr. "looked like a monkey (performing a lewd act on) a football out there"?
Too many to count. Especially in Waltrip's case, who was 0-for-462 until he won Daytona.
Tony Scott didn't write the script, but he directed the crashes, and without those crashes there wouldn't have been a script. And without a script there wouldn't be "rubbin' is racin' " unless maybe somebody like Darrell Waltrip came up with it, which is doubtful, considering "boogity, boogity, boogity" is the best he's been able to do.
And, yeah, "Days of Thunder" wasn't a great movie in 1990; despite Tom Cruise and Robert Duvall; despite what I recall Russ Wheeler – er, Rusty Wallace – saying at the premiere. And though I don't think "Urban Cowboy" was a particularly good movie, either, it must have done for honky tonks what "Days of Thunder" did for stock car racing, or why else did guys I once considered pals learn to dance the Cotton-Eyed Joe?
(These same former pals also learned to do the Hustle after "Saturday Night Fever" came out, but that one was pretty good.)
During the decade after "Days of Thunder," NASCAR tracks went up in California and Chicago and St. Louis and Miami and Kansas and Kentucky and Nashville and Texas and right here in Las Vegas. And many existing tracks were repaved or remodeled and got bigger grandstands – enormous grandstands, that stretched all the way out to the interstate and blocked out the sun.
Jimmie Johnson was only 15 when "Days of Thunder" came out. He said he has seen it three or four times.
"But I played the fire out of the video game when I was a kid," he said, responding to an email.
"I think the film was very helpful in bringing racing mainstream. I knew that the storyline followed some real stories in NASCAR, real personalities. Then when I first moved back to North Carolina, I was able to better understand some of those storylines and it really was Rick Hendrick, and it was Harry Hyde and Tim Richmond. It was cool to kind of piece that part together."
Added Hendrick Racing teammate Jeff Gordon: "I absolutely remember the movie, and I always loved the movie. I spent a little bit of time with Tom (Cruise), and he fell in love with this sport by doing that movie. I think this sport really benefited by that movie. And obviously Rick Hendrick and City Chevrolet played a big role."
Rubbin' is racin', and jumpin' off a suspension bridge is dyin'. These are indisputable facts.
I remember driving over the Vincent Thomas Bridge one year after making a wrong turn following the Long Beach Grand Prix. It was on a Sunday afternoon. Ours must have been the only car on the bridge.
Crates and oil drums were stacked high on the docks, but not a soul was in sight. It all felt so eerie and forlorn.
When we got to the San Pedro side, I did a U-turn and drove back over the bridge, high-tailing it back to the 710 Freeway like Cole Trickle in the movies.
Las Vegas Review-Journal sports columnist Ron Kantowski can be reached at rkantowski@reviewjournal.com or 702-383-0352. Follow him on Twitter: @ronkantowski.