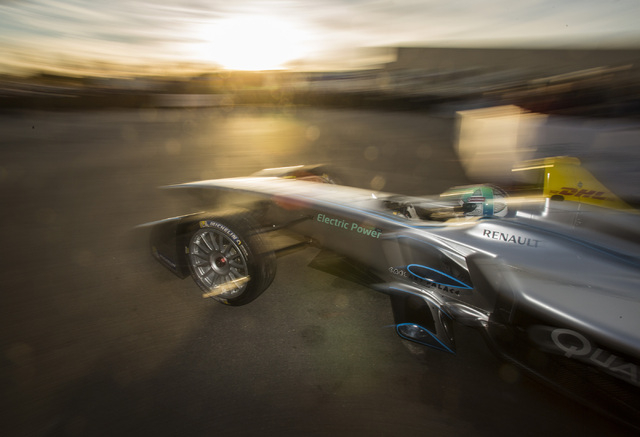 A couple of nights before last year's Indianapolis 500 we were at the airport in Indy, picking up our rental car, and the girl wearing the blazer said all they had was a Prius, it being race weekend and all, and it being almost midnight in Indianapolis.
My pal Steve told the girl wearing the blazer that he was a Detroit guy, and he'd rather have something with a carburetor under the hood. Or a Mopar sticker on the bumper.
But all they had was that Prius.
So that was the last electric car, or sort of electric car, I paid much attention to until Monday, when a shroud was lifted from a low-slung formula racecar in a tent in the Mandalay Bay parking lot during one of those Consumer Electronics Show presentations at a satellite location.
This racecar was silver and metallic blue and had a little number 1 on front and a Caesars Palace decal under the cockpit where the driver sits. It had much larger QUALCOMM decals on the sidepods. It looked like it could do 150 mph, easy, and supposedly it can.
Which is amazing, considering this racecar with the giant QUALCOMM decals and the smaller Caesars Palace ones run totally on electricity.
This was the prototype for a new FIA-sanctioned racing championship for electric racecars. The FIA, which stands for Federation Internationale de l'Automobile, is based in Paris and sanctions the Formula One World Championship, the world's most popular form of auto racing. Accent marks are over some of the vowels in "Federation."
So this unveiling of the electric racecar seemed a pretty big deal.
At least 300 people were under the tent — a lot of Japanese journalists, a lot of people with British accents who kept saying "brilliant," a lot of men wearing scarves, a lot of women who looked like Scarlett Johansson, most wearing skintight black leather pants.
Dignitaries spoke. Alejandro Agag, CEO of the FIA Formula E (for Electric) Championship, said there is a perception among consumers — such as my pal Steve — that electric cars are "not cool and they don't go very fast."
Racing these sleek prototypes with the needle noses should dispel that notion, Agag said, while using catch phrases such as "sustainable energies" and "technological boundaries" and "interactive capabilities."
"We want people to buy electric cars."
The electric racecar was inspired by its Formula One and IndyCar brothers of combustion, with noted manufacturers from those series — McLaren, Williams, Renault, Dallara, Michelin — providing research and development. Ten two-car teams will contest the inaugural championship consisting of 10 races in major ports of call and population such as Rio de Janeiro, Buenos Aires, Monte Carlo, Berlin and London.
Two races will be in the United States, in Miami and Los Angeles. The debut Formula E race is set for Sept. 13 in Beijing.
IndyCar teams Andretti Autosport and Dragon Racing will field e-cars, and luminaries such as Richard Branson and Leonardo DiCaprio are sure to attract paparazzi as team owners. Neither was here for the unveiling. But Henderson's Sam Schmidt, who owns an IndyCar team that is on the rise, was on hand to check things out. Schmidt said if the timing of the new series didn't conflict so much with the IndyCar schedule, he'd probably be all in, like DiCaprio.
The official Formula E brochure said the electric racing motors put out 80 decibels at 70 mph and likened the sound to a jet engine.
Just to have a reference point, I called up a YouTube video of Gerhard Berger's 1989 F1 Ferrari speeding around the legendary Spa-Francorchamps circuit. The throaty roar of the Ferrari's mighty V12 engine reverberated off the grandstands and Belgian hillsides.
When the debonair and diminutive Brazilian test driver Lucas di Grassi pushed the button on the Formula E car, there was a loud whirring noise. Alas, this was only the cherry picker lifting some of the Japanese photographers into the air for a better vantage point. But then di Grassi mashed the throttle, and the car sped off from a silent stop.
It sort of sounded like a Dustbuster with a sock caught inside.
The 80 decibels didn't do it for me like the throaty roar of a Ferrari V12.
Di Grassi did burnouts in the parking lot, and the people with the British accents said "Brilliant!" There was applause, but it was polite applause, like you might get for Judas Priest unplugged, or something like that.
Auto racing without the throaty roar of the engines is going to take some getting used to. But you can't stall these electric racecars in the pits or on the starting line, so at least there's that, and the mechanics won't be getting grease under their fingernails, far as I can tell.
Plus, after we drove that Prius around Indianapolis for four days, and it took like $4 to fill up the tank before returning it to the girl at the airport, my pal Steve seemed mildly impressed. And he's a Detroit guy.
Las Vegas Review-Journal sports columnist Ron Kantowski can be reached at rkantowski@reviewjournal.com or 702-383-0352. Follow him on Twitter: @ronkantowski.