Enthusiastic Sanchez just fine with Sam Boyd Stadium
September 2, 2015 - 8:43 pm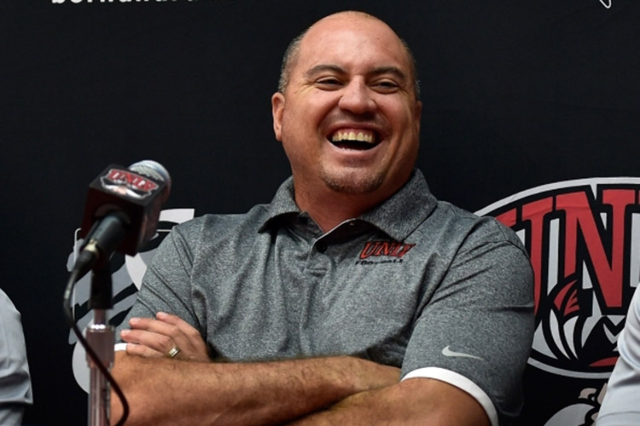 If there's anything most Las Vegas sports fans can agree upon, it's that Sam Boyd Stadium and Cashman Field stink, and that hopefully there will be places to park at the new hockey arena.
In the case of Cashman Field, that's stink as in a literal stench. During a recent homestand, somebody jammed a broken bat into a toilet or whatever — the Louisville Plugger? — and the pipes backed up, and foul stuff began to float around the dugouts.
But of the two primary tenants of these antiquated sports domiciles, only one doesn't seem to mind.
Tony Sanchez, the enthusiastic first-year UNLV football coach stepping out of the shadows cast by Friday Night Lights and into the bright sunshine — and harsh reality — of Saturday afternoon, actually has embraced Sam Boyd Stadium.
He reminds me of the guy in that John Mellencamp song: He's got a cat, and an interstate running through his front yard, and he thinks he's got it so good.
It's easy to look at the glass as half full when you're still undefeated as a college football coach, though one suspects that soon is about to change. And it's easy to look at the glass as half empty when you're stepping in floating stuff in the dugout and soiling a good pair of loafers, as 51s president Don Logan was and did during the recent homestand.
It's easy to look at the glass as three-quarters empty when you're doing that.
Tony Sanchez hasn't had to deal with backed-up pipes at Sam Boyd Stadium yet. The last time it happened was on the morning of the Las Vegas Bowl a few years ago, and then it was Sanchez's athletic director who had to deal with it. Tina Kunzer-Murphy was Las Vegas Bowl director when crude (or crud) began to bubble and pumping trucks were summoned.
"This place is so done," Logan said of the half-empty glass that is Cashman Field.
"We've got the new turf in, we've got Vegas diamonds on it, and we'll be cranking the music," UNLV coach Sanchez said of the half-full glass (unless Wisconsin is the opponent) that is Sam Boyd Stadium.
Never underestimate the power of Vegas diamonds.
When it comes to lawn ornamentation, Vegas diamonds are better than pink flamingos and a garden gnome.
Vegas diamonds (inspired by the iconic Stardust hotel-casino) as yard-line markers and "Welcome to Fabulous Las Vegas" sign logos in the end zones make the new field turf look like a giant gaming table. Totally retro. Totally cool.
The new ersatz turf and logos are the most striking results of a $1.2 million face-lift at Sam Boyd financed by monster truck jams, and the other events held at the stadium and at the Thomas & Mack Center to offset the money UNLV loses on football.
If you're international soccer star Cristiano Ronaldo or somebody else who has attempted a soccer corner kick at Sam Boyd, you also may notice the playing field is now legit for soccer and rugby. To paraphrase the title of that South Park movie, it's wider, longer and uncut.
"The good thing about Coach Sanchez is he feels Sam Boyd Stadium is his home," Kunzer-Murphy said during her recent state of the athletic department address.
That's a good thing, because talk of building a new stadium has been put on a backburner that won't be reignited until at least 2017, when the state Legislature next huddles in Carson City.
The face-lift at Sam Boyd has had such a dramatic effect on its appearance that when I stumbled upon a recent video of the new playing field, I initially thought it was an artist's rendition of a new practice facility at Ohio State.
In the past, the only time you'd see the UNLV football team anywhere near Sam Boyd Stadium was on game night. Sorry guys, Bishop Gorman is using its field, and this is where we have to play.
Then after the game or after he got fired, former coach Mike Sanford would blame a bunch of stuff on the Sam Boyd locker rooms.
Now, Sanchez even wants to practice at Sam Boyd on a fairly regular basis, and Kunzer-Murphy is talking about holding additional Monster Truck Jams so new locker rooms can be put in for the football team.
Maybe Mike Sanford was right.
But maybe when you have an interstate running through your front yard, you put the cat on your lap and make the best of it. Maybe you look at the glass as half full. And maybe you write down the contact info of a good plumber on the bathroom wall, just in case the pipes back up again.
Las Vegas Review-Journal sports columnist Ron Kantowski can be reached at rkantowski@reviewjournal.com or 702-383-0352. Follow him on Twitter: @ronkantowski.