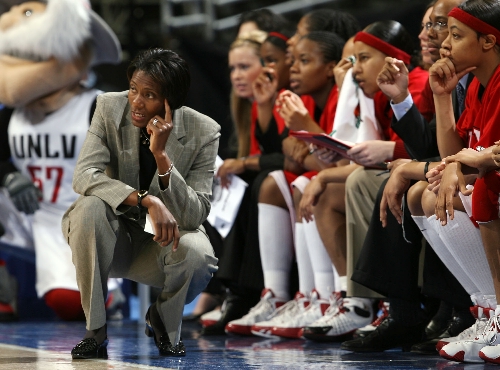 There's a line in an old Bob Seger song that suggests one always can come back in his business "because rock 'n' roll never forgets."
I hear Seger is putting the (Silver Bullet) band back together, so props to him for being prescient.
Regina Miller is hoping women's college basketball is like rock 'n' roll.
In 10 years as UNLV coach, Miller guided the Lady Rebels to 175 victories against 125 defeats. There was one stretch where the Lady Rebs made it to the postseason six years running, a UNLV record.
This is somewhat remarkable considering Miller inherited a program that had produced a grand total of four victories in each of the two seasons before she arrived from Western Illinois of the John Deere Conference.
In her first year, UNLV won 17 games. There were seven more winning seasons in a row after that one. Then two losing seasons. Then UNLV let her go, after the 2008 season.
After Miller's time, the Lady Rebels have finished 14-18, 13-18 and are 10-18 this year. Maybe these things take time. Maybe UNLV was hasty in letting Miller go. These are discussions for another day.
The one for today: Regina Miller wants to coach again.
She has been hanging out at Lon Kruger's practices, picking his basketball brain. She has been hanging out at Tara VanDerveer's practices at Stanford, picking her basketball brain. She has the telephone number of Kim Mulkey, the coach at Baylor, in her BlackBerry.
Leon Barmore. Pat Summitt. Geno Auriemma. If she has called one of the women's coaching legends, she's called them all. Miller has called Mulkey more than once. They played against each other in college.
After three years on the sidelines, Miller wants to patrol them again. She wants to coach. WNBA, assistant at one of the powerhouses, mid-major head coach — it doesn't really matter.
"I just want to be in a situation where there is support," she said over lunch Tuesday.
I had heard she had been hanging around UNLV men's practices, which I found interesting. She said Kruger has been great to her. No surprise there. Kruger's been great to everybody.
"I'm patient, but he's … really, really patient," Miller, 48, said about watching Kruger draw the X's and O's.
That was before Kruger took away the Rebels' practice gear. Play like Rebels, you can wear it on your shirts again. Who says Kruger can't motivate? That impressed Miller.
She wants to motivate again. She misses the day-to-day grind of a college basketball season, the day-to-day grind of practice. Like she used to tell her players, practice is my time. The games are your time.
"I'm coaching all the time … from my couch," she says.
Men's games, women's games, high school games, kids' games. If there's basketball on the tube, she's in front of it. If the Washington Generals are playing the Globetrotters, Miller's tuned in, drawing up a defense for the confetti-in-the-water-pail bit on a cocktail napkin.
Is three years too long to be coaching from one's couch?
She doesn't think so.
The first year was a planned sabbatical. Miller still was under contract at UNLV. She had been at it for 23 years. She needed time to decompress, whatever that means, and to ride her bicycle down the Champs-Elysees during the Tour de France.
The second year, the economy took a powder. Coaches were hanging onto their jobs. Boosters were hanging onto their money, not using it to buy out contracts. This was good news for coaches hanging onto jobs. It was not such good news for coaches such as Miller who were looking for one.
She interviewed for the San Francisco job. She didn't get it. It went to Jennifer Azzi, the former Stanford star. She applied at Southern California. Michael Cooper got the job. She applied at Oregon. Paul Westhead got the job.
She thinks there will be movement this spring. The economy is slowly turning around. Boosters are slowly growing restless. UConn slowly lost a game.
She's ready to coach some more.
"Sometimes you come back stronger," Miller says. "You grow, reflect, develop, get better … you know."
You wait for an opportunity. You wait for Kim Mulkey to return a phone call. You wait for an athletic director to give a proven winner a chance to prove it again.
You hope that women's college basketball, like rock 'n' roll, never forgets.
Las Vegas Review-Journal columnist Ron Kantowski can be reached at rkantowski@reviewjournal.com or 702-383-0352. Follow him on Twitter: @ronkantowski.