Five-time Olympian Olga Connolly still on gold medal health kick
Updated July 18, 2018 - 8:43 pm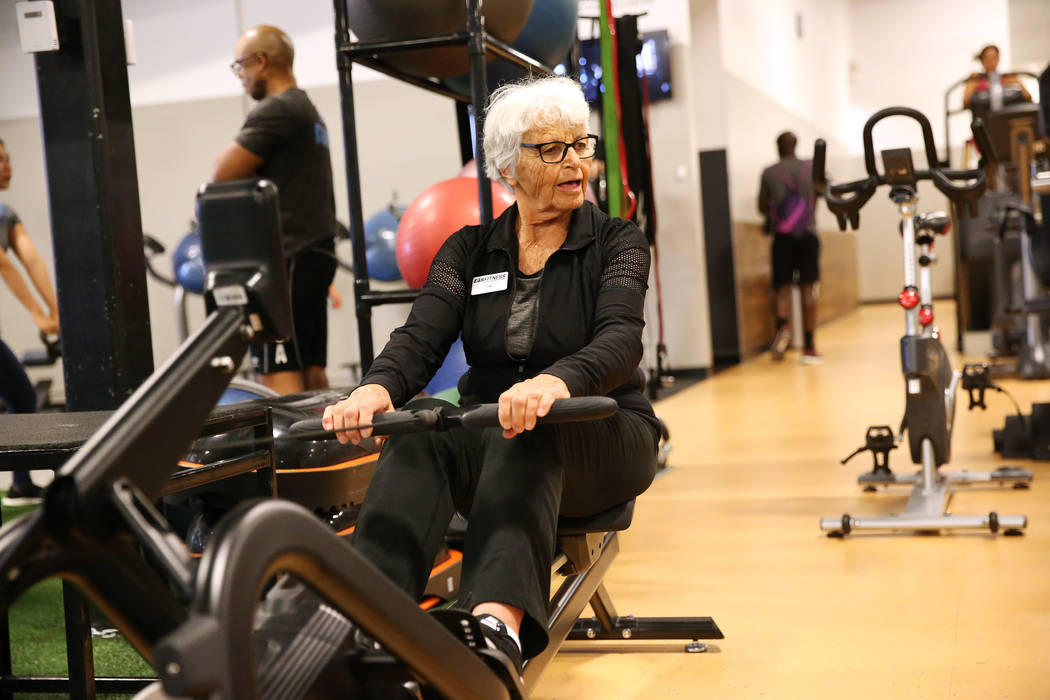 It was a busy Wednesday for the experienced (and then some) personal trainer at the EoS Fitness health club on Durango Drive in Summerlin, with clients coming in starting at 8 a.m.
The personal trainer was Olga Connolly. More on that to follow.
In Greek mythology, it was Eos who opened the gates of Oceanus each morning so brother Helios could drive in his sun-bearing chariot bringing light.
"At Durango EoS, instead of a chariot we use a rowing machine and bicep curls," Connolly says.
She no longer counts birthdays, of which she has had 85.
You could look it up on the internet.
There aren't many personal trainers who have a Wikipedia page. But then Olga Connolly isn't your typical wellness instructor. Though she prefers not to dwell on the past, or even mention it without prodding, hers was one for the history books.
Striking gold
In 1956, when she was known as Olga Fikotova, she won the gold medal tossing the discus for Czechoslovakia in the Summer Olympics. It was in Melbourne she met Hal Connolly, the American hammer thrower who also won the gold medal; they would be married behind the Iron Curtain, which wasn't easy.
It was a big story when Olga Fikotova, a native of Prague, became a U.S. citizen after marrying Hal Connolly of Somerville, Massachusetts.
Recalls she: "When I came to the United States, people ask me 'Do you like America more than Czechoslovakia?' And I said, 'Well, I've been off the boat for like only three days.' "
A man from the State Department made her promise she would not answer the question for three years.
"But if you like America, in three years you can become a (U.S.) citizen," she said, remembering the conversation.
And so she did.
She would compete in the next four Olympics — Rome, Tokyo, Mexico City, Munich — as an American. And in 1972, Olga Connolly was chosen to carry the U.S. flag into the Olympic Stadium during the opening ceremony before star-crossed games in Germany.
"I was stunned," she said when speaking to the New York Times about the honor. "I can never imagine all the (emotion) that was pulled out. It was what I am telling you today. The flag belongs to all people, and I get this tremendous awe."
Hal and Olga Connolly had four children before divorcing in 1974. Oldest son Mark played basketball at Oklahoma State and Long Beach State and had a brief career as a pro boxer training under former super lightweight champion Cornelius Boza Edwards after moving to Las Vegas. Twins Jimmy and Merja were NCAA champions at UCLA, Jimmy in the decathlon, Merja in volleyball.
But their mother is more comfortable talking about health and wellness than using personal pronouns.
Doing for her country
"(President) John Kennedy said don't ask what your country can do for you, ask what you can do for your country," she said. "So all I do for my country in my days now is to convince people it's good to be healthy and strong, and help to save the environment."
Olga Connolly once was serenaded by jazz great Louis Armstrong on "The Ed Sullivan Show." She'd rather speak about being kind to chickens. Over a light lunch, she said she became a vegan after happening upon a poultry truck carrying chickens with trimmed beaks and claws.
The present and future human condition, and sometimes that of chickens, is mostly what interests her. The past "is only sparkles beyond the horizon."
She wanted to know if I had watched the World Cup, which also mostly sparkled on the horizon when athletes from faraway nations weren't faking injuries.
She thought France won because it was more physically fit than Croatia. This could be the start of another French Renaissance, she said. In 2024, Paris will host the Summer Olympics, and a Frenchman named Pierre de Coubertin is considered the founder of the modern Olympic movement.
After our impromptu French lesson, she stood up and away from the table. Olga Connolly looked fitter than Charlie Daniels' fiddle. Like she could still toss the discus 50 meters without breaking a sweat.
It was as if Helios' sun-bearing chariot still was parked in her driveway.
Contact Ron Kantowski at rkantowski@reviewjournal.com or 702-383-0352. Follow @ronkantowski on Twitter.