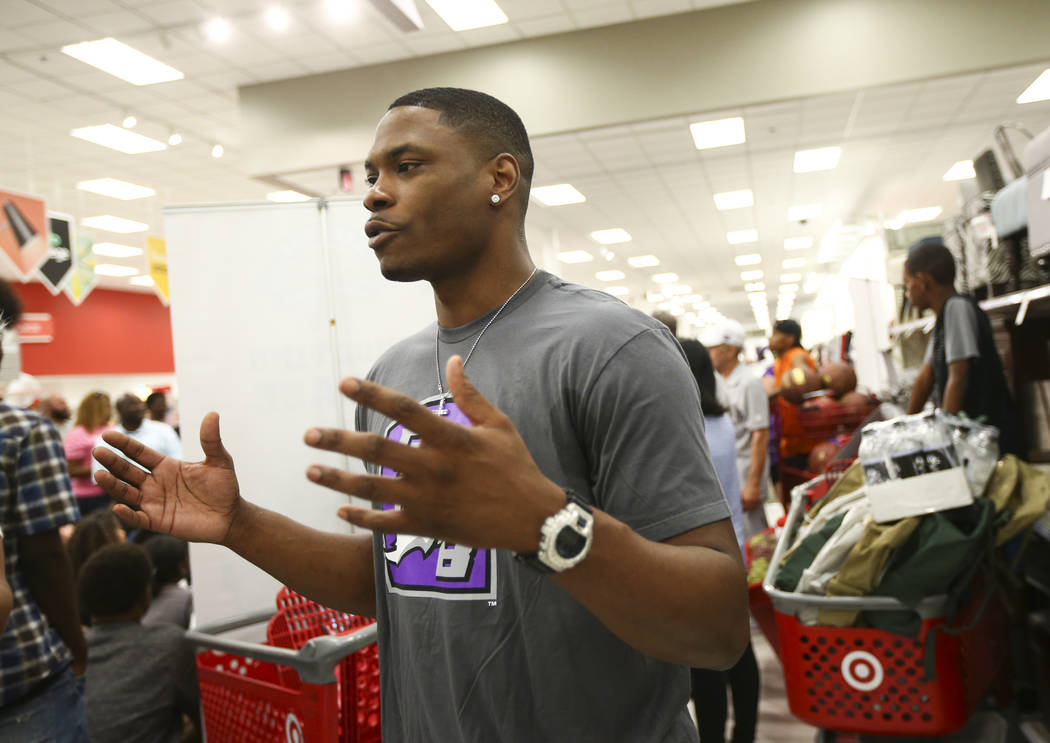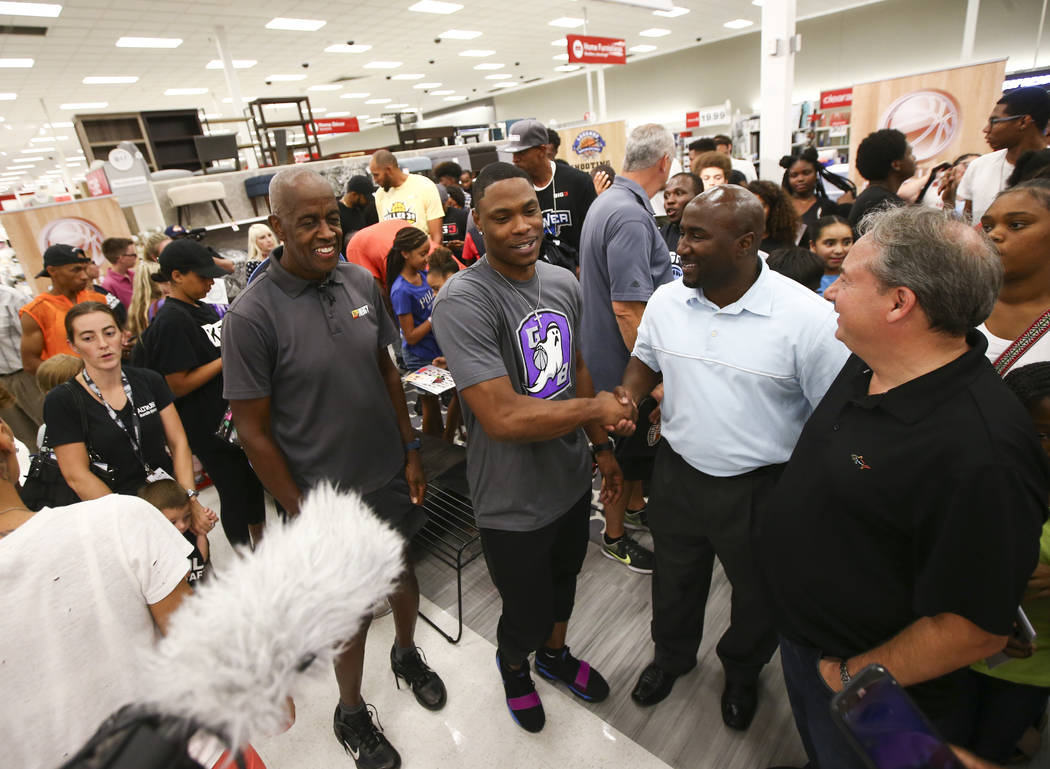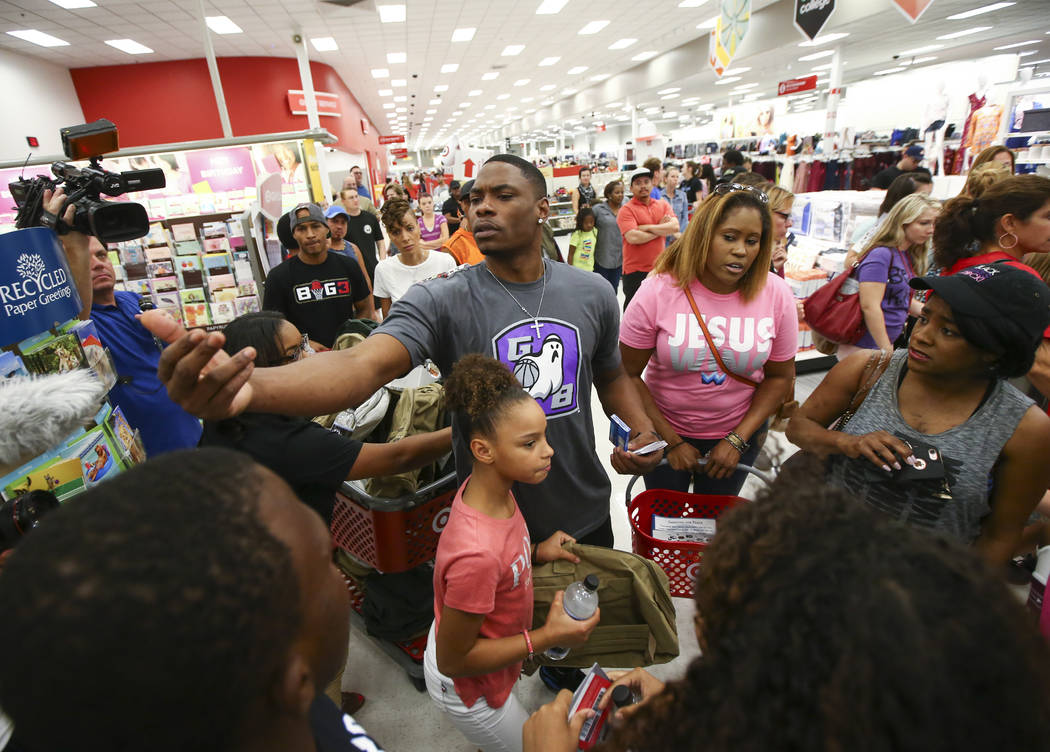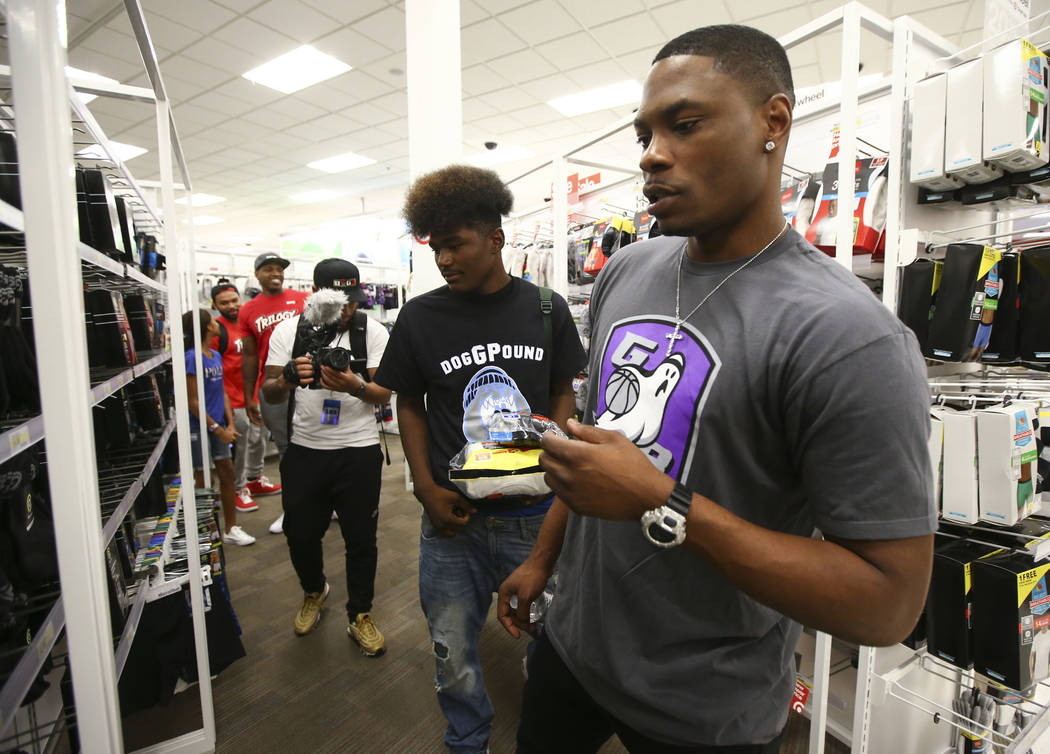 He has been to the top of the basketball mountain, having spent parts of 10 seasons in the NBA, two in which he appeared in 81 games for no less a pro basketball deity than the Boston Celtics.
Arthur Lemarcus "Marcus" Banks III played in three games for the Toronto Raptors (not exactly an NBA deity) during the 2010-11 season, and that was the last time the former Cimarron-Memorial and UNLV star was spotted on a 94-by-50-foot slab of NBA hardwood.
After the cameo in Canada, it was off to basketball parts unknown — the Stampede in Idaho, Panathinaikos Athens in Greece, SLCU Nancy Basket in France, Champville SC in Lebanon and Al Gharafa in Qatar, a pro basketball club that, like everything else in Qatar, is owned by sheikhs.
He never got around to announcing his retirement.
Until Wednesday, when Marcus Banks put it all to rest in the home furnishings department at the Target store at 8750 W. Charleston.
Time for the kids
It wasn't by design. Banks and other luminaries from rapper/actor Ice Cube's BIG3 (on 3) basketball league were speaking to homeless kids at Target about life skills, part of former NBA veteran Jerome "JYD" Williams' Shooting for Peace project benefiting the Nevada Partnership for Homeless Youth. The Junk Yard Dog howled like one in introducing himself, which must have startled shoppers in the patio and garden department.
"Been there, done that," said Banks, who will play for Ghost Ballers in Saturday's made-for-TV BIG3 championship doubleheader at MGM Grand Arena, and whether he was hoping to parlay that into another overseas paycheck. "Now it's about home, about coming together … I have two kids now, 8 and 9 years old, and I can't be too selfish anymore."
He was standing in front of the footstools when he said was done with basketball, at least the competitive kind, the kind where sheikhs expect a double-double every night, and for you to get into somebody's face the way you did when you were a kid — when Allen Iverson said you were the toughest defender he ever faced.
But now Marcus Banks is 35, playing for tips for Ice Cube in the BIG3 while defending the likes of Mahmoud Abdul-Rauf, who was known as Chris Jackson when he played for Louisiana State.
At 48, Abdul-Rauf is the oldest player in the BIG3. He still can shoot the 3 and the 4 — shots from 30 feet and beyond pay four points in the BIG3 — but now he sort of looks like Grady from "Sanford and Son."
>
Respect. #BIG3Playoffs pic.twitter.com/k8iY29V1St

— BIG3 (@thebig3) August 21, 2017
Battle of the BIG3 stars
It would easy to dismiss BIG3 as sports flotsam and jetsam, as more garbage to be shoved down the disposal of the undiscriminating sports fan, as basketball's answer to "Dr. Quinn Medicine Woman" on a roster of made-for TV summertime replacements.
But during my youth, I recall an actor named Robert Walden, who played intrepid reporter Joe Rossi on "Lou Grant," running a relay race in "Battle of the Network Stars" wearing too short running shorts. Not once did I think about changing the channel.
Marcus Banks nodded at the top of the mountain analogy regarding his NBA career and smiled about the lesser mountain that is the BIG3.
"It's the funnest mountain I've been on. It might be the smallest mountain, it might be on the way out (not so fast, Marcus. Fox Sports announced this week it has extended its contract with the BIG3). But I tell you what, it's one of the best situations, and I want to thank Ice Cube for giving us the opportunity to go and play in front of 15,000 or 17,000 fans every single night."
It remains to be seen if that kind of crowd will show up at the Grand Garden for Power vs. Ghost Ballers and Trilogy vs. 3 Headed Monsters, or whether anybody will get a hand in Mahmoud Abdul-Rauf's grill while Irish guys are getting liquored up before the flotsam and jetsam across the street know as Mayweather vs. McGregor.
All Marcus Banks knows is his Las Vegas family and friends haven't seen him play basketball in like 15 years, and he's looking forward to it.
Contact Ron Kantowski at rkantowski@reviewjournal.com or 702-383-0352. Follow @ronkantowski on Twitter.
BIG3 at MGM Grand
Saturday's games
— Power vs. Ghost Ballers, noon
— Trilogy vs. 3 Headed Monsters, 1:30 p.m.
— Tickets, information: BIG3.com
— Did you know: Round 6 of the BIG3 season at American Airlines Center in Dallas attracted a crowd of more than 15,000 spectators.