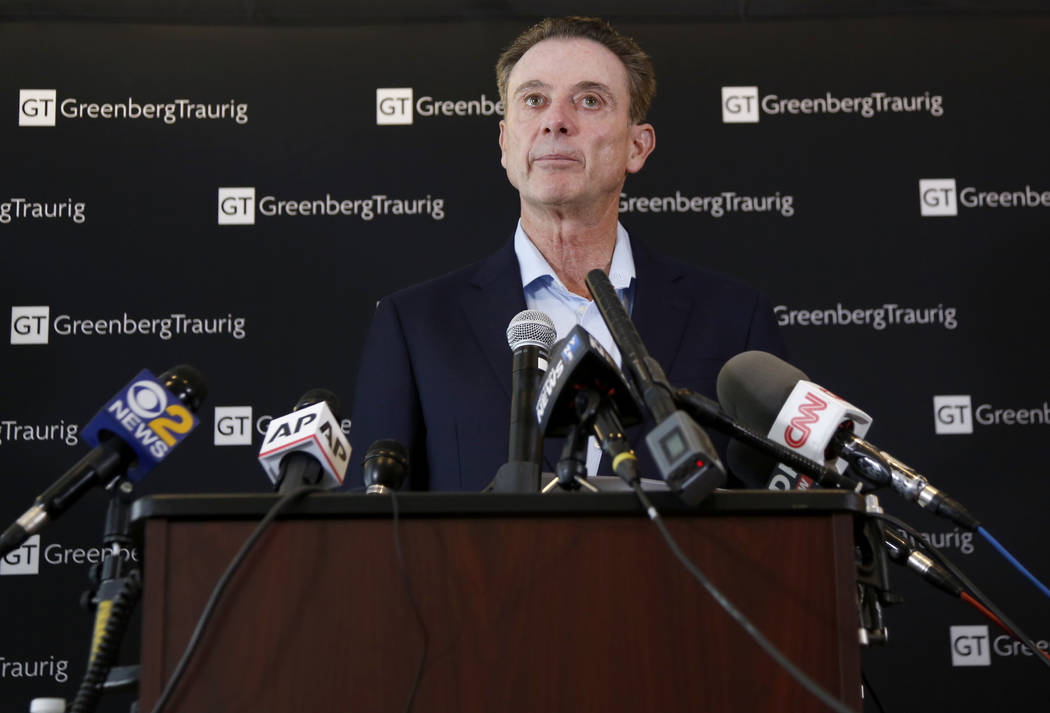 They have enjoyed three shining moments in the NCAA Tournament, and, according to the axiom, one can never take that away from the Louisville Cardinals.
It hasn't stopped the NCAA from trying.
Louisville officially is down to two shining moments now, as the most recent of its three national championships in 2013 has been "vacated." This is what the NCAA calls it when they make you take down a championship banner from the rafters and a school with a good basketball team agrees to self-impose a limit on scholarships for a couple of seasons.
The Cardinals are likewise down to eight Final Four appearances from 10, down 123 victories from around a bazillion for the same reason: a sex scandal that rocked coach Rick Pitino's program, that preceded an even more recent stunning fraud and corruption scandal implicating Louisville and many other thoroughbred programs that has cost Pitino and his athletic director their jobs.
Darrell Griffith is sort of tired of being asked about it.
Waiting for facts
Griffith, perhaps the greatest of all the great ones who have hooped it up at Louisville (Wes Unseld fans may offer a rebuttal) will tip off the Hoops Central March Madness viewing party at Westgate Thursday. He'll share center stage with former Las Vegas Mayor Oscar Goodman, which may prove more difficult than sharing it with Kiki VanDeWeghe (before he added the capital letters) and "Rocket" Rod Foster during the 1980 national championship game in Indianapolis.
"I've refrained from commenting particularly about Louisville, because all the facts are not in," the svelte 59-year-old Griffith said during a Wednesday chat at Sid's Cafe at the Westgate. "I'm gonna comment when I know all the facts. It's unfortunate though. Not only for Louisville, but for all the teams involved."
Although he wouldn't speak directly about the situation at his alma mater, he did offer a thought about what needs to be done to clean up the game's dirty laundry.
"My first answer would be to put the red flag on the NCAA," said Griffith, who scored 23 of his all-time career-leading 2,333 points at Louisville in the Cardinals' 59-54 championship game victory over UCLA at Market Square Arena. "They need to start considering to pay the players. I said that years ago. It's gotta happen."
Griffith agreed that the schools and the networks and Jay Bilas and a lot of people are making money off college basketball and its players, except for the players themselves.
"Everybody but the main attraction," he said, adding that he won't be vacating his iconic nickname if the NCAA comes asking for that, too.
"I'll tell 'em where to stick it," he said with a sardonic chuckle.
If the NCAA wants Darrell Griffith to vacate Dr. Dunkenstein, they'll have to see George Clinton first.
The founder of the 1970s funk collective Parliament Funkadelic did not bestow Griffith with his famous moniker, but he was the inspiration for it, Griffith said. They call Alabama the Crimson Tide; they called George Clinton Dr. Funkenstein; they called Darrell Griffith Dr. Dunkenstein even before he got to Louisville and starting flying through the air and rattling rims and backboards with the greatest of ease.
He even rattled the ones at the Las Vegas Convention Center once.
Revisiting Las Vegas
Griffith recalled losing 99-96 to Reggie Theus and Jerry Tarkanian when he was a freshman in 1977, one of several Las Vegas memories he mentioned.
He said this is his first visit to Westgate since attending the wedding of his Louisville coach Denny Crum when it was known as the Las Vegas Hilton. He also was on the floor when Kareem Abdul-Jabbar set the NBA career scoring record at the Thomas & Mack Center when the Utah Jazz played 11 home games in Las Vegas during the 1983-84 season.
"Magic feeds Kareem, sky hook. They stopped the game when he broke the scoring record," said Griffith, who averaged 16.2 points over 10 NBA seasons and was Rookie of the Year in 1981.
Was it over him on a double team?
Dr. Dunkenstein smiled and said no way.
"Over Mark Eaton," he said of his former Utah teammate who stood 7 feet 4 inches. "I had no business guarding Kareem."
Contact Ron Kantowski at rkantowski@reviewjournal.com or 702-383-0352. Follow @ronkantowski on Twitter.
The Dr. is in
Louisville basketball legend Darrell "Dr. Dunkenstein" Griffith and former Las Vegas Mayor Oscar Goodman will tip off Hoops Central, one of Las Vegas' most popular and free NCAA March Madness viewing parties, Thursday at Westgate in Las Vegas.
Griffith, who led Louisville to a 59-54 victory over UCLA in the 1980 NCAA Tournament championship game, and Goodman will be available for autographs and photos throughout the morning games at the International Theater.