Former Masters champ Mike Weir grinds it out in Boulder City
Updated October 29, 2018 - 8:51 pm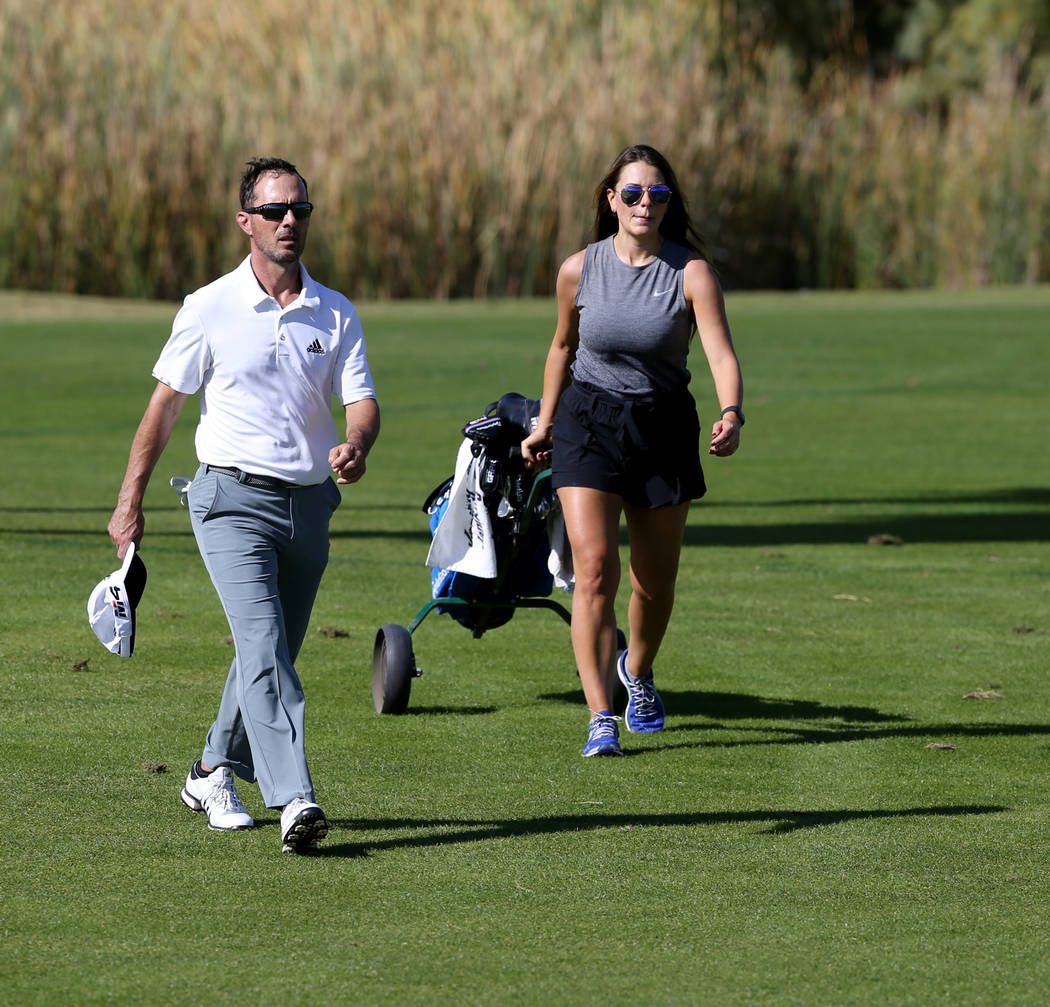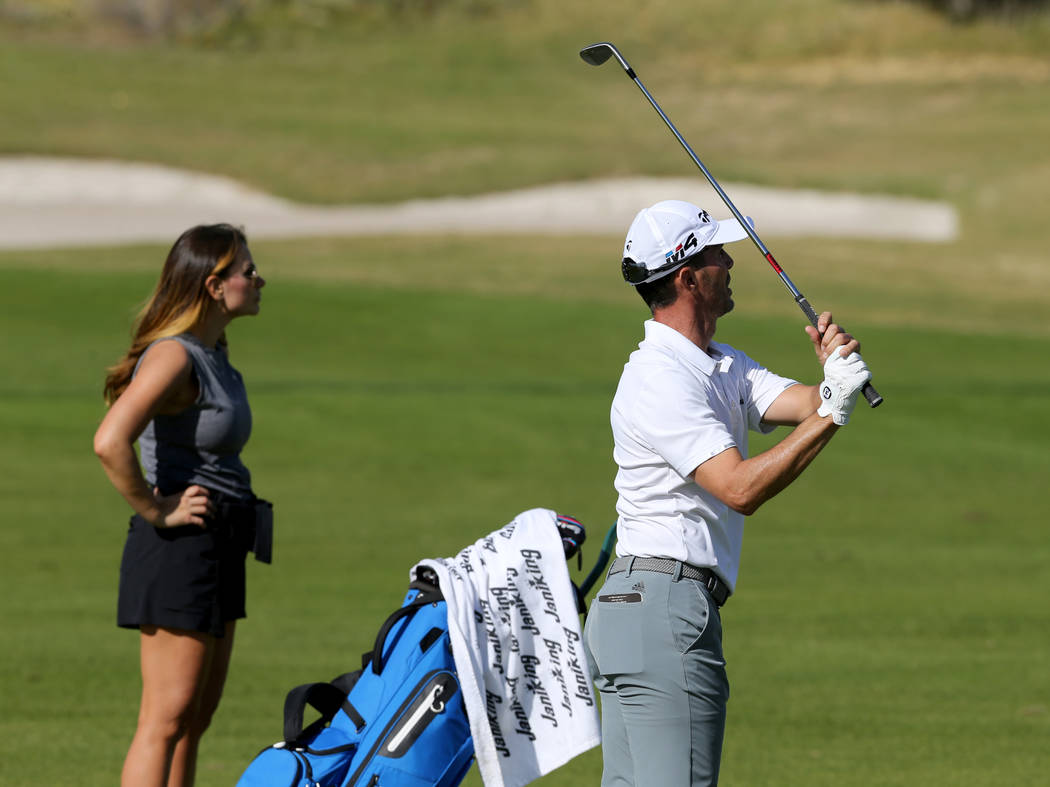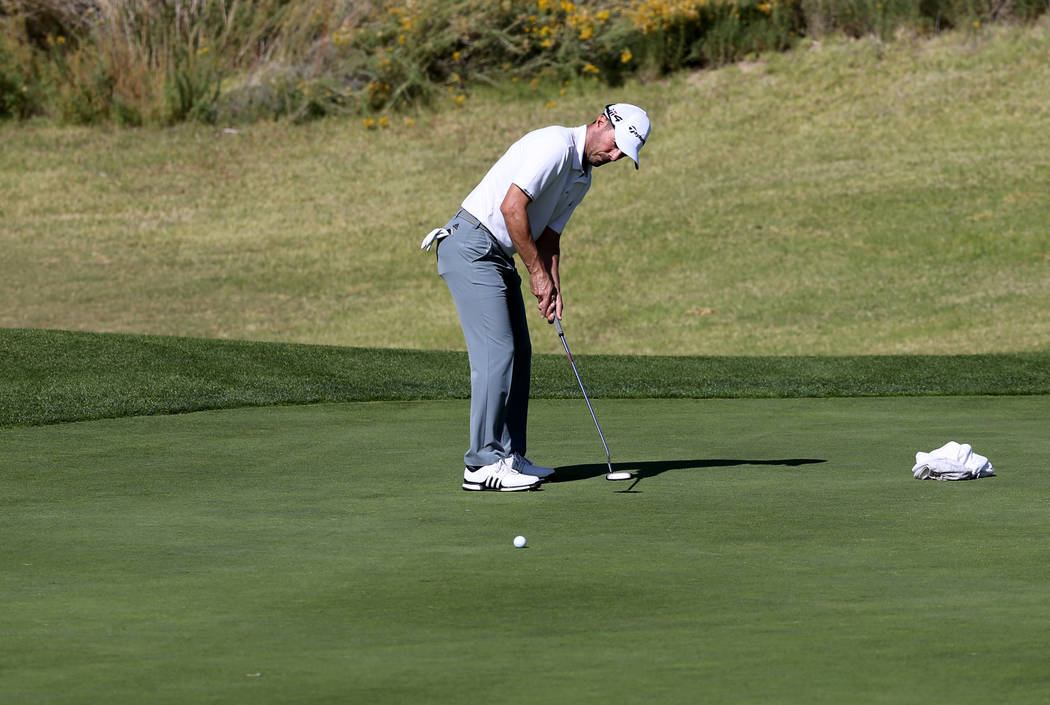 It was just before noon on Monday, qualifying day for the Shriners Hospitals for Children Open.
A man had pulled into the parking lot at Boulder Creek Golf Club in Boulder City, turned his back on the pro shop no more than a chip shot away, and began to urinate.
You rarely see that at Augusta National.
Wouldn't be good for the azaleas.
Mike Weir, who had just made the turn, knows all about the azaleas.
The azaleas were in full bloom along with his game in 2003 when Weir defeated Len Mattiace on the first hole of sudden death to win the Masters, thus becoming the only Canadian to win a golf major. At the time, he and Bob Charles (1963 British Open) were the only left-handed players to have accomplished the feat, but since then guys named Mickelson and Bubba have joined them.
The gallery at Augusta National is known for being staid and respectful, but the cheers for Weir must have seemed deafening compared to the solitude he encountered at Boulder Creek. The only onlookers were a reporter looking for a story and some ducks on the pond on the par-3 No. 8.
A stiff breeze had kicked up, and when it rustled through palm fronds that needed a good trimming, it made a noise. If not for that and those ducks and some trucks bound for a construction site near No. 6 fairway, you could almost hear a putt drop.
Grinding it out
Mike Weir, who was not quite 33 when he won the Masters, is 48 now. When you look up his bio on the PGA website, a "No Recent News" message pops up. He drove from his home in Sandy, Utah, with his caddie to see if he could play his way into the Shriners Open that begins Thursday at TPC Summerlin.
His caddie is also his girlfriend. Her name is Michelle Money (she should have been a golfer). She has appeared on the following TV shows: "The Bachelor," "Bachelor Pad," "Marriage Boot Camp: Reality Stars" and "Bachelor in Paradise." Despite this, she is much more approachable on the golf course than Fluff Cowan.
Her boyfriend birdied four of his last six holes to shoot 5-under-par 67. He finished one stroke behind Doug Ghim of Chicago for the Shriners' last spot.
Jason Gore, who played with Retief Goosen in the final group at the 2005 U.S. Open, played with Weir on Monday and shot 71. Fifteen years ago, these two would have attracted a lot of attention. On this day, they mostly attracted dragonflies.
They had been to the top of the mountain. Now the mountain was only a backdrop, and it seemed a long way off.
No place for egos
When Mike Weir won the Masters, he said there were only a couple of guys who could hit a golf ball like Happy Gilmore — a subject in which Weir is well-versed, having grown up playing hockey in Sarnia, Ontario. (He still answers to "Weirsy" which is what the checking line called him.) Now most on tour and even those trying to hang on can light the red lamp from a great distance. That makes it difficult for shot makers such as Weir to finesse their way into tournaments via Monday qualifying.
But it does not stop him from trying.
"I still love to grind; I still love to practice and play," Weir said after signing his scorecard. It was the only autograph I saw him sign all day, although he did pose for a selfie with a course marshal who said his buddy in British Columbia would be impressed.
"You gotta get out here and put your ego aside and try," added the 1992 Brigham Young grad who won eight times on tour. "I came down here to qualify. I've been working real hard on my game, and I felt like if I could get in, I could play really well in the tournament. I just got off to a slow start today and didn't make enough putts."
Isn't that how it always is in pro golf? It doesn't matter if its Augusta National when the azaleas are in bloom or Boulder Creek when a guy is whizzing in the parking lot. You get off to a slow start and don't make putts, you're reaching for your car keys.
There still were golfers on the course, but Mike Weir said he wouldn't be hanging around to see where his score stood among them. I watched him load his clubs into the back of his truck and give his caddie a kiss.
The parking lot was beginning to empty, but at least now there didn't seem to be the slightest bit of urgency.
Contact Ron Kantowski at rkantowski@reviewjournal.com or 702-383-0352. Follow @ronkantowski on Twitter.