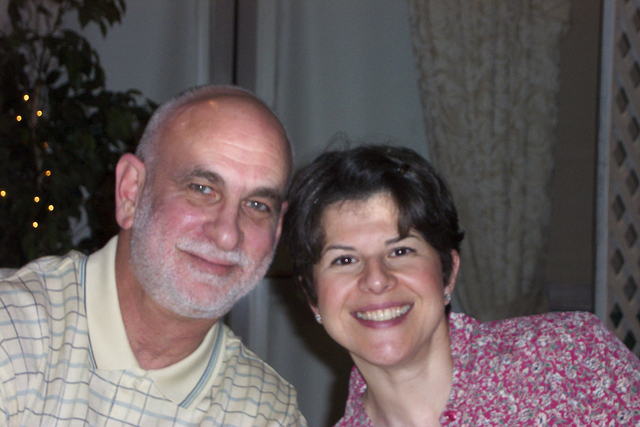 Life's confluences can be strange and troubling and terribly sad at once.
Lou Gehrig had been in the news recently; on July 4 it had been exactly 75 years since the Iron Horse had made his iconic and emotional speech about being the luckiest man on the face of the earth.
They were showing "Pride of the Yankees" late at night on the MLB channel. I set the DVR, though I own the DVD.
I pulled my 1939 Lou Gehrig Cooperstown Classic jersey from the closet. Wool, road gray, felt letters and numbers. I wore to it a 51s game last week. A kid wanted to know who wore No. 4 on the Yankees. He knew Derek Jeter wore No. 2.
Then from out of the blue, a phone call. I learned an old acquaintance had contracted the deadly disease named for the former ballplayer.
Dan Spellens, former vice president of the old Las Vegas Thunder hockey franchise, "was the main reason those games were so much fun," said Las Vegas 51s president Don Logan.
Logan was the one who had called. He was upset. You could hear it in his voice.
Logan last week had called his old pal to discuss an idea, to turn Cashman Field or maybe the new ballpark, if one ever gets built, into a skating rink during Christmastime.
After the Thunder folded, Dan Spellens had returned to Long Beach, Calif., where he grew up, to become director of theaters and entertainment at the Long Beach Convention &Entertainment Center.
He had booked acts such as Fleetwood Mac, Journey, B.B. King, Jackson Browne, Jerry Seinfeld. And the Ice Capades, Logan said. Don wanted to ask Dan how much it cost for ice-making equipment.
But they hadn't spoken in a while, so at first Don only asked, "How's it going?" And Dan said, to be honest, not so well.
Don never got around to asking Dan about ice-making equipment.
Dan Spellens is 64. He was 51 when he started to power walk to stay fit, and because he loved to walk, especially around the part of Long Beach where he lives, where one can see sailboats out on the bay.
One day, his left ankle began to weaken.
"I was exercising every day, doing the right things," he said when we chatted Monday. "And then, just out of nowhere …"
He repeated the "just out of nowhere" part, and then his voice trailed off. Amyotrophic Lateral Sclerosis — Lou Gehrig's Disease — is a grim thing to have.
Maybe some day, it won't be quite so grim. Dan and his wife, Melanie — they met at the 1990 All-Star Game at Wrigley Field — have set up a fundraising drive to help the doctors at Cedars-Sinai Medical Center in Los Angeles find a cure for the grimness.
Dan and Melanie Spellens say that after the first $10,004 is raised — the extra $4 at the end is in tribute to Lou Gehrig — they will match it with $10,004 of their own money.
"Melanie and I are committed to helping other people who are dealing with the ravages of this terrible disease," he writes in poignant letters to potential contributors.
Twenty years ago, when pro hockey was something new and different in Las Vegas, he was only committed to ensuring that fans who came to a game had a good time. And that the Zamboni was well-oiled.
Thousands of fans came to check out Radek Bonk and Ken Quinney and little Patrice Lefebvre and Darcy "Chainsaw" Loewen and Clint Malarchuk, the "Cowboy Goalie," between the pipes.
The Thunder were way bigger than UNLV basketball then. And the Zamboni never missed a shift when Dan Spellens was in charge.
"He was meticulous about the game presentation we had," said Logan, who was also a Thunder vice president during the days hockey owners Hank and Ken Stickney also owned the 51s, when they still were known as the Stars.
Dan Spellens was the Thunder's vice president in charge of hockey operations. What he really was, as Don Logan indicated, was vice president in charge of fun.
He didn't much care for the Girls of Glitter Gulch, though.
One night, when the Thunder had a bikini contest and nobody signed up, somebody within the "organ-i-zation" sent for some double-D reinforcements.
It wasn't Spellens, Logan said. Spellens' thing was fun for the entire family, not just the patriarch.
Sometimes when we're out with friends, my wife will share the story of how one of the Village People called our house one night. It was David Hodo, the construction worker. Dan Spellens had arranged for the Village People to perform after a Thunder game.
The Village People, at a hockey game. A strange confluence, indeed. I thought it might make a good story.
The Village People spelled out Y-M-C-A on a temporary stage that Dan Spellens had set up in the upper deck of the Thomas &Mack Center. Down below, in the lower deck, people formed a conga line, like at a wedding.
People danced after the hockey game that night. People had fun.
Las Vegas Review-Journal sports columnist Ron Kantowski can be reached at rkantowski@reviewjournal.com or 702-383-0352. Follow him on Twitter: @ronkantowski.