Former UNLV player realizes World Cup dream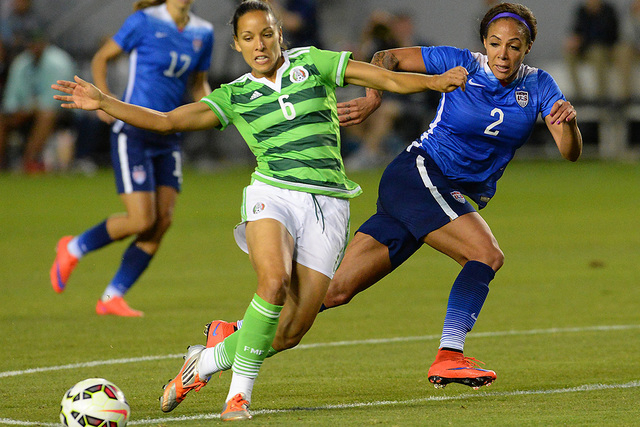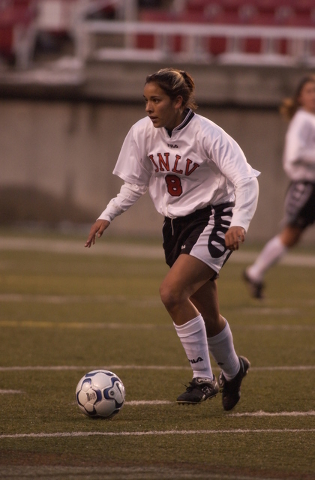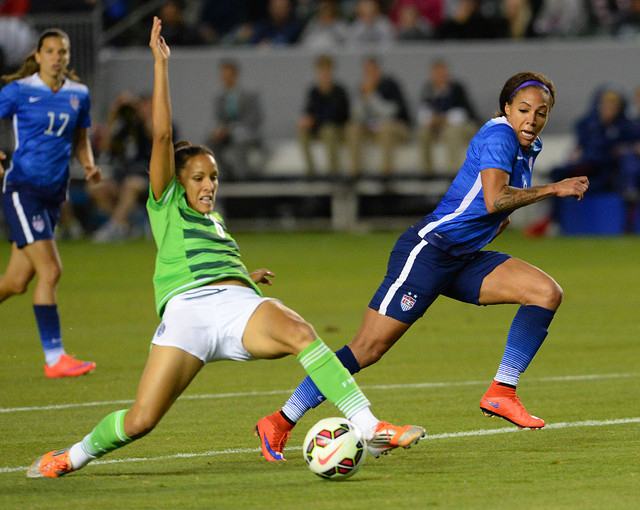 I spent Tuesday afternoon watching the American JV team (Mexico) play women's soccer against Colombia in a windy place called Moncton, which either speaks to the absurdity of sports, or to its sublime beauty.
As I've confessed before, I enjoy soccer; I've even gotten up with roosters to watch it on TV at the Crown &Anchor pub with total strangers from England and some wild-eyed Irishmen, though Ireland hasn't qualified for the World Cup since 2002.
As the Moody Blues sang, something may call to you on a Tuesday afternoon. If I remember the lyrics, trees and gentle voices are what called the Moody Blues.
Jenny Ruiz Williams didn't call to me in a gentle voice, and a tree didn't fall on my head, but she was the reason I spent Tuesday afternoon watching women's soccer on TV.
From 2001 to 2004, Jenny Ruiz played women's soccer for UNLV. I may or may not have seen her play.
Mark Wasik, UNLV's soccer information guy, was here from 2001 to 2004, so he definitely saw Ruiz play. But she was a defender, and defenders rarely score goals. So you don't notice them much, unless they elbow somebody in the face and get sent off with a red card.
When a soccer team wins 1-0, or even 2-0, the defenders — the center backs, the left and right backs, perhaps even the defensive midfielder — usually have something to do with it. But the goalie usually gets the credit.
So Wasik remembers Jenny Ruiz playing for the Rebels, in a white noise sort of way. When it was learned she would play for Mexico in the Women's World Cup, he put out a press release.
It said Ruiz was running on a treadmill in the Bay Area, where she now lives — she's from Corona, Calif. — when the 2011 Women's World Cup came on TV, and she watched Mexico play, and she got this crazy idea: that playing women's soccer for Mexico in the next World Cup might be fun.
I, too, recall getting crazy ideas when I walked at a brisk pace on a treadmill, though playing shortstop for Poland in the World Baseball Classic was not one of them. Poland doesn't have an international baseball team, but there were other reasons.
I do remember, however, that in one of those World Baseball Classics, Mike Piazza played for Italy, though he was born in Norristown, Pa. He had ancestors from the Old Country.
The rules must be the same for the Women's World Cup. One of the announcers said 11 of Mexico's players, including the former captain from Stanford, were U.S. citizens.
The other announcer said sometimes it's not about the name on the jersey or the country you represent. Sometimes it's just about the moment.
At 31, Jenny Ruiz is the oldest player on the Mexican team. She earned a roster spot despite a seven-year layoff; she even scored the winning goal in Mexico's victory over Colombia in the 2011 Pan American Games bronze medal match.
She was not in the starting 11 Tuesday afternoon against Colombia in this brisk place called Moncton, a city of about 69,000 in New Brunswick. The best way to get there, far as I can tell, is go to Maine and then just keep on going.
The soccer stadium appeared small, and though the announcers didn't disparage the Mexican team and the Colombians, one assumes they weren't the favorites in the Women's World Cup, or they wouldn't have been playing in Moncton.
Neither side ever had won a game on this level. Colombia never had scored a goal.
But though Ruiz was sitting on the bench, I found myself being drawn into this game, the way you get drawn into a meaningless baseball game late at night when you are driving across the middle of nowhere, or across the Oklahoma Turnpike, and you pull one in on the radio.
The dual American citizens representing Mexico and the Colombians seemed to be giving it their all. Mexico led 1-0, thanks to goal-line technology. Colombia was getting the better of it in the second half, though, when soccer balls were rattling off goal posts.
I thought if Jenny Ruiz still can defend at age 31, perhaps the Mexican coach should insert her into the game, because the other defenders were looking discombobulated.
In the 78th minute, the Mexican coach put her in.
In the 81st minute, the ball was bouncing around just outside the 18-yard box when No. 6 on Colombia, Montoya, booted it into the net. Colombia's first-ever goal!
It was an impressive strike.
The replay showed No. 6 on the Mexican team arriving a split second late to prevent it.
No. 6 was Jenny Ruiz who used to play for UNLV, the kindergarten teacher who was running on a treadmill when she thought it would be cool to play for the Old Country. Who wrote a letter to the federation and got herself into shape after a seven-year layoff.
Who played in the Women's World Cup at age 31.
There was sublime beauty in that, I thought.
Las Vegas Review-Journal sports columnist Ron Kantowski can be reached at rkantowski@reviewjournal.com or 702-383-0352. Follow him on Twitter: @ronkantowski.