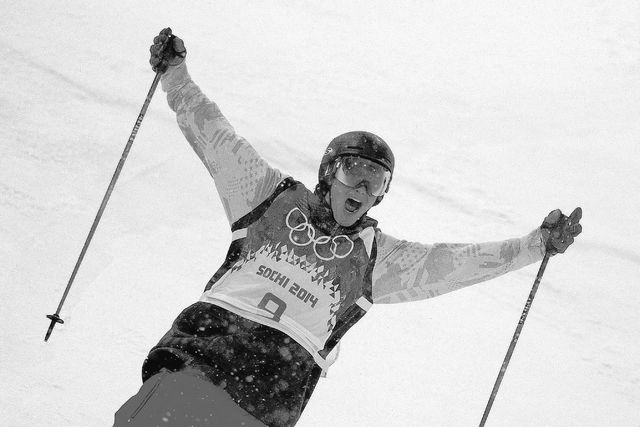 "So where do you keep it?"
It had been a month and a day since David Wise of Reno had won the gold medal in the Winter Olympics men's ski halfpipe. He had to know the question was coming.
He reached into his pocket and pulled out a small white satchel with multicolored markings.
"Is that the official gold-medal carrying bag?"
No, Wise said. Just some goggles bag that he had lying around. The official case was way too big. Wouldn't fit in his pocket.
He let me take his gold medal out of the goggles bag. It was heavy. It was the first time I had held an Olympic gold medal in my hands.
I was at McCarran airport when Lori Harrigan, the Olympic softball pitcher, came home with her first gold medal. But if I remember right, she was wearing her gold medal around her neck. It would have been awkward if you tried to touch it, or hold it in your hands.
I'm told a lot of Olympians put their gold medals somewhere safe, like in a deposit box at a bank. Wise was carrying his around in his pocket. But in a way, this seemed like something one of those halfpipe dudes would do.
Wise's gold medal had this big cutout in it, which I think was the official Sochi logo or something. It had smudges on back that appeared fresh. Must have been those TV guys.
It had been a day and a month since David Wise of Reno had won the gold medal in the Olympic halfpipe. People still were getting their DNA on his gold medal.
"My wind sail's up," the Wooster High grad had told USA Today the day after he won it. "I'm just going where the wind blows me."
At first it was a whirlwind: He sat down with Bob Costas, and Matt Lauer, and did the Ellen DeGeneres Show. Visa, one of his sponsors, made a commercial about him; Morgan Freeman did the voice-over. That almost made David Wise cry. Almost.
Halfpipe dudes don't cry. Not even Shaun White, when he didn't win anything in Russia.
By Wednesday, however, the whirlwind mostly had stopped.
David Wise, 23, was sitting in a brew pub in downtown Las Vegas, chatting with some old dude. His publicist, a young woman named Tara, wasn't paying attention. She was texting. This was part of Wise's Las Vegas media tour. It was a little after 1 p.m. I assumed he had been at this for hours.
This would be his last interview.
I asked how many he had done, assuming it had been a dozen or more. Myriad interviews. Myriad soundbites. Myriad queries about how it feels to win a gold medal, myriad queries about the lousy condition of the snow.
"Three," he said.
Just three?
The whirlwind mostly had stopped.
This was like in that Robert Redford movie after the storm, when Redford's yacht sank and he was in the rubber raft charting his course with the old-school navigation instruments, hoping the wind would blow him into the path of those big cargo ships — or at least onto the set with Letterman and Paul Shaffer.
Instead, David Wise was talking extreme sports in a brew pub with some old dude.
He was nice about it, friendly, personable. Nothing but smiles from this kid. He didn't seem to mind when the old dude used the term "rush" to describe what he does, though I am sure this is a word that only old dudes would use to describe what he does.
Would there be a Wheaties box with his picture on front?
Wise said he hoped so.
He also talked about riding his mountain bike in the hills above Reno and the steeper ones above Lake Tahoe. Lots of solitude in those hills. Not many questions. He talked about hanging out with his wife, Lexi, and their 2-year-old daughter, Nayeli. They keep him balanced, he said.
He seeks thrills, dangerous thrills, from Monday through Saturday. On Sunday, he goes to church with his family.
Sometimes it's hard to find balance in the halfpipe and in other snowy places where extreme dudes do their sports and get those rushes.
There aren't many wives and daughters, either. His are the only ones.
Well, that's not exactly true. There's this Norwegian guy, Andreas something or other, who got fourth in slopestyle in Sochi.
"But he's quite a bit older," Wise said. "He's like 28."
David Wise was wearing a Monster energy cap, and he has these round cheeks, like a cherub, only he has facial hair sprigs on his chin. In other words, he looks just like a lot of other 23-year-olds.
An overweight guy wearing a Minnesota Gophers T-shirt walked past our table and made eye contact with Wise, who by then had put his gold medal back in his pocket.
The overweight guy kept right on walking.
The NCAA Tournament would be starting in 18 hours. The overweight guy from Minnesota still was working on his bracket.
A lot of people in the brew pub appeared to be working on their brackets.
There was an Olympic gold medalist in their midst, this nice kid from Reno with the young family who goes to church on Sunday, and they were oblivious.
I felt a little bad for David Wise. He had trained so hard, achieved the ultimate, and nobody here seemed to notice.
We should have had a couple of showgirls meet him at the airport.
Las Vegas Review-Journal sports columnist Ron Kantowski can be reached at rkantowski@reviewjournal.com or 702-383-0352. Follow him on Twitter: @ronkantowski.