Ghana dominates, but U.S. wins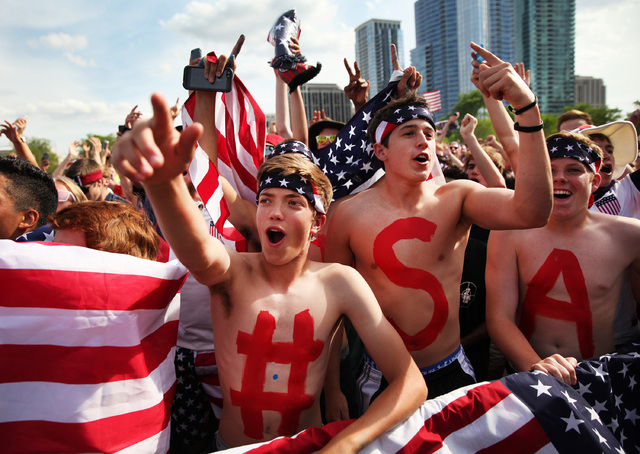 In an HBO documentary about the Chicago Cubs that came out a couple of years back, that Jeff Garlin guy from "Curb Your Enthusiasm" said he still hated the San Diego Padres' brown-and-yellow uniforms, and everything else about the Padres. Garlin is a Cubs fan. This was years after the Padres had rallied to win three straight playoff games and knock Chicago out of World Series contention in 1984.
But then he caught himself. How can one hate the Padres?
One hates the Yankees or the Red Sox. Or perhaps the Dodgers, if one is a Giants fan. But the Padres? The Padres don't deserve one's animosity. The Padres have only been around since 1969, for Pete's sake.
This is how I feel about U.S. vs. Ghana in soccer.
The Black Stars, which is what they call Ghana's national soccer team, have been a huge African thorn in American sides. It was Ghana that bounced the U.S. from the past two World Cups; it was Ghana we had to beat in the World Cup opener on Monday, said Jurgen Klinsmann, the U.S. coach, or forget about it.
But this wasn't Mexico, our natural soccer rival based on geography. This was Ghana, a manufactured rival based on luck of the draw.
"We" finally managed to beat Ghana, 2-1, though it should be noted that my contribution, like that of those playing in the U.S. midfield, was only minimal.
Normally, this is a game I would have watched at the Crown & Anchor British Pub near the UNLV campus, which is where most people who care about soccer watch the World Cup and the other big games.
But it had been only 48 hours since Wayne Rooney, the star of the English team, flubbed a scoring chance with the goalie out of position during the latter stages of a 2-1 loss to Italy.
As they say on their side of the pond, "R-o-o-o-ney!" (Followed by groans.) "Should have done better!" I figured there still might be some guys from Liverpool and Manchester drowning sorrows in the auxiliary viewing tent out back.
So a change of venue was called for.
I decided to watch from Johnny Mac's in Henderson, a tavern close to home.
Johnny Mac's is a Buffalo Bills bar during "real football" season, as one of the older female patrons plunking 15031 into the bar-top slot machines put it. So I figured they wouldn't be expecting much from the home side.
If the U.S. lost, there probably would be only minimal sorrow drowning at Johnny Mac's, even if Ghana has the youngest team in this year's World Cup, even if our guys are No. 13 in the official international soccer rankings and their guys are No. 37.
Based on that, beating the Black Stars should have been as easy as … well, beating the Padres with a 2-0 series lead in a best-of-5 series.
And for 32 seconds, it was.
Clint Dempsey scored for our guys right off the bat, in the first minute, which is almost unheard of in big-time soccer. Ten patrons, everybody at Johnny Mac's except for one, whooped it up, for they had turned off the country music and turned up the sound on the soccer game — which is also almost unheard of, at least at Johnny Mac's.
The older woman at the bar kept her head down and continued to try for a royal flush, or at least jacks or better.
But a few minutes after Dempsey scored that early goal, she looked up, saw U.S. goalie Tim Howard catch the ball and asked a guy and his girl sitting two stools down if that was legal, and was it considered good strategy to use one's hands like that.
Next up: The nuances of the 4-4-2 formation with an attacking midfielder.
This is how I saw it: Our guys dominated the first 32 seconds; their guys dominated the next 89 minutes, 28 seconds. Plus injury time. The injury time was mostly for the best U.S. offensive players, so that doesn't bode well for the game against Portugal.
But in the 86th minute, just after one of their guys tied the score, one of our bench guys, No. 19, Graham Zusi, booted the ball into the box on a corner kick … where another one of our bench guys, No. 6, John Brooks, headed it on a bounce past their last guy, the goalkeeper.
Woo-hoo! Our guys win!
It was as simple as that, at least as far as the patrons at Johnny Mac's in Henderson were concerned. I'm sure Alexi Lalas and the former European soccer stars back in the studio would say it was much more complicated. They would probably mention the attacking midfielder.
To the casual fan, it was fun to watch, it was dramatic at the end, our guys won. This is how we like our sports when the rest of the world comes out to play.
My guess is that when our guys play Portugal's guys at 3 p.m. Sunday, they'll be watching again at Johnny Mac's in Henderson, and the sound will be turned up.
Las Vegas Review-Journal sports columnist Ron Kantowski can be reached at rkantowski@reviewjournal.com or 702-383-0352. Follow him on Twitter: @ronkantowski.