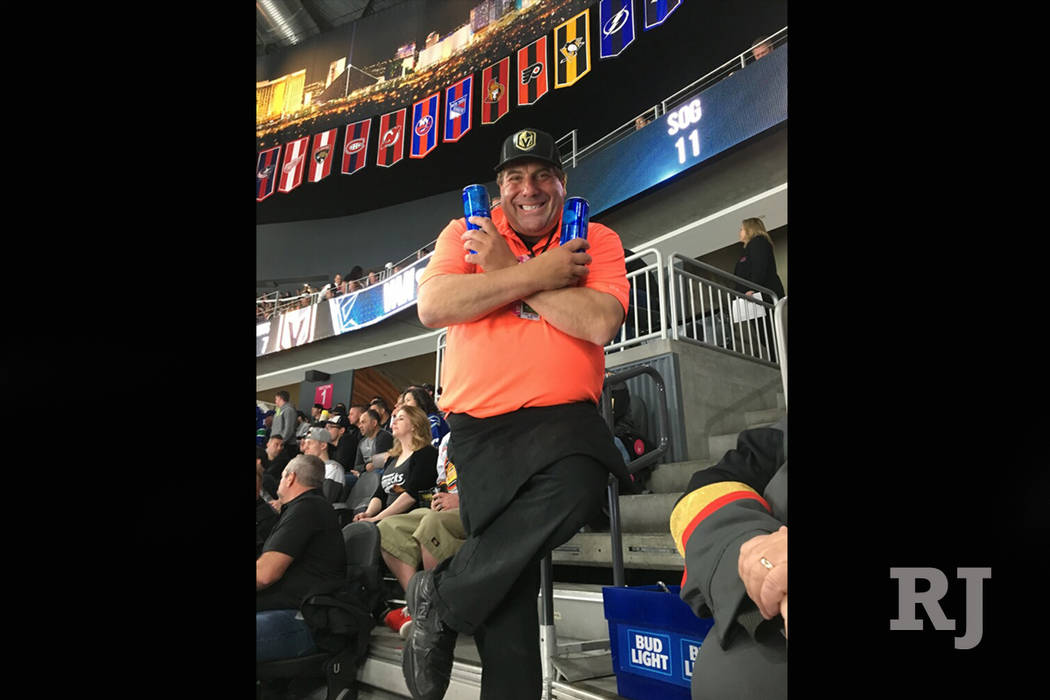 It has been said that if one really wants to know what is going on in a city, the best thing one can do is travel to that city and ask a taxi driver: "How 'bout dem Yankees (insert ballclub name here)?"
I couldn't find confirmation that conversation starter had its genesis in a New York taxicab, though it is assumed Travis Bickle must have used it to break any number of awkward silences after he asked if you were talking to him.
But if you want to know what is going on with a city's sports teams, it is probably best to ask a beer vendor.
Those who host sports talk radio shows may think they have their finger on the collective pulse of fans in the tri-state area, but it is the beer vendor who serves them truth serum in 32-ounce vats that cost $15.50.
Nobody has his finger on the collective pulse of the sports fan like a beer vendor, unless the game goes into double overtime or extra innings. In which case it may be difficult to find a pulse among those the beer vendor serves.
Because the Golden Knights' debut season as a puck-carrying NHL member lasted four playoff rounds longer than anybody could have envisioned, a variety of people have by now been asked for opinions about what it was that we just saw, and, like Jack Buck describing Kirk Gibson's home run in the World Series, whether we should believe it.
These include:
Team owners, general managers, coaches. Forwards, defensemen, goaltenders. Healthy scratches, and the other kind. The guy who drives the Zamboni, the guy who sings the national anthem, the guy who owns a dog named for the goaltender. Butchers, bakers, candlestick makers.
OK, nobody asked the candlestick maker. But I did find a set of Golden Knights scented candles on Amazon selling for $18.99, plus $11.99 shipping and handling. So it's probably only a matter of time until somebody asks the candlestick maker about why customers who shopped for scented Golden Knights candles also shopped for a Chicago Bears three-piece heavy duty barbecue spatula set, featuring two convenient bottle openers.
But for now it's the beer man's turn.
Beer, water, nuts
Make that the Beer Man — two caps, but not all caps, as that would be showing too much deference to the Stanley Cup champion Washington Capitals and their captain. As you are reading this, Alex Ovechkin probably still is quaffing from the silver chalice something of at least 80 proof named for a distillery founded by Pyotr Arsenievich Smirnov.
Or a grey goose.
Beer Man Bruce Reiner has been serving beer out of 16-ounce cans and larger at Las Vegas sporting events for 14 years. Originally from Cleveland, he says he has never become emotionally attached to a team for which he serves as he has the Golden Knights. This is saying a lot, because when his mother became ill and the sultan of suds went home to care for her during the 2016 NBA playoffs, he picked up shifts at Quicken Loans Arena during the Cavaliers' title run.
It his case, the indelible bond also started to coalesce Oct. 1, on the rueful evening when Bruce Reiner was serving beer, water and nuts — three words by which hockey fans in Sections 19 and 20 at T-Mobile Arena would come to know him — when what sounded like firecrackers started going off at the Route 91 Harvest festival.
People to whom he had served beer, water and nuts started falling.
He told the others to get down, and then when the deadly salvos subsided for a moment, they followed the Beer Man out of the concert ground via Gate 4, because Bruce Reiner had been serving beer, water and nuts at the festival for a couple of years and he knew a way out.
Nine days later at the Knights' home opener, Beer Man Bruce Reiner recalls the crowd at T-Mobile Arena being pensive and subdued when defenseman Deryk Engelland spoke for 58 heartfelt seconds during a poignant pregame ceremony — the Knights retired jersey No. 58 to honor the victims in the regular-season finale.
"That made me proud to be a Las Vegan," the Beer Man said, his strident voice becoming contemplative.
"There was a magic to this team, the way we came back every time we were down with a goal. It's the Golden Knights, we're fine, welcome to OUR house.
"It was the perfect team for the perfect city."
In Philadelphia, hockey season isn't over until the Fat Lady sings.
In Las Vegas, it's the Beer Man who gets the last word.
"How 'bout dem Knights?"
More Golden Knights: Follow all of our Golden Knights coverage online at reviewjournal.com/GoldenKnights and @HockeyinVegas on Twitter.
Contact Ron Kantowski at rkantowski@reviewjournal.com or 702-383-0352. Follow @ronkantowski on Twitter.