Golden Knights remain a no-show on the tabletop
February 10, 2018 - 3:51 pm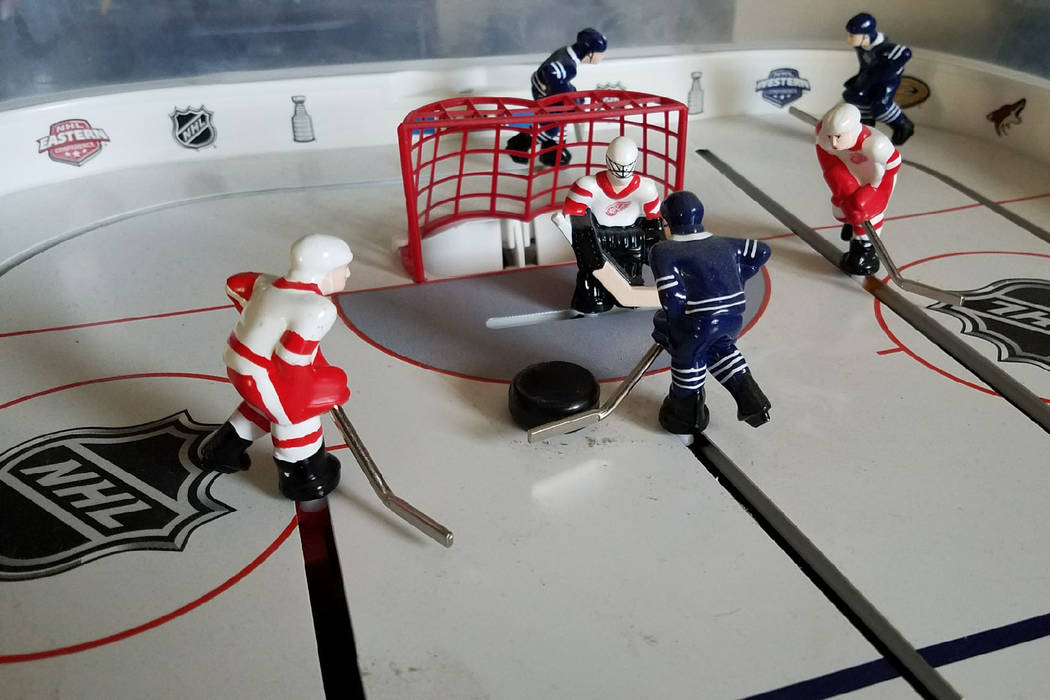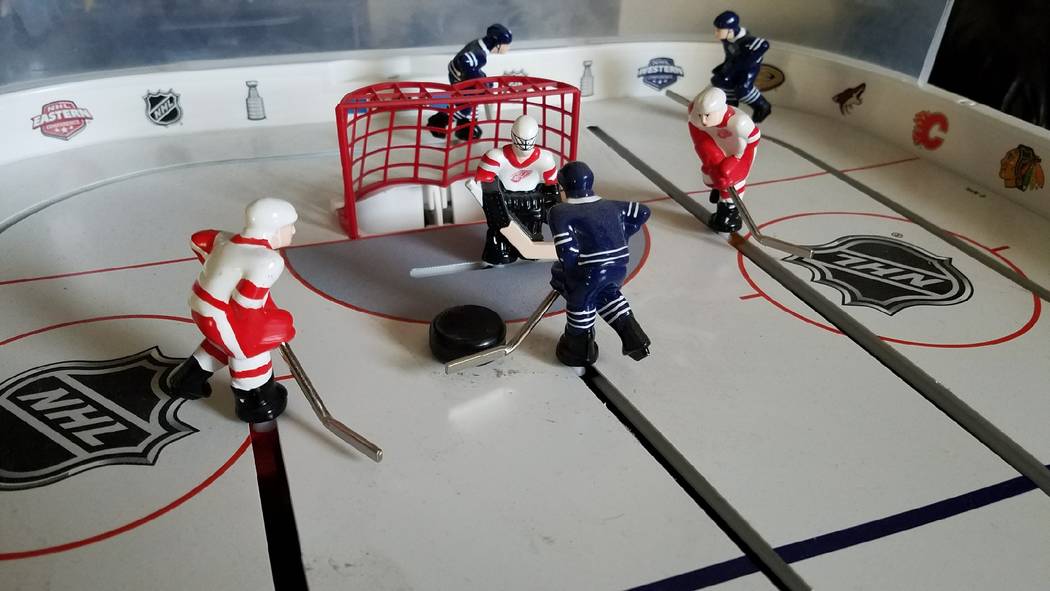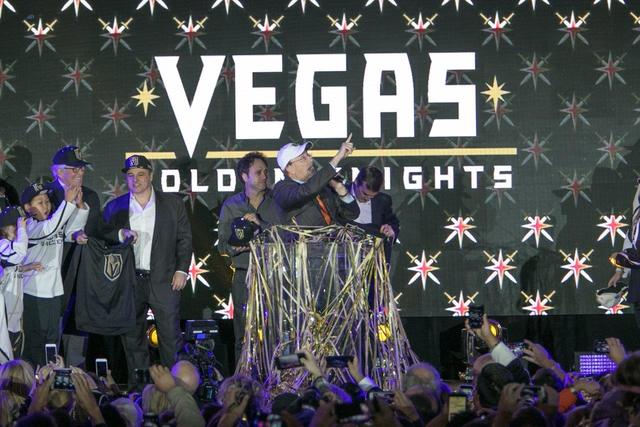 Because boys never outgrow their toys, I received a table hockey game for Christmas 2016. It was made by Stiga Games of Sweden. It came with two teams of little plastic hockey men, Maple Leafs and Red Wings.
The first thing I did was place an order for the little plastic Chicago Blackhawks. I tried to order the Golden Knights, though the Knights didn't have any players at the time — real ones or little plastic ones.
The website said the little plastic ones would be available in October 2017.
They're still not available.
You can get every other NHL team. Team Canada is available, along with Team Czech Republic, Team Finland, Team Russia, Team Sweden and Team USA, so one could play Olympic hockey on one's tabletop, if one wanted. There are even little plastic hockey men one can buy representing umlaut-laden teams in the Swedish Elite League: Frolunda, Lulea, Sodertalje, which for the longest time also were believed to be original members of ABBA.
The website at tablehockey.net, America's No. 1 Table Hockey Retailer, has been updated. There's now a blank box where the photo of the little plastic Golden Knights should be. "Stiga Las Vegas Golden Knights Players — Coming Oct. 2018" it says under the white space.
The only option is to purchase a set of unpainted players and paint them yourselves in Golden Knights colors. I'm afraid mine would come out looking like Andy Warhol and Jackson Pollock designed them.
I emailed tablehockey.net as well as the Stiga company to inquire about the delay.
"Hello," responded Med Vanliga Halsningar of the Stiga company. "That team will be in stock autumn '18." Not much of an explanation, but at least he sent his best regards from Eskilstuna.
Mary from tablegames.net wrote that Stiga did not receive the Knights' uniform designs in time for this year's production of little plastic hockey men.
So it looks like eight more months of Maple Leafs vs. Red Wings on my tabletop, with the Blackhawks facing the winner.
Unless I set up the electric football game.
0:03
— The topic was all things women's basketball, and Bill Laimbeer was asked about Becky Hammon's chances of becoming the NBA's first female head coach as Las Vegas Aces season-ticket holders were picking out seats at Mandalay Bay on Tuesday night. Big (and personable) Bill, coach and general manager of the WNBA's Aces, thought they were good but said the NBA is such a grind.
Would she even want an NBA head coaching gig?
Now her name is popping up on short lists of head coaching candidates to replace embattled Larry Eustachy at her alma mater of Colorado State.
Hammon, who starred for the Aces in their previous incarnation as the San Antonio Stars, was a six-time WNBA All-Star. She has spent the past four seasons as an assistant on Gregg Popovich's bench with the NBA's Spurs and coached San Antonio to the 2015 Summer League championship at the Thomas & Mack Center.
Byron Scott says Becky Hammon should be the NBA's first female head coach. Do you agree? (via @TMZ, @TMZ_Sports)https://t.co/DSYKH1OZbc pic.twitter.com/tR5DaWUGdG

— NESN (@NESN) December 30, 2017
— Take me out to the beer game: College of Southern Nevada is planning to sell beer at selected Saturday games once the weather heats up, having earmarked March 10 (vs. Colorado Northwestern), March 24 (Salt Lake), April 21 (Utah State Eastern) and May 5 (Southern Idaho) for sales of suds.
The Coyotes will play Cochise College at noon Sunday at Morse Stadium in Henderson when baseball fans will have to settle for peanuts and Cracker Jack.
Carpe Diem! Seize the day Coyote Fans, make your live extraordinary and attend the Coyote Baseball Classic this weekend at Lied Field | Morse Stadium. For more information and game times log on to https://t.co/tTsx6wjM7s #FearThePack pic.twitter.com/7la3w6ZYH8

— CSN Baseball (@CSN_Baseball) February 7, 2018
— This just in: The Las Vegas Lights have called a news conference to unveil the socks they will be wearing during the 2018 United Soccer League season.
We're being facetious, but kudos to the first-year pro soccer franchise for holding separate pressers to unveil their shorts and jerseys — and drawing crowds to each. The Lights have done such a great job in creating a buzz that Mayor Goodman still doesn't know they're only minor league.
We're proud to be the @lvlightsfc official hotel partner! Check out their shorts! @mayoroflasvegas @JonathanJossel #PlazaLV #LightItUp pic.twitter.com/MOpv9WIx5X

— Plaza Hotel Casino (@PlazaLasVegas) February 7, 2018
Contact Ron Kantowski at rkantowski@reviewjournal.com or 702-383-0352. Follow @ronkantowski on Twitter.
Table hockey defined
Table hockey, also called rod, stick, bubble or board hockey, is a game for two players, derived from ice hockey. The game consists of a representation of a hockey rink; the players score goals by shooting a small puck into the opposing net with figures that represent hockey players. The figures are manipulated by rods below the "ice." Each one slides forward and back along a narrow slot when the player pushes or pulls on the rod.